In December 2020, interfaith group Sharaka brought to Israel the first ever delegation of young leaders from the United Arab Emirates and Bahrain. Sharaka, which translates to partnership in Arabic, was founded last year by social activists from Israel and the Gulf, in the wake of the historic Abraham Accords. The initiative aims to strengthen the bonds between young people in the region, build greater trust and promote a real, warm and enduring peace.
As part of our historic trip to Israel, we–the Arab members of the delegation–were deeply moved to action following our visit to Yad Vashem - The World Holocaust Remembrance Center, the first such official visit by a delegation from our respective countries.
Having seen first hand the unimaginable horrors of the Holocaust, including the deep-seated hatred and demonization of Jews, which led to a dark stain in modern history and still permeates in many parts of the world today, we commit to the following five-point Action Plan for Promoting Holocaust Awareness and Combatting Anti-Semitism.
1. Promoting Holocaust awareness and education:
Sharaka will work to promote Holocaust awareness and education in Abraham Accords countries and beyond by organizing trips to Nazi concentration camps in Europe, holding educational events, creating platforms for survivor testimonials and sharing historically-accurate Holocaust-related materials and information with civil society organizations, academic institutions, youth groups and online.
2. Interfaith dialogue:
Sharaka will promote and facilitate respectful interfaith and intercultural dialogue to deepen mutual understanding and highlight common values and traditions of all the children of Abraham. This dialogue will also serve to counter stereotypes and misinformation regarding Judaism, Islam, Christianity and other Middle Eastern faiths.
3. International Holocaust Remembrance Alliance (IHRA) definition of anti-Semitism:
Sharaka will work to share information regarding the importance and use of the IHRA definition of anti-Semitism, and will encourage and cooperate with relevant institutions, bodies and organizations in the Middle East and North Africa to adopt it.
4. Combating online anti-Semitism:
Sharaka will counter online anti-Semitism through the use of social media to encourage the reporting of such content. In addition, Sharaka will encourage social media companies to adopt and enforce guidelines against all forms of anti-Semitism, Islamophobia and racism.
5. Countering anti-Semitic delegitimization of Israel and BDS:
Sharaka will counter anti-Semitic delegitimization of Israel and calls to boycott the Jewish state by bringing diverse delegations of Arab leaders and influencers to Israel, and diverse delegations of Israelis to the Middle East. These delegations will promote friendship and advance mutual understanding of each other's culture, history and present-day realities. They will share an accurate picture of the values of tolerance and coexistence adopted by the UAE, Bahrain and Israel, and counter false images promoted in the media, social media and other arenas.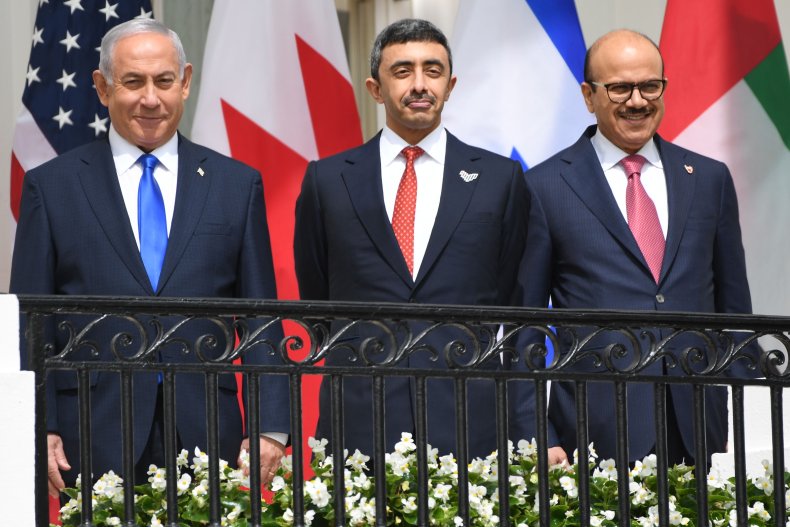 It is particularly fitting that this plan is being launched on International Holocaust Remembrance Day. This day, which marks the liberation of the Auschwitz-Birkenau death camp, must serve as a clarion reminder that the Holocaust did not begin with the concentration camps of Europe–that is where the road of life ended for 6 million Jews. Rather, it first began with hatred, incitement and the singling out and dehumanization of an entire group of people–Jews–based on their race.
This week, as part of our mission to promote Holocaust remembrance and combat anti-Semitism, we virtually held the first ever-joint Middle East International Holocaust Remembrance Day ceremony, an initiative of the Emirati, Bahraini and Moroccan members of our group.
The event included deeply moving testimony from Auschwitz survivor Vera Grossman Kriegel, our personal reflections on this somber occasion and a special address by H.E. Reuven Rivlin, president of the State of Israel.
In addition, we are also honored to announce that in April of this year, Sharaka will be leading the first-ever Arab delegation of young leaders to Auschwitz-Birkenau, as part of Yom HaShoah, the Holocaust Remembrance Day observed annually on the Israeli and Jewish calendar.
UAE Foreign Minister Sheikh Abdullah bin Zayed Al Nahyan, who visited the Berlin Holocaust memorial in October 2020, with the foreign ministers of Israel and Germany, wrote that his visit underscored the importance of "the noble human values of co-existence, tolerance, acceptance of others and respect of all religions and beliefs." He concluded his message in the memorial guest book with the words "Never Again."
We, the members of Sharaka, from across the Middle East and North Africa, take the words "Never Again" as sacrosanct, and strive to never remain silent or indifferent in the face of hatred, bigotry and anti-Semitism. We must, and we shall, continue to learn and share the lessons of the Holocaust, in order to create a better future for all, free of prejudice, intolerance and extremism.
Dr. Majid Al Sarrah of the United Arab Emirates and Mashael Alshemeri of Bahrain are board members of Sharaka. You can follow Sharaka on Twitter: @Sharakango.
The views expressed in this article are the writers' own.