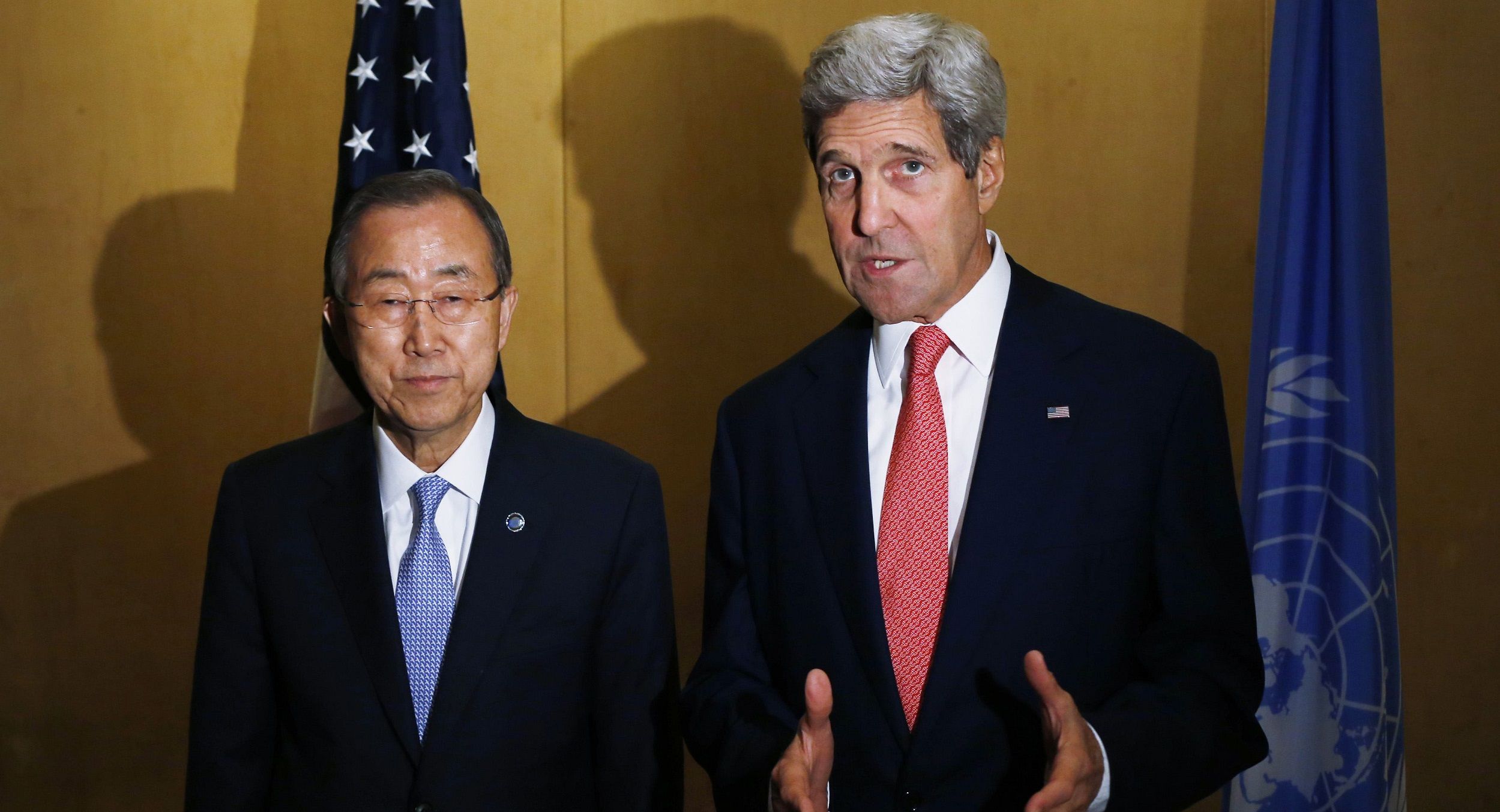 The United Nations Secretary General, Ban Ki-moon, is flying to the Middle East, on a trip to promote a ceasefire between Israel and Hamas, in a private jet financed by Qatar, the chief ally of the Gaza-based terror group.
Ban began his tour of regional Middle East capitals in Doha, Qatar, where he landed Sunday to denounce what he called the "appalling" operation that Israel conducted over the weekend in the neighborhood of Sajaiya, near Gaza City. It was the first time in two weeks that Ban did not mention rocket or other attacks against Israelis, which Jerusalem cites as its reason for entering Gaza. Ban was in Cairo Monday, and was scheduled to visit Jerusalem and Ramallah Tuesday.
When asked about Ban's travel arrangements, his spokesman, Stephane Dujarric, said on Monday, "It was the Qatari government [that] very generously chartered a plane for the secretary general to enable him to go about his visit." Speaking to reporters from Cairo, Dujarric added, "This is not the kind of visit he could do if he was not flying on a private plane."
He said the jet was registered in Britain but "it is a private aircraft funded by the Qatari government." (The fact that Ban's travels were partly financed by the Qataris was first reported by Inner City Press, a website specializing in UN reporting.)
Ban's choice of Qatar as the first Middle East capital on his trip has raised eyebrows in the region. Egypt, in particular, has bitterly criticized what Cairo's foreign minister, Sameh Shukri, has called Qatar's "conspiring" -- along with Hamas and its other regional ally, Turkey -- against Egyptian attempts to broker a ceasefire between Israel and Hamas.
The US has made clear in recent days it sees Egypt as the only viable mediator, and toward that end Secretary of State John Kerry landed in Cairo Monday. Dujarric said that Ban, too, supports Egypt's attempts to arrange the negotiations. "Obviously, I think the focus here is on supporting Egypt's leadership in mediating a durable ceasefire," he said. "No one is questioning Egypt's leadership in this effort."
But he also reported that after visiting Qatar, and before arriving in Cairo, Ban also made a stop in Kuwait. Khaled Mash'al, Hamas's top leader, has tried to undermine Egypt by insisting that Qatar or Turkey should lead the negotiations, and later also tried, unsuccessfully, to recruit Kuwait as a mediator. Dujarric said the Emir of Kuwait, Jaber al-Ahmad al-Sabah, "briefed" the secretary general on his discussions with Mash'al.
Qatar is considered by some diplomats as a conduit to Hamas and therefore a valuable interlocutor. Many governments, including that of the United States, list Hamas as a terror organization are are therefore barred from negotiating with it. Qatar has financed many Hamas operations in Gaza, offering millions more to rebuild Gaza and pay Hamas's salaries once the war is over.
But Israel says that much of the money that is funneled to Hamas in Gaza goes not to make life better for the inhabitants but to purchase rockets aimed at Israel and to finance the building of deeply-dug tunnels that Hamas uses for smuggling weapons into the strip, storing and manufacturing arms, and infiltrating terrorists into Israel to kill and kidnap Israeli citizens.
"Qatar is becoming an international problem," Israel's foreign minister, Avigdor Liberman, said Monday. The emirate provides "the financial backbone of the most extreme terrorist groups that threaten stability in the entire world and specifically in the Middle East," he said. "Qatar is also a major player in our confrontation against Hamas in Gaza, as it finances Hamas and shelters its leader, Khaled Mash'al."
Liberman said that Israel is weighing the expulsion of the Qatari-owned TV network, al-Jazeera, which he called "a central player in the Hamas propaganda campaign," adding that it "broadcasts, in Gaza and to the world, anti-Israeli incitement, lies, and statements supporting terrorism."
Denying any conflict of interest between Ban's role as a mediator and his use of a plane financed by a side in the dispute, Ban's deputy spokesman, Farhan Haq, said that the UN ethics office has determined that there is no problem in the secretary general using planes that are financed by foreign governments, when necessary.