Arab Women in Jerusalem Study Hebrew for a Stronger Future
Almost a decade ago, a group of women from the Arab Jerusalem neighborhood of Isawiya looked for a program where they could study Hebrew. They didn't find anything appropriate and ended up inviting two students from the nearby Hebrew University to teach them.
They enjoyed their studies so much, that a year later they sought to bring aboard all their female friends, relatives and neighbors.
That's how the "Women Speaking Hebrew" program began. Fast forward a few years, and it's now under the umbrella of the nonprofit organization Lissan (Arabic for "language" or "tongue") that promotes gender and social equality in Jerusalem.
"Hebrew is an absolutely vital need in east Jerusalem," explains Lissan CEO Talia Vekshtein. "Jerusalem is a city whose institutes and public bodies operate in Hebrew. To get any service, to speak with doctors at the hospital, to understand the letters from City Hall and to confidently and independently go around the place you have to know the language."
Vekshtein notes that 64 percent of the women in eastern Jerusalem don't speak any Hebrew, compared to only 12 percent of the men. "That keeps them dependent on their partners to carry out basic actions," she says.
Unlike elsewhere in the country, Hebrew wasn't traditionally included in the east Jerusalem school curriculum. Recent years have seen a rise in Hebrew lessons both in schools and by private tutors, but the level isn't always great and private lessons are expensive, especially for one of the poorest communities in Israel.
To empower these women and help them gain more independence, Lissan runs multiple all-women's language courses, makes information regarding issues such as national medical and social security rights more accessible, and offers courses geared at finding employment.
Registration fees are symbolic and are waived when they can't be paid.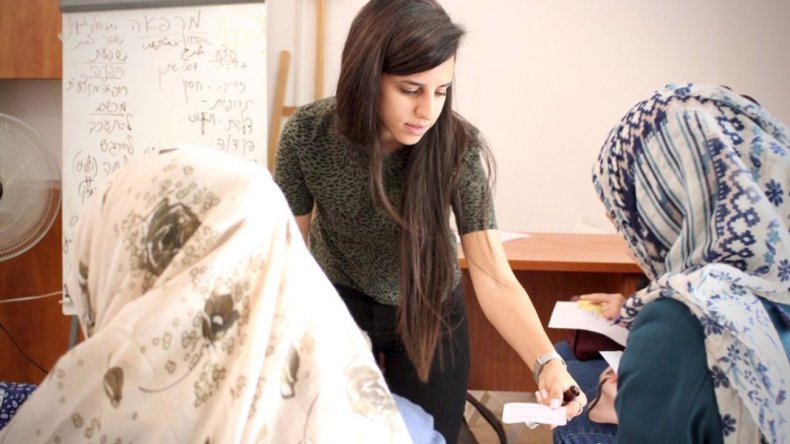 Learning about each other
The Women Speaking Hebrew program is now comprised of 40 volunteer teachers, eight coordinators and 400 female students, ranging in level from beginners to advanced.
Nasra Dahdal from the neighborhood of Shuafat tells ISRAEL21c that she has wanted to learn Hebrew for a while. As an Arabic teacher and former employee of the University of Bethlehem, she didn't come across many Hebrew-speaking Israelis.
"To know a person, you should learn their language. Without talking to each other you can't learn about each other, so I thought that it would be good to join and learn," she says.
A few months into the program, she's enjoying the teaching and the level, and as a retiree has plenty of time to focus on her studies.
"Within three months, I read and write very well, although I still have problems with [differentiating between the Hebrew letters] kuf and kaf. But I'm practicing. I'm a teacher myself, and I know how to study," she says.
"This is a very, very good course for me. I'm enjoying it and having fun with the teachers, playing with learning, learning some songs – children's songs, but [it makes] you feel young," she laughs. "I say that no matter how old you are, you need to keep on with life and have to carry on. If not for you then for your children. If you educate your children, you open a window for them. Without the language you can't get around. It's very difficult."
Still, the course has practical benefits for Dahdal herself too.
"You receive a document from the bank, from the post office, from different places and you have to find someone to translate. I do Google Translate of course, but it's not really accurate for official documents like taxes, bank statements, HMO statements," she notes. "Everything is in Hebrew. Even when they say on the phone 'Press 1 for Arabic,' you find the recorder telling you many things in Hebrew."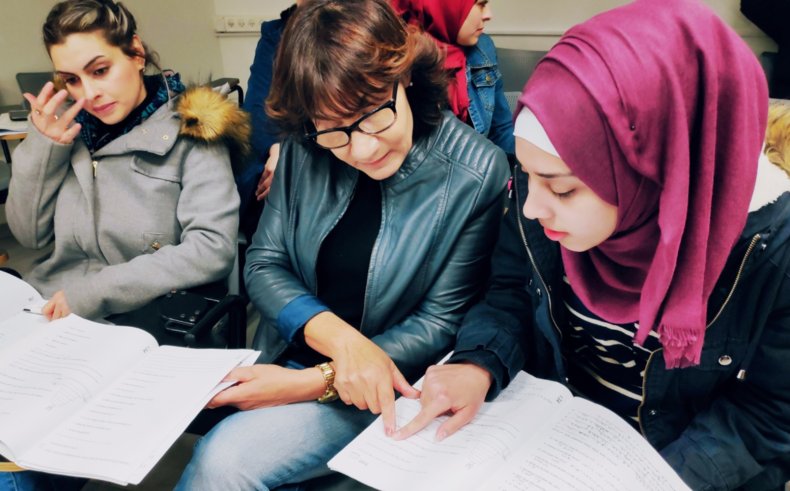 Less alienating
Lissan is supported by philanthropic funds and private donors. Hebrew University provides the program with classrooms and grants credit points to students who volunteer as teachers.
One such student is Avital Ende, who's studying for her master's in art history. Last year she volunteered as a teacher, and this year she's a pedagogical coordinator.
As Ende explains, even teaching Hebrew at beginners' level has a huge impact on students.
"It's not as if they had complete grasp of the language, found a job or became completely integrated. And yet, I do think that even on the most basic level – of going to the mall and being able to ask where Zara is, or getting on the bus and being capable of asking where to get off, or going to National Insurance offices or to the local HMO, and for the language around you to be less alienating – I find that to be significant," she says.
"I'm originally from Jerusalem myself, and I think there's great value in bringing together [people from] different parts of the city. For me, it's also been an opportunity to meet this large part from which there's great detachment," she adds.
Ende is committed to learning Arabic, too.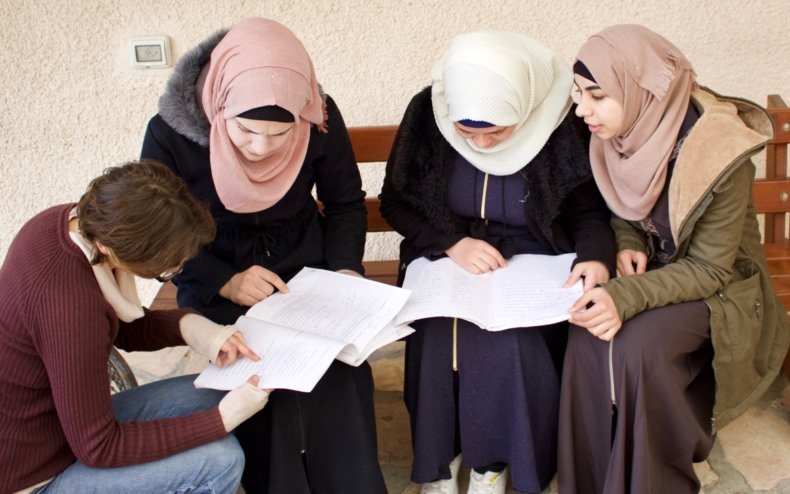 Female empowerment
For field coordinator Munira 'Abd al-Hadi, Arabic is far from foreign.
Originally from the Arab town of Iksal in northern Israel, she's now studying chemistry at the Hebrew University and working as a matriculation and psychometric teacher alongside her position at Lissan.
She stresses that learning Hebrew is empowering for women, and that their studies can have far-reaching impact on their surroundings.
"We see the importance of female empowerment and how women are a very important part of Arab society because they form the basis of the home. Most of the work inside the home is done by women, since they raise and educate the children. We want to promote women and empower them and also to give them the chance to go out to work," she explains.
The most important thing she wants the Lissan students to gain, she says, is the confidence to know "there's nothing that can get in the way of achieving their goals. They're not worth less than anyone else in Jerusalem. Whether they're just studying or going out to work, this empowerment is the most important thing for them and their families."
Lissan CEO Vekshtein concurs.
"Our goal is for every woman in east Jerusalem to have the liberty and independence to be in charge of her life, to exercise her rights and to have access to the rights and resources that she deserves," she says.
She looks forward to running Hebrew classes at community centers in east Jerusalem, also for men, in conjunction with City Hall; continuing Hebrew teacher training classes; and resuming Arabic-language courses geared at medical teams that were put on halt during COVID. There's also a pilot project in the works to teach Hebrew to Bedouin women in the Negev desert.
"We aspire to expand into more projects and to reach more women and audiences that require our services," Vekshtein concludes.
Produced in association with ISRAEL21c.
This story was provided to Newsweek by Zenger News.