Arab World Hit by New Protests as People in Iraq, Lebanon and Egypt Take to Streets
The Arab World has witnessed a new wave of demonstrations as many in Iraq, Lebanon, Egypt and other countries in the region taking to the streets in protests of economic woes, corruption and other potentially destabilizing factors.
With Iraq's demonstration death toll mounting, the decades-long Lebanese financial woes reaching a critical point, and a growing number of Egyptians calling for a third revolution in less than a decade, a number of observers have made comparisons to the so-called Arab Spring protests that swept through the region in 2011. These had a similar catalyst: widespread frustration among a very young, highly-unemployed population with dwindling faith in long-serving leaders.
Tunisia—where a self-immolation was credited with sparking cross-country calls for change—managed a transition to democracy after a month of clashes. But Egypt saw two successive changes in power that ultimately brought the country back to a military leader, as protests elsewhere were squashed in the monarchies of the Arabian Peninsula. Libya, Syria and Yemen ultimately devolved into civil wars that continue to consume them.
Today, the situation was similarly volatile, and governments across the Middle East, North Africa and around the world would likely be watching closely for any escalations in the unrest.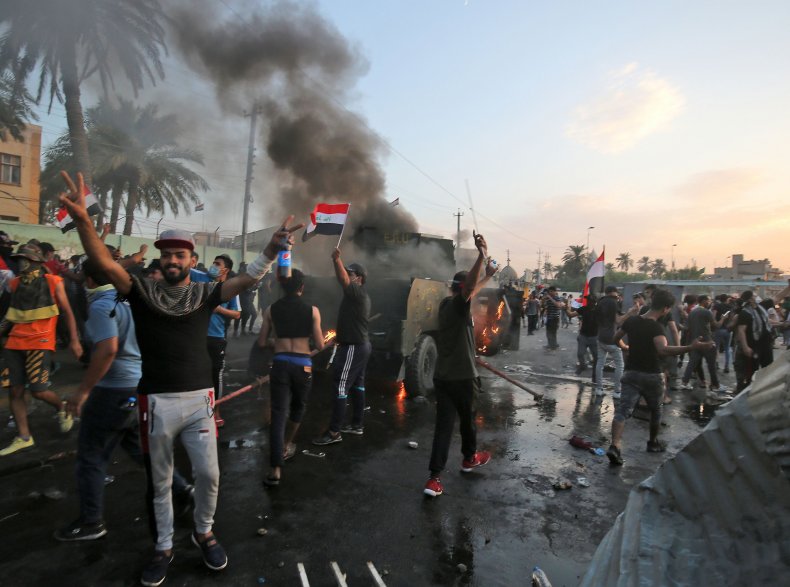 Iraq
Iraq's economy has suffered as a result of decades of conflict: a war with Iran in the 1980s; an unsuccessful invasion of Kuwait in the 1990s and subsequent international sanctions; a devastating U.S. invasion; and the following years of insurgency that ultimately gave rise to the Islamic State militant group (ISIS) in the 21st century. When this powerful jihadi group was ousted from the country's second city of Mosul and ultimately declared defeated in 2017, many hoped for a new start.
The majority-Shiite Muslim war-torn nation has been slow to rebuild, however, and many blame a political ruling class. Baghdad may not be a political monolith since the unceremonious fall of former President Saddam Hussein at the hands of the U.S., but power has nonetheless been consolidated in the hands of a few that are increasingly wielding it across sectarian and religious lines.
In statements sent to Newsweek, both the International Committee of the Red Cross and Amnesty International expressed concern over a rapidly-deteriorating situation in Iraq. Recent reports suggest up to 46 have been killed in clashes with security forces and state-sponsored militias as protesters continued to defy a curfew along with Prime Minister Adel Abdul-Mahdi's pleas to stay home.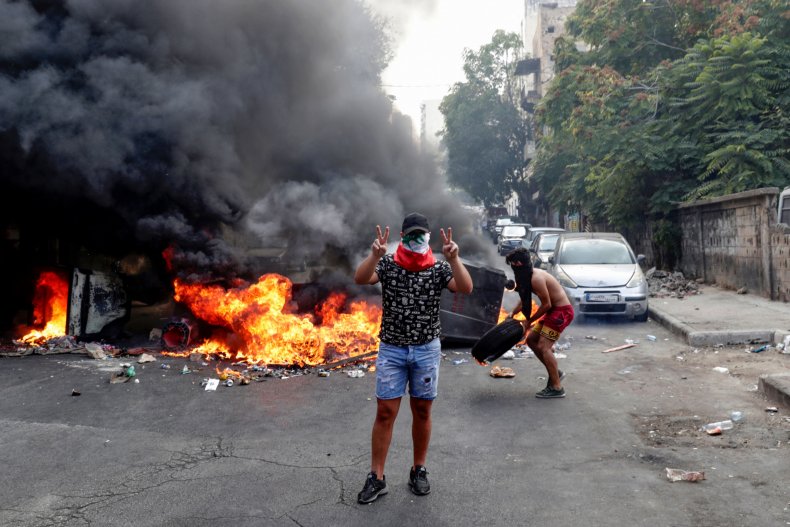 Lebanon
Lebanon also suffered from the lingering effects of sectarian conflict. The country's 15-year civil war (1975-1990) wrecked the economy and left bitter divides across religious and ideological lines that still exist today among an exalted class of party leaders.
Further beset by a 2006 conflict with Israel and spillover from the ongoing war in neighboring in Syria, Lebanon has often resorted to alliances of convenience and political deadlocks to avoid another major flare-up of infighting among rival factions, many of whom have relationships with influential foreign countries also vying for powers in the region. As not to stoke new tensions, the small Mediterranean country has not had an official census since 1932. But according to a study conducted in July by Beirut-based Information International, it is about evenly divided between Shiite Muslims, Sunni Muslims and Christians, with an array of sizable minority groups.
Government paralysis has had a number of side effects on civil society, including the pileup of trash and a failing power sector. Another major symptom has been an inability to address a snowballing debt crisis, dollar shortage and fears of a currency devaluation, and the latest protests emerged in Beirut and other major cities—targeting all three top leaders of the confessional system that balances power.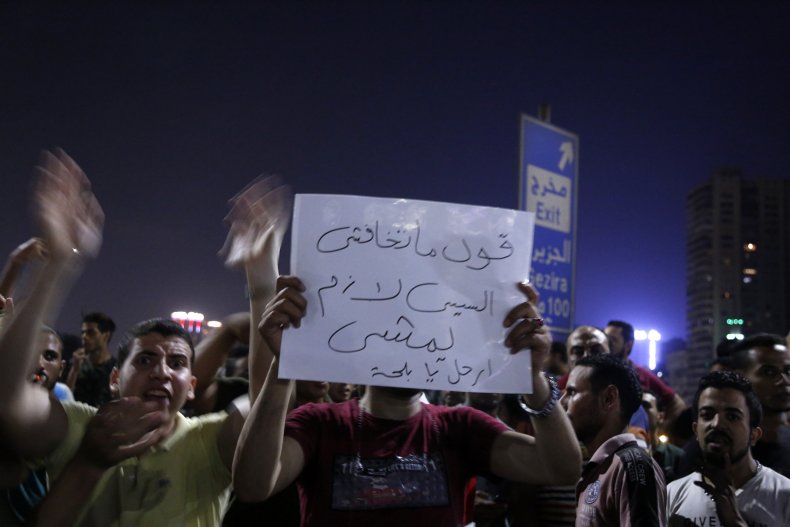 Egypt
Similar to Tunisia, Egypt's 2011 ousting of its longtime leader was initially hailed as a momentous new era in the history of a country endearingly called Um al-Dunya, or "Mother of the World," for its central role not only in Arab geopolitics, but throughout the history of human civilization. Less than two and a half years after the fall of former Egyptian President Hosni Mubarak, his successor, Muslim Brotherhood member Mohamed Morsi, was also deposed in a military coup that took place amid more mass protests.
Since his 2013 election, former military commander Abdel-Fattah el-Sissi has consolidated his authority and again bestowed wide-ranging powers upon the country's armed forces. Amid Egypt's socioeconomic troubles and struggles against ISIS militants that occupy stretches of the Sinai Peninsula and occasionally conduct deadly bombings in major cities, Sissi has struggled to deliver on promised reforms.
When an actor-turned-businessman Mohammed Ali began releasing videos last month accusing Sissi of recklessly spending millions on largely self-congratulatory construction projects, the message resounded with many citizens who came out for rare rallies against the Egyptian leader. The government responded with a wave of arrests accompanied by mysterious social media censorship that activists have deemed suspicious. Meanwhile, Sissi supporters have questioned Ali's motives and gathered in support for the president.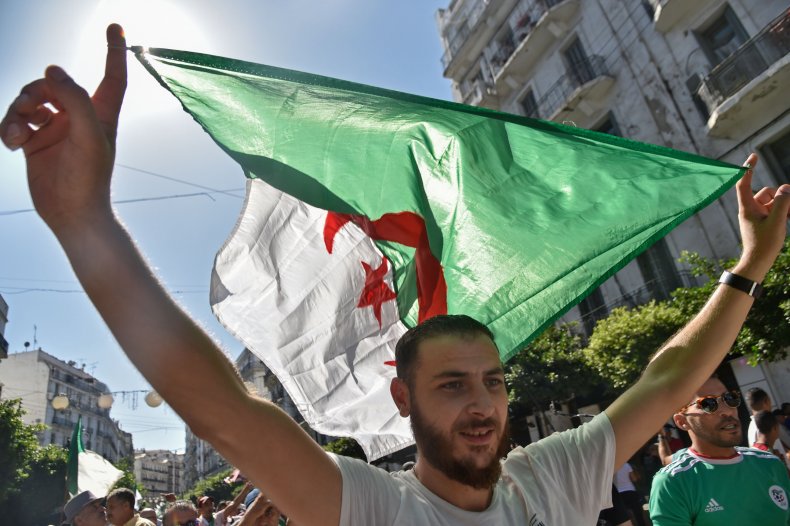 Elsewhere
Arab World protests were not just limited to these three countries. In Algeria, protests earlier this year managed to oust longtime President Abdelaziz Bouteflika, who weathered the Arab Spring in 2011. Demonstrations have been ongoing since in hopes of a more free and fair society.
Palestinians have been continuously protesting in favor of a right to return to lands they were displaced from by Israel, whose security forces have killed scores demonstrating near the border fence. Elsewhere in Israel, Arab communities gathered in protest of gun violence, accusing police of inaction and calling on Jewish citizens to join in.
In Jordan—where large demonstrations have been relatively uncommon since a 2011 movement compelled King Abdullah II to fire Prime Minister Samir Rifai and his cabinet—teachers demanding a salary hike recently staged a strike and gathered in Amman, where they clashed with police. Rare protests also emerged in fellow monarchy Morocco where women came out against strict laws against abortion and non-marital sexual relations, as a female journalist was charged with the two offenses.