Arcade Fire 'Everything Now' Review: A Disco-Tinted Mess of an Album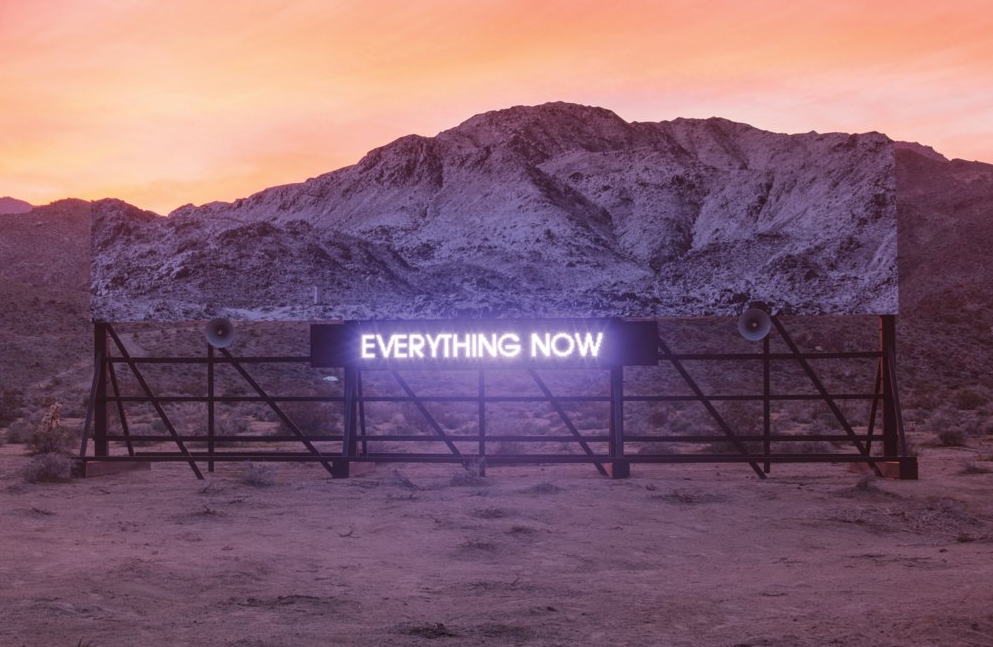 There's an uneasy reference to Funeral on the new Arcade Fire album. It lands during "Creature Comfort," a squelchy, synth-driven cautionary anthem. Frontman Win Butler describes a suicidal fan, his talk-sing delivery buoyed by a glittery backbeat: "She told me she came so close / Filled up the bathtub and put on our first record!"
It's such a surreal, self-conscious wink to the past, you almost have to respect the nerve of it: Here's Butler, three tracks into his band's worst album, invoking the peculiar and extraordinary resonance Arcade Fire's now-classic debut can hold for depressed teens. In "Creature Comfort," the unnamed character begs: "God, make me famous." But the same song grasps at the dark underbelly of fame: If you're lucky, you'll hit it big and your music will help people through dark times. But if you get really famous, your music might soundtrack someone's suicide. (Ask Neil Young, whose lyrics were famously quoted in Kurt Cobain's farewell note.)
And if you get really, really big—well, eventually you'll have to make your disco record. Disco, like death, comes for everyone.
Coupled with a broader unease with celebrity, mass culture and the band's own signature indie-rock sound, that sense of winking self-consciousness defines the mood of Arcade Fire's fifth album, Everything Now. It's the sound of a great band growing bored with its own shtick and spinning out in a dozen different directions at once. The exuberance of Funeral and its dark-eyed cousin, Neon Bible, has been razed by slick synth-pop, audacious genre tourism and ham-fisted social commentary. Unfortunately, Everything Now lacks both the conceptual vision and songwriting heft that made 2013's Reflektor great. It's the first Arcade Fire album that feels like a jumble of songs in search of focus—some good, others embarrassingly ill-suited to the band's immense talents.
Arcade Fire's pivot to dance-rock has seemed inevitable since 2010's glimmering Blondie send-up "Sprawl II (Mountains Beyond Mountains)." At its best, Everything Now manages to recreate some of the old energy in new, danceable environs. Funky rave-up "Signs of Life" tackles youth malaise ("Love is hard / Sex is easy!") with a killer Combat Rock-era Clash groove. I like "Creature Comfort": not necessarily for its hyperactive synths, which are culled straight from the Muse playbook, but for the emotional weight it easily summons—it's hooky and urgent. "We Don't Deserve Love" is six-and-a-half minutes long but worth the wait, as it finally peels back some of the cynicism and culminates in an aching, Suburbs-worthy build-up featuring harmonies from co-vocalist Régine Chassagne.
Related: The Arcade Fire's Barclays Center blowout
Elsewhere, the album cycles through a mélange of styles and guises that Arcade Fire simply isn't capable of pulling off. "Peter Pan," a stuttery, reggae-flavored mess of a groove centered around the refrain "Be my Wendy / I'll be your Peter Pan," is the first big stumble. "Chemistry," the following track, is worse; the song vacillates between a tortured dub upstroke and a faux-rock chorus that resembles "Love Rock 'n' Roll" as Butler struggles to find life in couplets like "Call your mother, make an excuse / I'm gonna have you, baby, it's no use." The band manages sunny, ABBA-inspired disco-pop on the title track, but a subsequent attempt to mine similar retro territory ("Put Your Money on Me") sounds tentative and underdeveloped.
Look, this band was never going to spend 15 years remaking "Wake Up." That's good! From Funeral through Reflektor, Arcade Fire's restlessness has resulted in a rich, varied discography that scales higher peaks than any indie-rock band of its generation. But on Everything Now, the restlessness feels more like posturing, and Butler's bemused, half-ironic lyrical tone doesn't help. He goes for suave and swagger on songs like "Good God Damn" and "Signs of Life," but the persistent smirk doesn't play to the band's strengths like exuberance or angst or grief or life-affirming wonder or any of the other hundreds of emotions this band is capable of evoking. (A handful of critics have compared this tonal shift to U2's techno-enamored Pop. I still like Pop, but the parallel makes a lot of sense if you revisit tracks like "Miami" and "The Playboy Mansion," which U2 wouldn't touch on its current tour with a Joshua Tree-size pole.)
It's easy to single out Everything Now as Arcade Fire's weakest album because there's no reasonable competition for that title. It's the first one that falls somewhat short. The thematic thread seems to be a search for meaning amid digital-age overload. "Every inch of space in your head is filled up with the things that you read," Butler observes in the title track. The overarching irony is not subtle: Everything Now is an album that critiques media oversaturation whose promotional campaign contributed all sorts of media oversaturation. The stunts have been unwieldy and bizarre: The band has utilized a promotional Twitter account modeled to look like a Russian spambot, shared corporate-speak statements involving a fictional entity called "Everything Now Corp" and mocked music bloggers with a parody Stereogum review. This might all be worth it if Everything Now were a great album. Instead, the snarky commentary culminates with not one but two mini-songs built around the same clunky pun ("Infinite content / Infinite content / We're infinitely content"). That's a song that might have been better relegated to a tweet.
It's hard not to get nostalgic about Funeral, a record so goddamn great that it captured the nascent blogosphere via word-of-mouth exhilaration instead of zany stunts. When that album emerged in the fall of 2004, there was an almost magical glow surrounding it. Funeral quickly captured the affections of music bloggers and disaffected teens. It also caught the attention of David Bowie. The elder statesman of glam raved about the Arcade Fire on his own message board and was subsequently spotted at one of the band's first New York gigs. A decade later, he guested on Reflektor, belting out the climax of the great title cut.
I don't know what Bowie might have thought of Everything Now. But listening to the album's clumsier moments, I found myself wishing the late rocker were around to gently chide the band members, dispense a cheeky pep talk or two and urge them back into the studio to make a better record in 2018.