Archaeologists have discovered a palace at an ancient Maya city in southeastern Mexico that shares characteristics with ruins in neighboring Guatemala, which could point to an "important" period of migration thousands of years ago.
The palace was found in the archaeological zone of Kabah—a pre-Hispanic settlement located in the Puuc region of Yucatán state, south of the modern city of Mérida—the Mexican National Institute of Anthropology and History (INAH) has announced.
Kabah, which lies around 50 miles away from Mérida, contains a number of structures, including palaces and temples dedicated to Chaac, the Maya god of rain. The name of the settlement translates to "strong" or "powerful" hand in the ancient Maya tongue.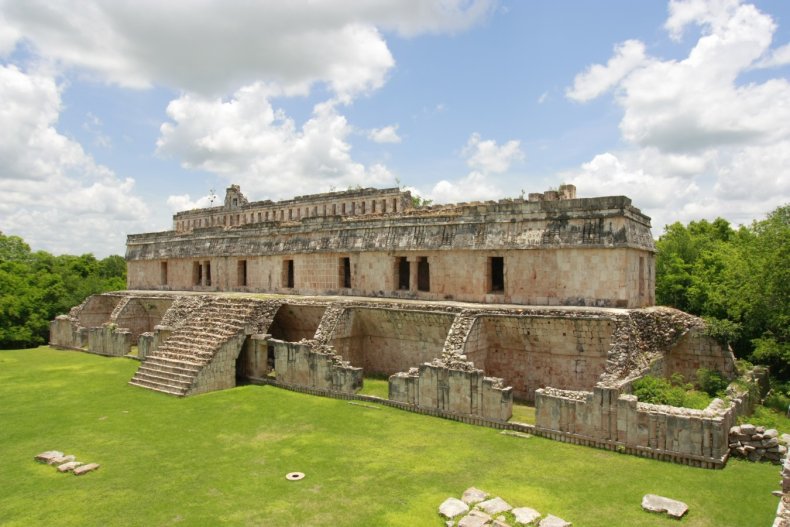 Artifacts found in various parts of the site indicate that the history of Kabah dates back to around 400 B.C., according to INAH.
At that time, the site must have only been home to a small community of hunter-gatherers, since no significant architectural works dated to this period have been found.
In the following centuries, the development of Kabah appears to have been slow, with the lack of permanent water sources limiting population growth. The first evidence of monumental architecture at the site that archaeologists have found dates back to around 400 A.D.
The city appears to have thrived between the years 750 A.D. and 900 A.D.—reaching its maximum splendor. But evidence indicates that around 950 A.D., the city's ruling dynasty abandoned the site, although many of the poorer inhabitants continued to live on the periphery for some time, according to INAH.
The newly discovered palace has a main facade composed of a portico with eight pilasters—shallow, decorative columns attached to a wall—and nine openings, as well as an extension of 85 feet, INAH general director Diego Prieto Hernández said.
Researchers have named the newly uncovered Maya remains Petenero Palace. Hernández said the quadrangular structure appears to be more than 1,500 years old.
The palace was decorated with motifs of feathers, beads and birds that were carved into its architecture. Researchers think the roof of the building was made with a perishable material, such as guano palm, which has not survived.
The palace shares some characteristics with Maya remains found in the Petén Department of Guatemala, Hernández said.
"We propose that an important migration from that site founded Kabah," Hernández said.
The Maya civilization dominated what is now southeastern Mexico, Guatemala, Belize, and the western areas of El Salvador and Honduras for more than 3,000 years until the era of Spanish colonization.
The ancient Maya were notable for creating the only fully developed writing system in pre-Columbian America, and for their striking architecture and art, as well as their advanced calendar, mathematics and astronomical system.