Archaeologists Discover Middle East's 'Oldest' Bone: A 90,000-Year-Old Middle Finger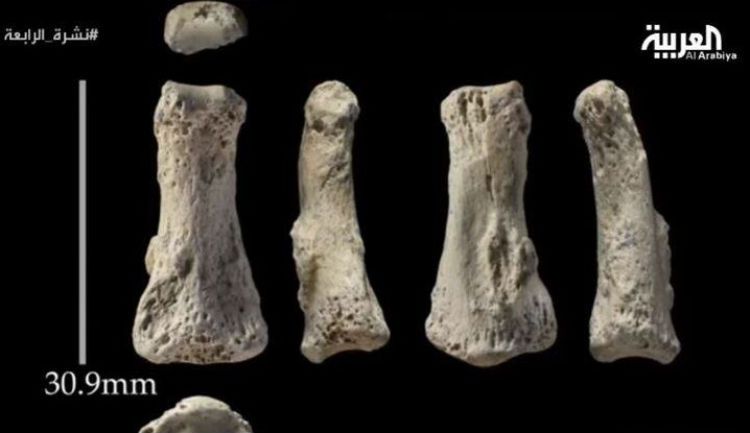 Archaeologists in Saudi Arabia have announced the discovery of "the world's oldest human bone" in a new excavation.
The bone itself is the middle section of the middle finger of a human who they believe lived 90,000 years ago.
If confirmed, it would make the bone the oldest trace of human life in the Arabian Peninsula, an official from the Saudi Commission for Tourism and National Heritage told Al-Arabiya.
Researchers from a joint Saudi-U.K. project, which included the Saudi archaeologists and University of Oxford experts, made the find at the Taas al-Ghadha site near to the northwestern Saudi city of Tayma.
The project is an extension of the Green Arabia Project, which is studying sites near ancient lakes in the Nafud desert. Archaeologists began digging in the area in 2012.
Its historic discovery suggests that human life dated back as far as 325,000 years, head of the Saudi Commission for Tourism and National Heritage Ali Ghabban said. He did not elaborate on why the find of a 90,000-year-old bone led to this assumption.
Saudi Prince Sultan bin Salman bin Abdul Aziz, who serves as the president and chairman of the Board of the Saudi Commission for Tourism and National Heritage, initially announced the find in a speech at the French Academie des Beaux Arts, according to London-based Arabic newspaper Asharq Al-Awsat.
The outlet said that the discovery is "considered an important achievement for the Saudi researchers who participated in these missions and one of the most important outcomes of Prince Sultan's support and care for the archaeology sector in the Kingdom."
While the Saudis are claiming to have found the oldest ever human bone, the oldest bone ever discovered belonging to the lineage that developed into human beings, the Homo genus, is a jaw bone found in Ethiopia in 2015. It is dated to 2.8 million years ago and predated other fossils from the lineage by 400,000 years.
Archaeologists Discover Middle East's 'Oldest' Bone: A 90,000-Year-Old Middle Finger | World