Archaeologists Have Found 'The Oldest Intact Shipwreck Known to Mankind' Near Bulgaria
Researchers announced Tuesday that they found "the oldest intact shipwreck known to mankind" at the bottom of the Black Sea near the Bulgarian coast.
Archeologists from the Black Sea Maritime Archeology Project, who have spent the past three years searching the area, discovered the ship 1.2 miles underwater. Because the vessel is so deep, researchers said a lack of oxygen allowed for it to stay preserved for more than 2,400 years.
"It's like another world. It's when the ROV [remote operated vehicle] drops down through the water column and you see this ship appear in the light at the bottom so perfectly preserved it feels like you step back in time," Helen Farr, a researcher from the Black Sea Maritime Archeology Project told the BBC. Farr said it will be safe for divers who might attempt to reach the wreck.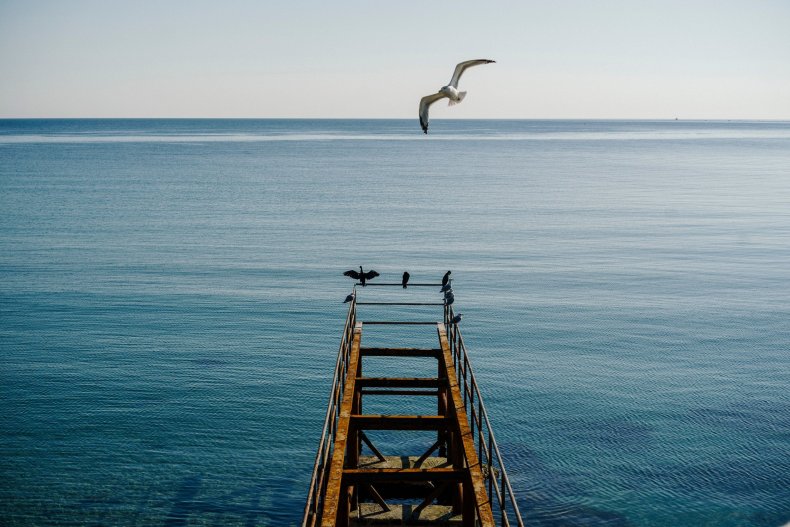 The ship—complete with its mast, rudders and rowing benches intact—is one of more than 60 shipwrecks found by the research group, which used two underwater robotic explorers to create a 3-D image of the vessel.
"A small piece of the vessel has been carbon dated and it is confirmed as the oldest intact shipwreck known to mankind," the group said in a statement, according to The Telegraph, adding that it is depicted on an ancient Greek vase.
The vase, located in the British Museum, shows Odysseus tied to the ship's mast as it sails by Sirens. In Greek mythology, the Sirens sang and lured sailors to their deaths.
"A ship surviving intact from the classical world, lying in over two kilometers of water, is something I would never have believed possible. This will change our understanding of shipbuilding and seafaring in the ancient world," Professor Jon Adams, the main investigator with the research team said, The Guardian reported.
The discovery comes a little over a month after archeologists in Portugal found a shipwreck called the "discovery of the decade." Researchers found the ship off the country's coast near Lisbon filled with spices and Chinese ceramics, along with bronze cannons adorned with the Portuguese coat of arms.
"This is one of the most significant archaeological discoveries of the century. The recognition from the scientific community that this is the decade, the century, in terms of marine archeology, is for us of great satisfaction," Mayor Carlos Carreiras, of Cascais, Portugal, told CNN.