Archaeologists in the U.K. have uncovered what they say is evidence of a crucifixion—the first recorded in Britain and only the fourth worldwide.
The evidence comes in the form of a human skeleton uncovered during an archaeological dig in Fenstanton, a village in Cambridgeshire, eastern England.
The dig began in 2017 as part of the evaluation of a site for a housing developer.
A team from Albion Archaeology discovered that the site was the location of a previously unknown Roman roadside settlement.
This is not particularly uncommon, the company explained in a news release. Indeed, the village of Fenstanton is situated on the Via Devana, a road that linked the Roman towns at Cambridge and Godmanchester.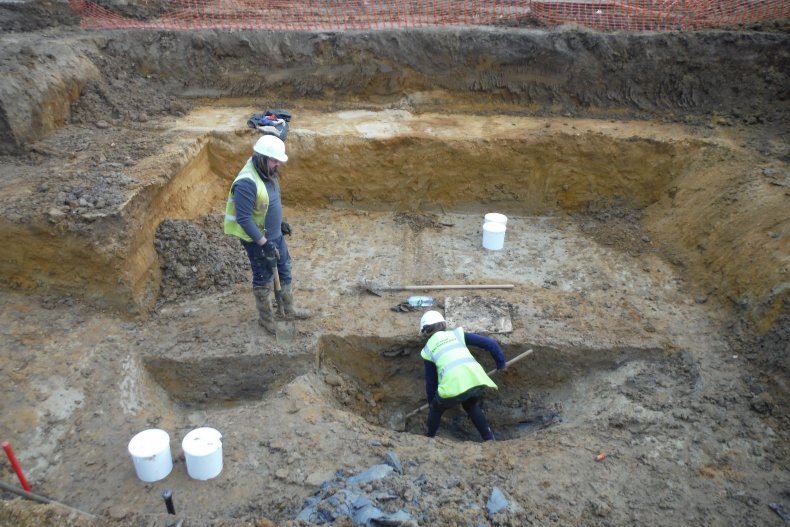 The archaeologists uncovered evidence of what they called a large-scale industrial operation—animal bones, for example, seemed to have been split in such a way that candles or soap could have been manufactured from the marrow and grease.
They also discovered a number of Roman graves at the site, containing 48 individuals in total.
In the magazine British Archaeology, David Ingham, project manager at Albion, and Corinne Duhig, director of archaeology studies at Wolfson College, University of Cambridge, wrote that analysis of the bones in the graves suggested the population probably suffered from dental disease and bone conditions such as osteoarthritis.
One individual stood out from the rest, however. The skeleton appeared to be that of a man aged roughly 25 to 35 years old. Like many of the others, this one showed signs of poor dental health and arthritis.
Ingham and Duhig wrote that the body was found surrounded by around a dozen nails that may once have held together a burial structure such as a bier.
However, when the skeleton was being washed back at the lab, it was found to have a nail through its heel. This led the archaeologists to believe the man was likely crucified.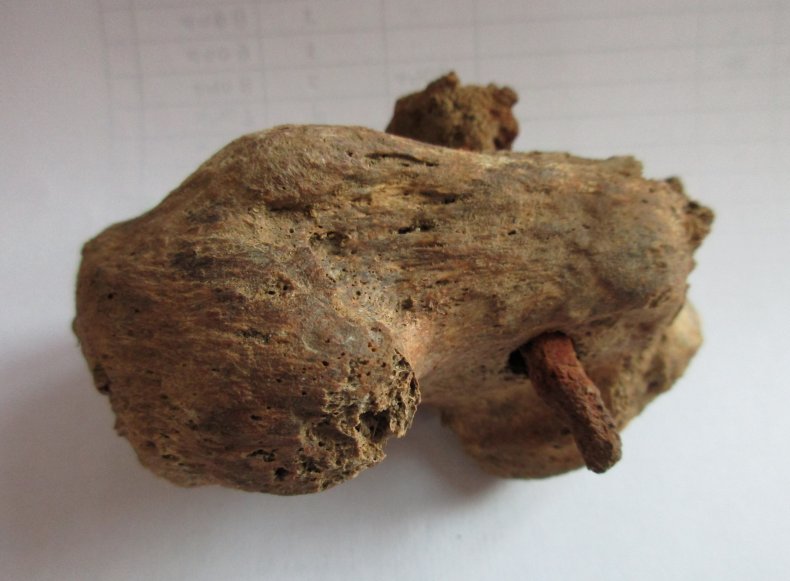 If so, the crucifixion would be "the only one known from the British Isles and the fourth reported worldwide," the archaeologists wrote in British Archaeology.
"It stunned us, slightly," Ingham told Business Insider.
The archaeologists do point out that alternative theories are possible. They considered the "remote possibility" that the nail may have entered the skeleton's foot during burial or construction of a coffin.
They also state that crucifixion was banned for citizens in AD212, though there were some exceptions and slaves could still be subject to the punishment. Yet the individual appeared to have been given a respectful burial.
Still, Ingham and Duhig concluded that a nail through one of the man's heels is difficult to explain otherwise.
Full results of the excavations are due to be published in specialist journals.
Earlier this year, archaeologists in Britain looked into the origins of a giant chalk figure known as the Cerne Abbas Giant.