Election Win: Ancient Roman Showed Off With This Sundial Because Politicians Have Always Been Egotistical
Archaeologists excavating an ancient Roman theater discovered a rare artifact—an intact, inscribed sundial. The 2,000-year-old piece is one of only a few like it ever recovered, and it offers insight into the ego of a then recently elected Roman politician.
On the sundial are two Latin inscriptions, one at the base and the other toward the top, that suggest the man commissioned the piece to commemorate his election to public office. Researchers from the University of Cambridge say they're the key to learning about him. The research team has extrapolated that "M Novius F Tubula" represents the politician's full name, Marcus Novius Tubula, "son of Marcus." Likewise, "Tr Pl" indicates his title was Plebeian Tribune, and "D S Pec" notes that the politician commissioned and paid for the sundial himself. ("D S Pec" means "De Sua Pecunia," or "with his own money.")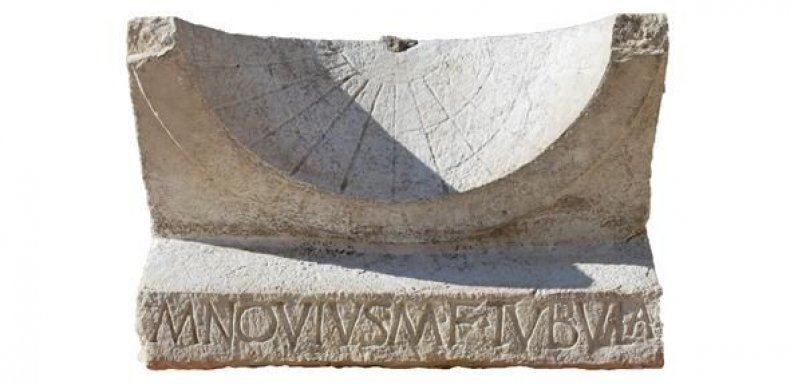 "Less than a hundred examples of this specific type of sundial have survived, and of those, only a handful bear any kind of inscription at all—so this really is a special find," Alessandro Launaro, Director of Studies in Classics at Gonville & Caius College, told the University of Cambridge. "Not only have we been able to identify the individual who commissioned the sundial, we have also been able to determine the specific public office he held in relation to the likely date of the inscription."
Novius was a common first name, but Tubula is more specific to the Interamna Lirenas region. The archaeologists believe the sundial was engraved during a period when the inhabitants of that region were already Roman citizens. What all this means is that Marcus, since he was from Interamna Lirenas, was unknown in Rome when he was elected there, and that he likely ordered the sundial to commemorate the occasion.
"In this sense, the discovery of the inscribed sundial not only casts new light on the place Interamna Lirenas occupied within a broader network of political relationships across Roman Italy," Launaro said, "[b]ut it is also a more general indicator of the level of involvement in Rome's own affairs that individuals hailing from this and other relatively secondary communities could aspire to."
The discovery was made by student archaeologists from the University of Cambridge, working in the Roman town Interamna Lirenas, near Monte Cassino, in central Italy. They believe the sundial was cast aside in the medieval to post-medieval period, when the town would have been stripped for various building materials. Researchers also believe that its original location was probably a significant one, like the top of a forum pillar.