Archbishop Accuses Pope of Heresy Over 'Legitimization of Homosexuality'
A Catholic Archbishop who once served as the Vatican's ambassador to the United States has accused Pope Francis of heresy for promoting the "legitimization of homosexuality."
Archbishop Carlo Maria Vigano is well known for his anti-gay views and has previously called for the pope to resign. In a recent interview with Italian journalist and Vatican expert Marco Tosatti, Vigano insisted that Pope Francis, who he refers to using his given name of Jorge Bergoglio, is involved with a plot to "corrupt" the church by promoting homosexuality.
"For Bergoglio and his entourage sodomy is not a sin that cries out for vengeance in the presence of God, as the Catechism teaches," said Vigano. "Bergoglio's words on this topic – and even more the actions and words of those who surround him – unfortunately confirm that an operation of legitimization of homosexuality is currently underway."
"Let's not forget that the legitimization of homosexuality is part of the agenda of the New World Order – to which the Bergoglian church adheres openly and unconditionally," he later added. "Not only for its destabilizing value in the social body, but also because sodomy is the principal instrument with which the Enemy intends to destroy the Catholic priesthood, corrupting the souls of the Ministers of God."
Vigano alleges that Theodore McCarrick, a former cardinal who was defrocked by the Vatican after sex crimes allegations publicly emerged, was involved in secretly brokering an agreement with the Chinese government, with the aim of encouraging the persecution of Chinese Christians.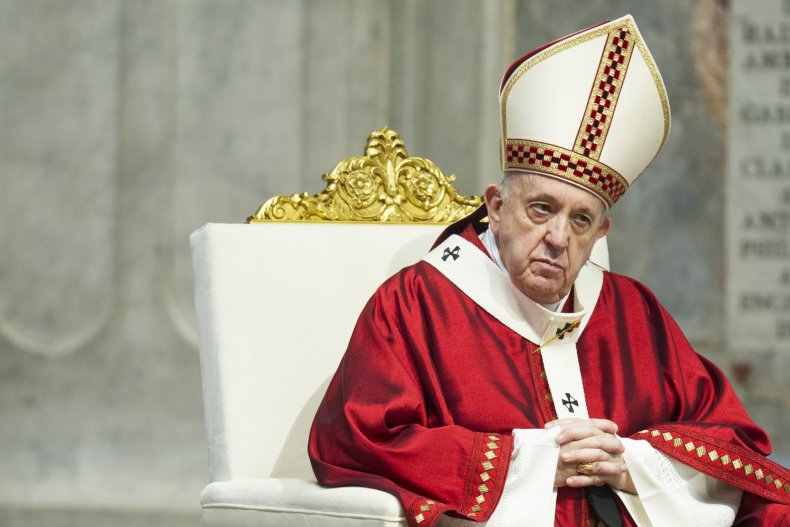 He insists that a "deep church" has secretly collaborated with McCarrick and others he claims are part of a "gay lobby" that promotes both homosexuality and pedophilia, which he maintains are linked. Vigano also ties this claim to the evidence-free conspiracy theory that a U.S. "deep state" is secretly working against President Donald Trump.
"These three elements – heresy, sodomy, and corruption – are so recurrent that they are almost a trademark of the deep state and of the deep church," Vigano said.
Last month, Vigano sent an open letter to Trump, denouncing those who are concerned about the COVID-19 pandemic along with Black Lives Matter protesters, framing both issues as a struggle between the "children of the light" and the "children of the dark," who he insists are working to elect someone who "embodies the goals of the deep state" in November. Trump quickly tweeted that he was "honored" to receive the "incredible" letter.
In his recent interview, Vigano invoked further conspiracy theories concerning the pandemic, maintaining that the Vatican has "endorsed" China "just as suspicions materialize about its responsibility for the spread of the Covid virus in order to destabilize the international geo-political balance."
Newsweek reached out to the Vatican for comment.