Archaeologists Find the 'Best Preserved' Bronze Age Homes in Britain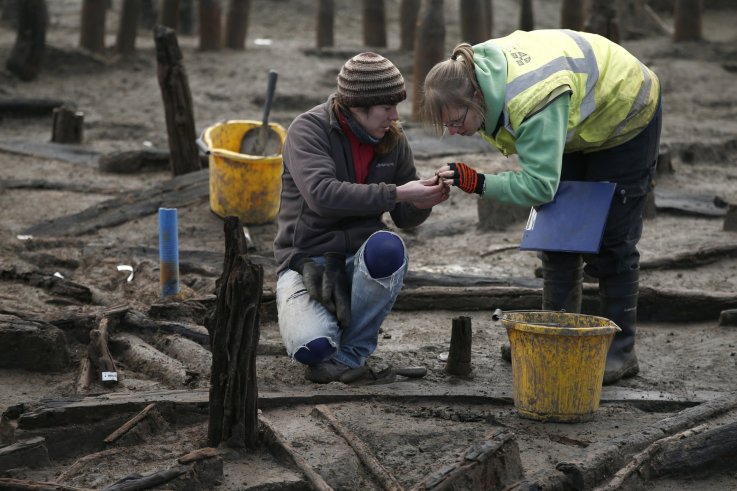 Archaeologists are in the process of excavating what they're calling the best-preserved Bronze Age dwellings ever uncovered in Britain, the University of Cambridge said Tuesday.
The settlement, consisting of circular wooden houses built on stilts above water in the wetlands of eastern England, dates back roughly three millennia. The homes were destroyed by fire, which caused them to collapse into the underlying river and become sealed and preserved by waterlogged sediment.
"A dramatic fire 3,000 years ago combined with subsequent waterlogged preservation has left to us a frozen moment in time, which gives us a graphic picture of life in the Bronze Age," Duncan Wilson, chief executive of Historic England, is quoted in a news release from the University of Cambridge. Historic England, a public body that protects England's historic environment and heritage, has provided funding for the four-year excavation project at the Must Farm clay quarry in Peterborough, near Whittlesey.
The Cambridge Archaeological Unit, which is handling the excavation, has thus far uncovered charred roof timbers, textiles, dishes like cups, bowls and cookware with remnants of food that were calcified by the fire, the spine of a large cow (likely from a carcass the inhabitants were planning to butcher), glass beads, spears and daggers, a copper spindle, a human skull and even footprints.
"It feels almost rude to be intruding," Mark Knight, site director for the excavation, told The Guardian. "It doesn't feel like archaeology any more, it feels like somebody's house has burned down and we're going in and picking over their goods," which he explained were abundant and indicated wealth.
Metalwork, including a sword and a rapier, as well as log boats had previously been found in this area. Now, the team is discovering "the perfectly preserved remains of prehistoric settlement," Knight is quoted as saying in the Cambridge release. The site director has compared the find to Pompeii. "Everything suggests the site is not a one-off but in fact presents a template of an undiscovered community that thrived 3,000 years ago."
After the artifacts are excavated and conserved, they will be displayed at local venues including the Peterborough Museum, according to the Cambridge release.
"Usually at a Later Bronze Age period site you get pits, post-holes and maybe one or two really exciting metal finds. Convincing people that such places were once thriving settlements takes some imagination," David Gibson, the archaeological manager at CAU, said.
"But this time so much more has been preserved," he added. "We can actually see everyday life during the Bronze Age in the round."