Archer Jack Williams Aims to Shoot His Way to Stardom at His First Olympics
It didn't take long for Jack Williams to become one of the top archers in the world after he first began shooting as a teenager. Now at 21, he's making his first Olympic Games, and he's among a handful of favorites to medal.
Williams will make his Olympic debut this weekend alongside two American veterans who have been there and done that. For Williams, he'll rely on his training. Oh, having no crowds at the Tokyo Olympics should help him as well.
When he was asked about potential nerves heading into Tokyo, Williams was mixed.
"Yes and no. I am not seeing the Olympics as anything other than another tournament," Williams told Newsweek before he traveled to Tokyo. "It's the same people, so it's no difference ... unless you add that pressure to yourself."
But the Olympics are different than most tournaments. This isn't a typical World Cup or World Championship like these archers attend several times a year. This is the one-and-only, multinational and multi-continental event that takes place every four years. This is an event where archers are etched in Olympic lore.
Then again, this year's Games will have no fans, similar to the World Cups that take place several times over an Olympic quadrennial.
"It would affect weaker archers with spectators," Williams said. "I need to step up there and shoot 10s and everything will be ok."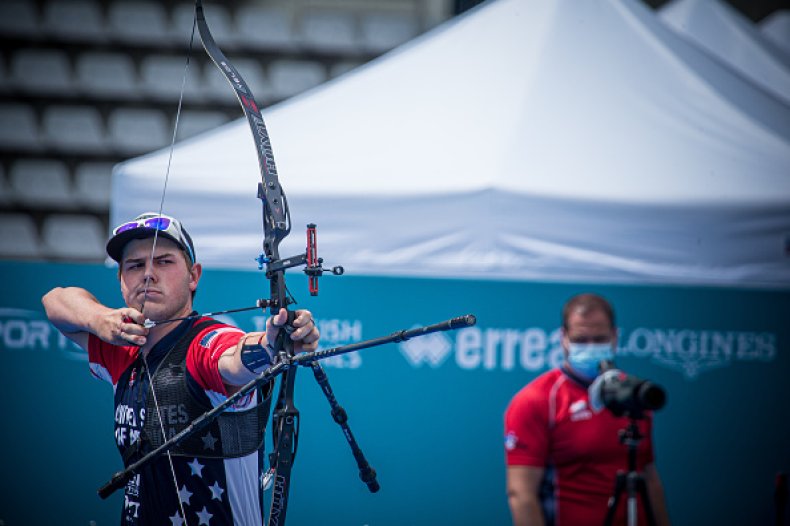 Williams said his competition in Japan will be the same top archers he's faced over the last few years, including the recent world championships, where he finished sixth.
Williams grew up in Southern California as a budding fencer. He discovered archery while being a part of the fencing program. Though he did well at regional and state fencing events, and later national competitions, he kept shooting archery.
"As more competing went on, I lost my competitive drive for fencing, so I tried archery," Williams said. "I got the hang of it pretty quick from what fencing taught me, and I got good at it pretty quick."
At age 12, he asked for a bow for his next birthday. In April of 2013, he got his wish when he received a bow. He became really good, really fast. At Christmas, another wish was granted—an Olympic-style recurve bow.
Since then, Williams shot up through the rankings. Though he was in the 13-year-old division, he shot as well as many of the older teenagers—and some adults.
Williams accredits his quick rise through the archery rankings to his coaching in fencing. Even at a young age, he knew that learning the basics from proper coaching was better than just winging it.
"I started to get basic lessons and that's what I learned from fencing, and that's how coaching works for me," Williams said. "I applied those lessons through archery. Only at the 13 division I was doing pretty well even though I was shooting a couple of months. But I wanted to keep applying the coaching concept."
By 2016, he left high school in Irvine and moved to the Olympic Training Center in Chula Vista, California, to train under legendary coach Kisik Lee. There, he watched shooters like Brady Ellison train and eventually medal at the 2016 Rio de Janeiro Summer Olympics.
Williams wanted to be one of those archers on worldwide TV one day, perhaps maybe even competing against Ellison.
"Brady's been the top my whole career. I've always been looking up to Brady and watch him shoot. Watching his path was motivational for me," Williams said.
Ellison, who's the top archer in the world and a favorite to win individual gold at these Tokyo Olympics, said Williams' rise has been phenomenal.
"Jack has a lot of talent and he can shoot a bow well," Ellison told Newsweek. "If he decides to make a career out of it he will be able to. He's part of generation that's a little more tech savvy."
The two are part of a trio that also includes 2012 Olympian Jacob Wukie. All three have each shot above a 680 score in qualifying, becoming the first U.S. team to have all three athletes who have that kind of score or better. The U.S. team won silver behind South Korea at the 2016 Rio de Janeiro Games, and silver behind Italy's gold at the 2012 London Games. This could be their time to break a gold drought since 1996, when the U.S. won team gold and an individual gold.
"That's the goal, to win as many medals for Team USA," Williams said. "Our obvious goals are individual gold, silver and medal and a team gold. I think this is a team that can do that."
The American archers begin officially bowing up Saturday in Tokyo.