The Evolution of 'Archer: 1999's Pam Poovey, From HR to Rock Monster with Amber Nash
Pam Poovey may be a rock monster with genitals like a "garbage claw" in Archer Season 10, but the character is more herself than ever. Even as Archer transforms from Hollywood noir to 1940s jungle adventure to neon-lit science fiction, none of its characters have mutated quite like Poovey. Introduced as the gossipy head of HR in the first episode of the series, Pam has since become a bruising fighter, omnivorous drug fiend and sexual gadabout, who became central to Archer through sheer self-assuredness.
Voice actor Amber Nash cited Pam's openness as a central factor in her evolution from side character to bubbly hulk. "I didn't even know until right before we started, that Pam would be a different species," Nash told Newsweek.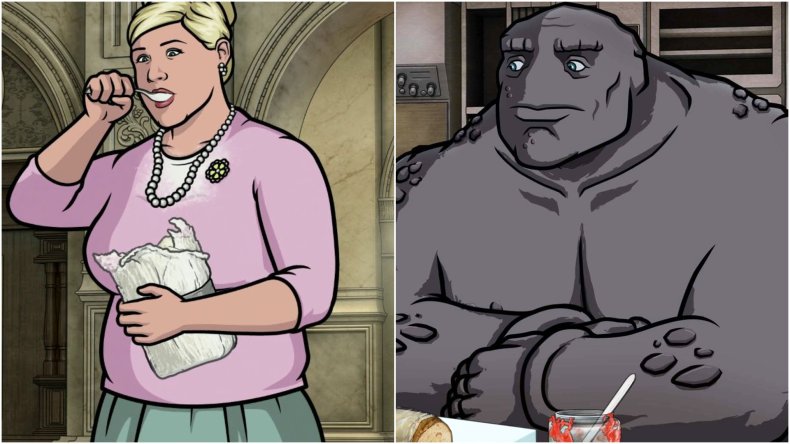 No matter her shape, Pam will always be reliably unflappable and unrefined. Early in the series, when Archer episodes centered around field missions, most of the ensemble worked as support staff for the espionage adventures of Sterling Archer (H. Jon Benjamin) and Lana Kane (Aisha Tyler). While more specialized characters like Dr. Krieger (Lucky Yates) could talk gear and gadgets in his lab, it was Pam who was often at hand for a quick reaction.
"I don't think any of us knew she'd become such a crazy, awesome character," Nash said. "But I think that Adam started to realize the potential of Pam and realized he needed some other roles filled—'Oh, somebody needs to do this, somebody needs to do that'—until she became the character who can do anything."
By the second season, Pam was swilling absinthe and getting deported from Jamaica, with a standout moment in the character's growth coming in late-season episode "El Secuestro," which ends with Pam tearing off her shirt to reveal a back tattoo celebrating her street fighting victories with an excerpt from Lord Byron's poem "The Destruction of Sennacherib."
There would be no turning back. "Slowly we saw her become a cooler and more fun character, and then she started to get more screen time," Nash said. Even considering her current alien avatar, Pam's over-the-top lust for life may have peaked in Season 5, with Pam spending each episode eating literal pounds of cocaine.
While Pam may be tireless, the constant drug-munching made vocal recordings a marathon of chewing and chomping. "I was always eating, drinking, stuffing tissues in my mouth," Nash said. "I'd get sweaty and there'd be cheeseball stains all over the microphone."
While Pam already had a demented, sibling-like relationship with Cheryl Tunt (Judy Greer), who she lovingly nicknamed "Neckbones," Pam also goes on solo adventures with Archer, like in Nash's favorite episode, the extended Smokey and the Bandit tribute "Southbound and Down."
But Pam wasn't the only character whose role expanded over time. Since the beginning, Archer's most enduring constant has been its voice cast. Benjamin was Sterling Archer before Bob Belcher, just as Chris Parnell brought self-victimizing insecurity to Archer before Rick & Morty, with his vocal performance of Cyril Figgis—once an accountant, now first mate aboard a merchant/salvage spaceship in Archer 1999.
With Tyler, Greer, Jessica Walters, Lucky Yates and Archer creator Adam Reed as Ray Gillette, Archer's voices continue to be the show's greatest asset, providing such reliable chemistry that the characters can become aliens or androids, detectives or drug dealers, and Archer remains distinctly Archer.
The Archer cast is spread across Atlanta, New York and Los Angeles. They see each other a handful of times a year at events like San Diego Comic-Con, but mostly communicate in long text threads. "I always say we really like each other, and it's because we don't work together," Nash said.
It's unclear if there's a grand design for the future of Archer, though Nash believes Reed has had the spacefaring science fiction in mind since Season 8. "I don't know exactly how it's all unfolding," Nash said. "We're still waiting to hear if we're going to have a season past 10, so we don't know what's ahead."
"The episodes of this season are really fun," Nash added. "It's a little more episodic. We definitely know there's one story being told. But I feel like it's a little more, not Monster of the Week, but Situation of the Week."
Archer Season 10 is airing now on FXX.