'Archer' Season 10 '1999' Has Space Gladiators, Android Krieger and More Jokes Than Recent Seasons
Archer: 1999, the show's tenth season, premieres Wednesday, May 29 on FXX. A new "First Look" video for the upcoming episodes reveals more about the plot and various settings coming to this sci-fi iteration of the animated espionage series.
In Archer: 1999, Sterling Archer (H. Jon Benjamin) is the captain of a spaceship, crewed by familiar faces, including co-captain Lana Kane (Aisha Tyler), fighter pilot Cheryl Tunt (Judy Greer), space courtesan Ray Gillette (series creator Adam Reed) and first mate Cyril Figgis (Chris Parnell). Other Archer mainstays will play the same essential characters, but will now inhabit very different bodies, including Pam Poovey the rock monster (Amber Nash), ship A.I. Mallory Archer (Jessica Walter) and android Algernop Krieger (Lucky Yates).
"This is more like a merchant marine ship, or a ragtag crew," executive producer Casey Willis says in the first-look video, describing the series as a tribute to 70s and 80s science fiction. "You'll see a lot of influence from Aliens, 2001, shows like Space: 1999."
The new video reveals a wealth of science fiction references, including rifles from Aliens, gladiatorial combat straight out of Thor: Ragnarok and crappy computer graphics ripped from all the space-based bilge the 80s had to offer.
Archer has frequently reinvented itself ever since Season 5, known as Archer Vice, disbanded the spy organization ISIS and transformed what was once a James Bond pastiche into a Miami Vice-style, sun-and-gun drug trafficking story. But nothing previous has been quite as drastic as the Season 8 transformation, which used Sterling Archer's Season 7 finale coma as a springboard for the 1940s noir Archer Dreamland. Season 8 went even further down Archer's coma-induced rabbit-hole, transporting the characters to a fantastical tropical island in Archer: Danger Island. At the end of that season, Archer fell into a volcano, only to snap awake aboard a spaceship.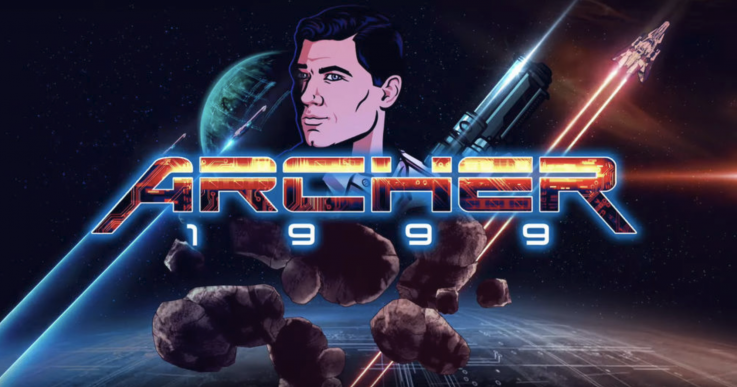 While the two previous seasons, Danger Island and Dreamland, were heavily serialized narratives, one interview from the first-look video suggests 1999 may be a return to a looser, jokier format (a welcome change of pace, especially from the bleak Dreamland, with its noir trappings and Nazi dogs).
"We're back to like a joke a second," Yates said. "The scripts are some of the funniest I've read in the whole series. It's just spectacular—I love this season."
Archer: 1999 looks to be the biggest reinvention yet. Reed previously announced that Season 10 would be his last with the series, so if Archer is ever going to awaken from his coma, it's likely to be at the end of 1999.
'Archer' Season 10 '1999' Has Space Gladiators, Android Krieger and More Jokes Than Recent Seasons | Culture