Archer is not usually a show known for its sincerity, but the show's Season 11 premiere did take a moment to pay a touching tribute to one of its former voice actors. At the end of Archer Season 11, Episode 2, titled "Bloodsploosh," the show featured a title card reading "In Loving Memory of Ron Leibman."
Though fans of the FXX show may not recognize the name, they will certainly recognize the voice. Leibman provided the voice for Ron Cadillac, the car-dealing new stepdad of Sterling Archer (voiced by H. Jon Benjamin) introduced in the first episode of Season 4, "Fugue and Riffs."
This was a typical piece of meta-casting, as Leibman was the real-life husband of Jessica Walter, who provided the voice of his wife Malory Archer in the show. The couple had been married for 35 years at the time of Leibman's death.
Leibman appeared in nine episodes of the FXX show, last appearing as Ron in the 2016 episode, "Motherless Child." The voice role was the last in a decades-long career which began in 1963. Among the actor's major roles was a part in the 1972 adaptation of Kurt Vonnegut's classic novel Slaughterhouse-Five and 1981 action comedy Zorro: The Gay Blade.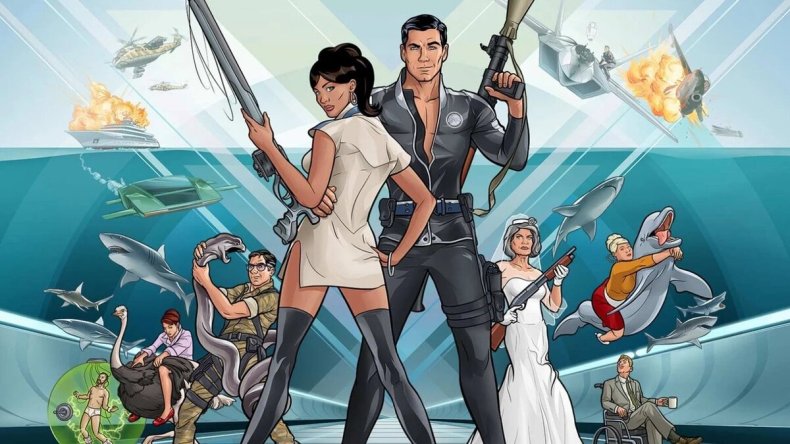 More recently, he played two doctors in beloved shows—Dr. Leonard Green, the father of Rachel Green (Jennifer Aniston) in Friends, and Dr. Lior Plepler, the doctor who treats Tony Soprano (James Gandolfini) in The Sopranos Season 6.
Speaking to the AV Club in 2011 about his career, Leibman said of his role in Friends: "He was nasty, which made it more fun. Nice guys are boring. I don't mean in real life. As an actor, those characters are boring. I loved that he was difficult, particularly to the Ross character, David Schwimmer's character."
During his career, he won an Emmy in 1979 for his work on the TV show Kaz, and was nominated for a Golden Globe in 1987.
Leibman also won a Tony in 1993 for playing Roy Cohn in the original Broadway cast of Angels in America.
The actor died in December 2019 at the age of 82 after a battle with pneumonia. Among the actors who paid tribute to him at that time was Sally Field, who starred alongside him in the 1979 film Norma Rae.
"So many of the best memories of my career, have Ron Leibman in them. Thank you, Ron. For my being my champion. Rest, my friend," the Oscar-winning actor wrote on social media.
Archer Season 11 continues Wednesday at 9 p.m on FXX.