'Archer' Season 12: Release Date, Cast, Trailer and Plot
Archer is set to return with a 12th season following lead character Sterling Archer's return to reality after being in a coma for three years.
And fans have been eagerly awaiting the return of the animated series to discover what is next in store for the spy and his fellow operatives.
Having been set in alternate time periods since season 8, viewers are sure to enjoy Archer's return to a modern-day setting.
And Newsweek can reveal all you need to know about Archer's new season.
When Is 'Archer' Season 12 Out?
FX revealed in October 2020 that the show was going to be renewed for a 12th season, and then announced in June that it would be released from August 25, 2021.
Archer is set to return with an eight-part season, which will air weekly after a double-billed premiere consisting of the first and second episodes.
It will first air on FXX before being released on FX on Hulu the next day.
In a slew of TV announcements made on Twitter, FX revealed: "back in the...wait for it... danger zone.@archerfxx 12 premieres august 25 on FXX & next day on #FXonHulu"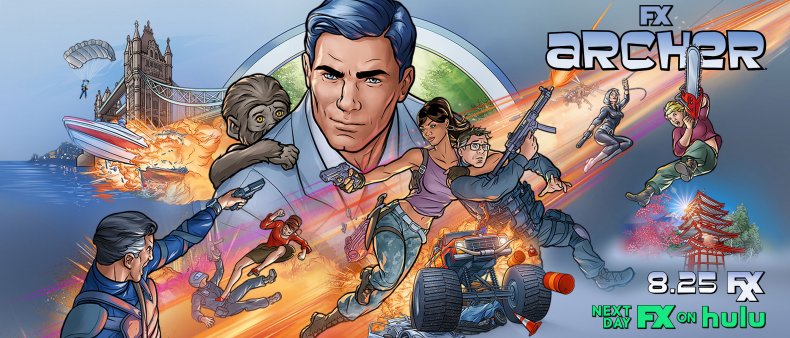 Who Will Star in 'Archer' Season 12?
The original voice cast of Archer reprise their roles for the 12th season including the late Jessica Walter who reportedly finished her voice recordings before she passed away on March 24, 2021. Walter portrays Archer's mother Malory. It is currently unclear what her character's fate will be in the season.
H. Jon Benjamin returns as the eponymous spy, and Aisha Tyler plays Lana Kane.
Judy Greer also reprises her role as Cheryl Tunt, Amber Nash plays Pam Poovey, Chris Parnell voices Cyril Figgis, Adam Reed returns as Ray Gillette and Lucky Yates is also back as Dr. Krieger.
What Will Happen In 'Archer' Season 12?
Season 11 ended with Archer questioning his reality after experiencing various flashbacks to his adventures in the coma.
And the trailer for season 12 has revealed Archer has gone back to basics, focusing on his missions as a spy operative.
Once again working with the New York agency, Archer and Lana are seen in the field with Cyril and Ray.
One such mission will see Archer and the operatives go into the jungle, where Archer adopts a monkey along the way.
Is There a Trailer For 'Archer' Season 12?
Yes, there is now a trailer for Archer's 12th season which was released on July 29, and gave fans a glimpse into the spy's escapades.
It also revealed that Archer and his fellow operatives are also going to go up against a number of Eco warriors during their missions.
While they will also enjoy some typically hysterical antics together in their downtime.
Archer season will premiere on August 25, 2021 on FXX.