Horror fans will not want to miss the terrifying Archive 81 on Netflix. The eight-part series, follows the stories of Dan (played Mamoudou Athie) and Melody (Dina Shihabi) whose lives, 25 years apart, become creepily interwined.
Dan, a film restoration expert is tasked with recovering Melody's video tapes which may hold vital evidence to explain her apparent death, but his work unlocks a much more sinister and supernatural turn of events. As Dan tries hard to get to the truth, the strangest things are happening in the editing room, including the presence of demons and ghosts and much, much more.
Newsweek has everything you need to know about Archive 81. Warning, this article contains spoilers.
Is 'Archive 81' Based on a True Story?
No, thankfully Archive 81 is not based on a true story. However, some of the show's elements do ring true, particularly the existence of cults.
The Netflix series is based on the 2016 horror podcast of the same name, created by Dan Powell and Marc Sollinger.
The podcast began airing in 2016 with its third and most recent season dropping in 2018. In 2019, it was followed up with a three-episode mini-series titled Left of the Dial.
Where the podcast focuses on audiotapes instead of videotapes, the Netflix series follows the story of Dan, who has been tasked with restoring old tapes belonging to billionaire Mr. Davenport (Martin Donovan) that were damaged in a tragic 1990s fire in an apartment building known as The Visser Building.
As part of his project, Dan is required to stay at an 80s-era compound belonging to Davenport, where the tapes have been kept for over 25 years. The building itself is enough to make the hair on the back of your neck stand up. It's dark, dingy and empty with no internet or phone signal. Dan is totally alone there.
However, along the way, he becomes obsessed with a woman on the tapes called Melody who, at the time, reportedly died in the Visser Building fire. Her body was never found.
Dan realizes a lot of the footage belonged to Melody, who was a graduate student working on an oral history project about apartment buildings in the area. After a serious amount of analysis, Dan begins to suspect that many of the residents in the building belong to a cult known as The Vos Society.
As Screen Rant explains, The Vos Society beliefs surrounding the fictional Comet Kharon closely resemble the beliefs of the real Heaven's Gate cult. Members of the Heaven's Gate cult committed mass suicide in 1997 under the belief that the Comet Hale-Bopp (a real comet) would transport them to a new world as immortal extraterrestrial beings.
Speaking to TV Over Mind, podcast creator Daniel Powell explained where the inspiration for the original podcast came from.
He shared: "I've worked at a sound effects library for the past two years, and one of my jobs is reviewing and listening to all the sound effects that we acquire before they go live to the site.
"I do this job from home so I've spent more time than anyone should alone in my apartment listening to weird noises. That experience, plus a general appreciation for found footage style of horror storytelling were a major inspiration."
The series does have a heavy focus on the supernatural and fans have become obsessed with the show's main antagonist Kaelego, a demon from the Otherworld who is worshipped by the cult at the Visser in statue form.
Archive 81 showrunner Rebecca Sonnenshine explained to The Wrap that Kaelego is not based on any specific mythological or supernatural figure.
She said: "It is not [based on] anything except for my head. This is kind of a Lovecraftian element to this show, which is an elder god or demon depending on how you look at it. So it feels real but it's an invention and obviously draws upon many tropes and other ideas, but the monster or god or demon himself is our creation."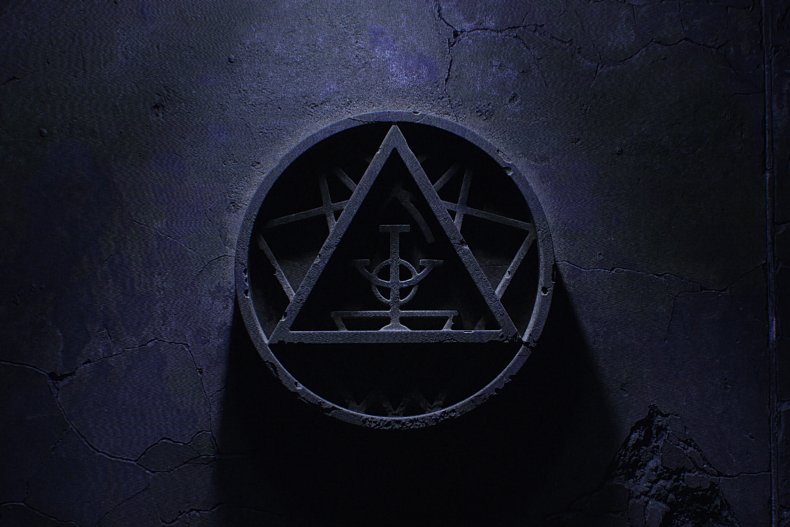 In a separate interview with TV Insider, Sonnenshine shared that the statue of Kaelego was inspired by a pose performed by Hannibal Lecter in The Silence of the Lambs.
She said: "He [Lecter] would look up at Jodie Foster's character Clarice, tilted head down, and be still. We also wanted to have a deity or regal quality to it, which is where the crown on his head comes from."
Fans of Archive 81 are waiting patiently for news of the second season. If given the green light, fans can expect the second outing to continue to draw from the podcast material as well as picking up from the huge cliffhanger ending of Season 1.
At the end of Archive 81, Dan was able to travel to the other dimension, known as the Otherworld, where Melody had been trapped since 1994. However, as they both try to make their way back to reality, Melody and Dan become separated.
You can listen to the Archive 81 podcast via Apple Podcasts, Spotify, Google Play, and wherever else you get your podcasts to find out what happens next.
Archive 81 is streaming on Netflix now.