'I Can't Emote': Archives Hint at Former Special Counsel Robert Mueller's Russia Testimony This Week
Former special counsel Robert Mueller will appear before Congress this week to testify about his two-year investigation into Russian interference during the 2016 election—a hearing Democrats hope will bring the findings of the probe to life for American voters.
Mueller has testified before lawmakers more than 60 times during his career but Wednesday will be his first appearance as a private citizen. The former FBI director resigned from the department in May following the conclusion of the investigation.
People close to Mueller told Politico that his preparation for Wednesday's back-to-back hearings before the House Intelligence and Judiciary committees is likely to be the same as his other congressional appearances. He will stick to the facts and be direct in answering questions posed by lawmakers.
"He doesn't like public speaking," said Chuck Rosenberg, a former senior FBI official. "But he prepares assiduously and is extremely credible because he doesn't try to spin, he doesn't speculate and he doesn't hypothesize."
George Tenet, a former CIA director, recalled that Mueller once sat in a testimony looking like a "choir boy and never moved." He said he tried to advise Mueller to "learn how to emote a little bit" during hearings.
"He said, 'I can't emote. I've been trained as a prosecutor. We're not allowed to show emotion,'" Tenet added.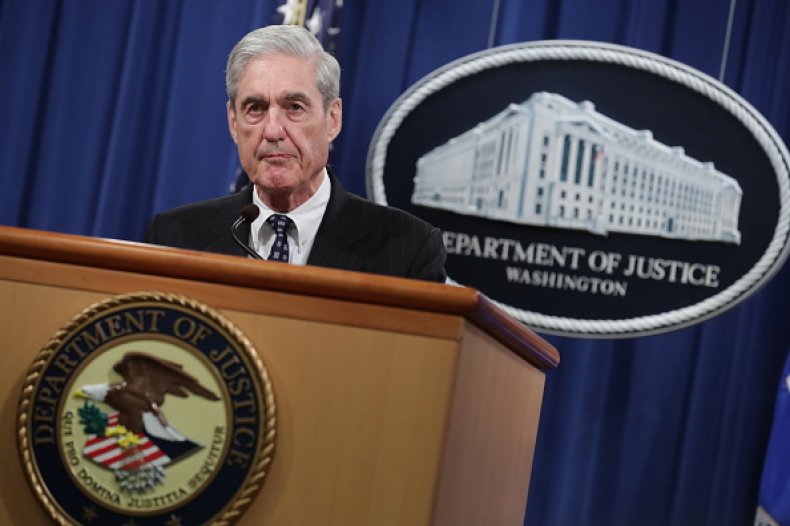 Mueller's straightforward approach may be a challenge for Democrats, who hope that Wednesday's hearing will help paint a picture of the Trump administration's alleged wrongdoings. Most Americans, they say, have not read the 400-page report and will learn about some of the details of the investigation for the first time on Wednesday.
The report, which was released as a book by numerous publishers, instantly became a national bestseller. For weeks it topped the nonfiction lists of the New York Times and Amazon. But it's unclear how many people have actually read the material. According to a CNN poll, only 24 percent of Americans have read any part of the report. Even some lawmakers say they haven't had time to read it all.
Representative Adam Schiff, the House Intelligence Committee chairman, acknowledged in a recent interview with The Atlantic that Mueller is likely to try to confine his remarks to information that is already available in the report but that wouldn't stop them from seeking more answers.
"There are questions that we have that go beyond the report, and there is no legal prohibition on his answering them, so there may be areas that go beyond the report," Schiff said. "But it is our hope that we can inform the American people of the full facts, that they can appreciate the degree to which the Russians interfered in a presidential election to help Donald Trump, the degree to which the president welcomed that help, knew it was going on, welcomed it, and then lied about it and covered it up."
Republicans have already dismissed the hearings as political gamesmanship. Attorney General William Barr has also speculated that Wednesday's testimony will be a "public spectacle." Barr also said he would support Mueller if he decided he "doesn't want to subject himself" to congressional testimony despite being issued a subpoena.
While Mueller did not bring charges against Donald Trump, his report outlined several instances where the president may have obstructed justice throughout the two-year probe. Ultimately, it was Attorney General Barr and Deputy Attorney General Rod Rosenstein who decided to clear the president of wrongdoing.
During a press conference in May, Mueller said that if his office "had confidence that the President clearly did not commit a crime, we would have said that." His office never made that claim.