Arctic Summer Drought: Reindeer Herders Ask For Emergency Funding To Save Animals From Starvation
Reindeer herders in Sweden are asking the government for financial aid to help pay for feed following drought and wildfires that burned throughout the country this summer. Niila Inga, the chair of the Swedish Sami Association, met with government officials on Thursday in Stockholm to discuss the herders' request.
"We are living with the effects of climate change. The alarm bells are ringing. We face droughts, heat waves, fires. This is about the survival of the reindeer, and of Sami culture, which depends on them," Inga told the SVT news agency, reported The Guardian.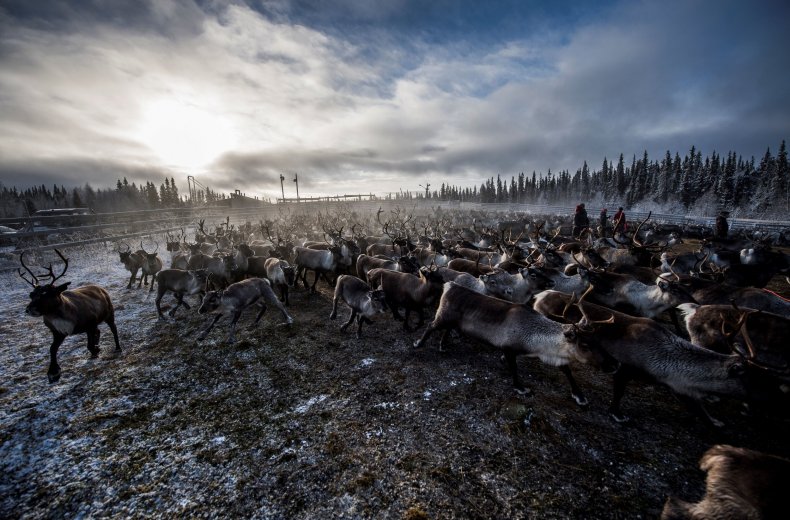 There are 250,000 reindeer in Sweden, and only the indigenous Sami people are allowed to raise the animals. Inga says the $132 million in financial aid that was commissioned in July for drought-affected farmers did not include help for the 4,600 Sami reindeer owners.
"We really need aid from the government to make sure that we have supplementary food for the reindeer this winter," Inga told The Local.
Along with food, Inga says that funding is needed to find a new way of growing lichen, an organism that grows in the forests and is a part of the reindeer's diet. After drought and wildfires, forests and grazing lands could take up to 30 years to rebound.
"They heard us and they understood the problem. We have to hope, it's the only way of surviving," said Inga after the meeting.
The heat wave in Sweden caused a glacier to lose 13 feet in height after high temperatures melted ice and snow on Kebnekaise mountain. Prior to melting, the glacier was the highest point in the country.
"Climate change is not just a local problem – it's a global problem. The feedbacks from the Arctic are increasing global sea levels, they are predicted to change global climate and precipitation patterns, and the effects of climate change on Arctic species are likely to be felt globally," the World Wildlife Foundation said, according to TIME.
The Arctic is heating up two times faster than the rest of the world, a report from the US National Oceanic and Atmospheric Administration (NOAA) said. Eighty scientists from 12 countries reported that ecosystems and people living in the Arctic are being affected by the above average ocean temperatures.
"The rapid and dramatic changes we continue to see in the Arctic present major challenges and opportunities. This year's Arctic Report Card is a powerful argument for why we need long-term sustained Arctic observations to support the decisions that we will need to make to improve the economic well-being for Arctic communities, national security, environmental health and food security," said Dr. Timothy Gallaudet, the acting NOAA administrator, according to the Independent.