Are '90 Day Fiancé' Stars Chantel Everett and Pedro Jimeno Still Together? Mother Chantel Gets Shaded on Instagram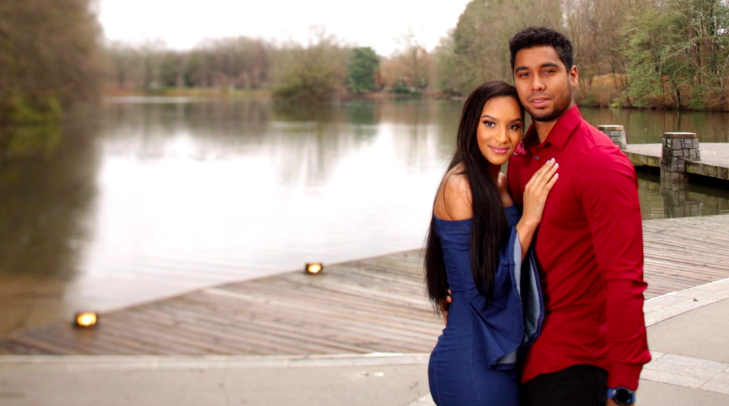 90 Day Fiancé stars Chantel and Pedro Jimeno arguably have one of the most tumultuous relationships. They even got their own spinoff, The Family Chantel.
After one of the most explosive fights to air on reality TV, the couple is still seemingly together—though their marriage appears to remain rocky—after his mother-in-law threatened to Taser him on Season 4 of Happily Ever After if another fight erupted at a family dinner.
On Tuesday, Pedro publicly shaded his mother-in-law, Karen, who he not-to-so-affectionately calls, "Mother Chantel." Pedro, who hails from the Dominican Republic, posted a photo of a snake biting a man on the face. He called it "the kiss of the mother-in-law." The following day, he posted a photo of industrial-strength glue and said it was "lipstick for mothers-in-law."
Pedro wasn't alone in slamming mothers. Chantel also took some digs at Pedro's mom, Lidia, days before Mother's Day. "A toast to mothers-in-law that try to micromanage their adult sons/daughters love lives but have never had a successful one themselves," her Wednesday Instagram post read.
On Sunday's upcoming episode of 90 Day Fiancé: Happily Ever After? Season 4, episode 3, the couple will reportedly meet with a lawyer, who reveals that if they got divorced, it would not affect Pedro's green card. Pedro's immigration status is the main cause of tension with Chantel's family. They accused him of "harvesting the American dollar" and playing them for fools. They claimed Pedro's mother purposely groomed him to marry an American so he could send funds back to the Dominican Republic.
Their controversial relationship is one of the reasons they landed their spinoff, which is slated to debut on TLC in July. "Our fans can't get enough of Pedro, Chantel, and their larger-than-life families," Howard Lee, president and general manager of TLC, said in a statement about the spinoff. "For a brand known as the destination for love, relationships, and family shows, The Family Chantel hits the bulls eye."
While some couples, might shy away from airing their dirty laundry on national television, Chantel was grateful for her fans. "I have been getting so much support from my followers about the announcement of #thefamilychantel and I am so grateful," she wrote at the time. "Initially I was ambivalent about it because my life is not perfect and it is not easy to show my flaws to the world. Thank you to the people who have been sending me support."
"90 Day Fiancé: Happily Ever After?" Season 4 airs Sundays at 8 p.m. ET on TLC.