Are Angela and Michael Still Together? 'Before The 90 Days' Story Will Continue on '90 Day Fiancé'
90 Day Fiancé will return with one familiar couple. Angela Deem and Michael Ilesanmi's story, which began on 90 Day Fiancé: Before The 90 Days, will continue on the seventh season of the hit TLC reality show.
A tease of the new season, which will premiere Sunday, shows Angela tearfully asking Michael if he still wants to marry her. Despite the pending drama, as seen in the show's trailer, it appears Angela and Michael are still together, as of the season premiere.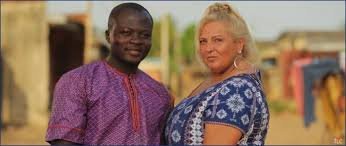 Angela and Michael will appear on 90 Day Fiancé after their time on 90 Day Fiancé: Before The 90 Days.
Getty Images/John Smith
While Angela has a private Instagram account, Michael often posts about his love for Angela, who he calls Angie. He last posted a photo of her on Halloween simply captioned with her name.
The main source of drama between Angela and Michael is the want to have children. The conversation took over their relationship, as well as the relationship with Michael's family, on 90 Day Fiancé: Before The 90 Days. Angela, who is 54, may not be able to have children, though it's something 30-year-old Michael, and his Nigerian family, require from their relationship. The spinoff series showed the couple agreeing to try to fit children into their lives.
In the trailer, Michael prepares to move to America on a K-1 visa. That means, as the title of the show suggests, the couple will have 90 days to get married before Michael's green card expires.
Many 90 Day Fiancé viewers aren't excited to see the couple back. Twitter users exploded with outrage when the trailer showed Angela's return. Some claim the 90 Day star is abusive to Michael and uses manipulation to keep him in the relationship. Another 90 Day Fiancé star, Avery Mills, also claimed Angela "physically attacked" Avery's mother at the 90 Day Fiancé: Before The 90 Days Tell All episode that aired on October 28.
Because of these claims, a petition exists to oust Angela from 90 Day Fiancé and any future filming. The petition points to TLC for allegedly supporting abuse.
"TLC is promoting and giving a platform for financial, emotional and physical partner abuse by continuing to give Angela airtime," says the petition on Change.org, which was started by Alice Page. "Take Angela off the air immediately and acknowledge the harm and damage she has caused to the psyche and well-being of a young man eager to find love and get to America. A donation to a domestic violence organization or immigrant rights group would be very meaningful as well."