Are the Astros Cheating? Houston Accused of Filming Secret Dugout Footage, Reports Allege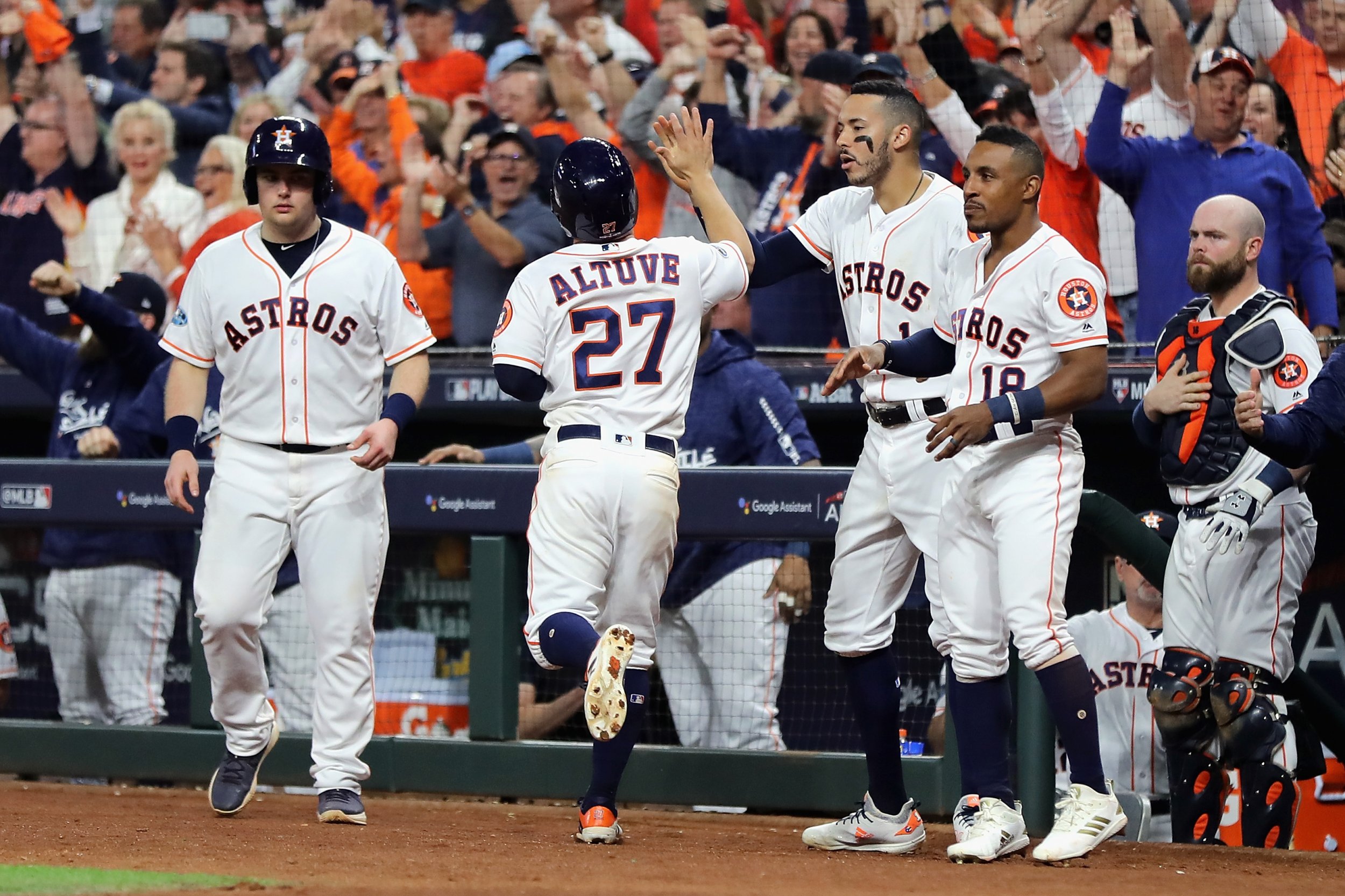 It has surfaced this week that the defending-champion Houston Astros have been accused of improperly filming or photographing opposing teams in what would seem to be an effort to steal signs or gather other such information.
Yahoo's Jeff Passan reported that the Boston Red Sox—currently facing the Astros in the American League Championship Series—were warned a man credentialed by Houston might try to steal signs and, Yahoo further revealed, that man named Kyle McLaughlin had been removed by security at the American League Division Series in Cleveland as well as the ALCS in Boston. The report noted that McLaughlin was not publicly listed as an Astros employee but that he had been photographed with the team's owner wearing a team badge and previously had the team listed on his Instagram page.
Boston leads—two games to one—in the ALCS, having won two-straight after falling in Game 1 at home.
The Boston Metro Times first reported that a man was removed from a media area during Game 1 of the ALCS on Saturday, noting that he was found to have a camera and was "texting frequently" from the spot by Boston's dugout despite not being a media member.
MLB is looking into the incident but it's expected it'll produce little more than a fine, according to ESPN.
"I'm aware of something going on, but I haven't been briefed," Astros manager A.J. Hinch said after Game 3 of the ALCS on Tuesday, according to ESPN. "I'm worried about the game."
Yahoo reported, citing unnamed sources, that Houston has been the subject of sign-stealing allegations from the Oakland Athletics—who felt players clapped to tip signs to teammates—and the Los Angeles Dodgers, who apparently believed the Astros were stealing signs in last year's World Series. Cleveland.com reported on Tuesday the Indians have lodged a complaint with MLB alleging Houston attempted to film their dugout in the ALDS.
Boston's manager Alex Cora was the bench coach for the champion Astros last years, so one would assume he might have inside knowledge of any Houston sign-stealing efforts. He called it "an MLB issue" on Tuesday, via ESPN.
"I'm always concerned about that throughout the season," Cora added, via ESPN. "So I mean, we do a good job changing sequences and paying attention to details. And we don't get caught up in the whole paranoia thing of the signs. We try to slow it down. If we feel there's something going on, we switch the signs."