Voters in a state that helped launch Vermont Senator Bernie Sanders's 2016 bid for the presidency may not be "feeling the Bern" as much two years later, now that it's rumored the senator could run again in 2020.
Sanders trails Massachusetts Senator Elizabeth Warren as well as former Vice President Joe Biden in a survey of New Hampshire voters' preferred 2020 candidate, according to new polling from Suffolk University released on Wednesday. Sanders won over just 13 percent of New Hampshire voters, while Warren was preferred by 26 percent of the respondents and Biden by 20 percent. New Jersey Senator Cory Booker fell below Sanders with 8 percent, California Senator Kamala Harris and former Massachusetts Governor Deval Patrick each got 4 percent, and former Virginia Governor Terry McAuliffe and New York Senator Kirsten Gillibrand received 2 percent each.
The poll was administered more than two years ahead of 2020's general election, but the results suggest that a state that once considered Sanders their first choice for president is open to other options when presented with a slate of potential Democratic contenders.
"For someone who hasn't visited New Hampshire in over a year, Joe Biden's popularity is strong and steady," David Paleologos, Suffolk University Political Research Center's Boston director said. "What is perhaps surprising is that Bernie Sanders—who secured 60 percent of the New Hampshire Democratic primary vote in 2016—is retaining less than half of that support two years later."
An October poll from the University of New Hampshire showed Sanders with a much stronger standing. At the time, 31 percent of New Hampshire primary voters favored Sanders, putting him in the lead over Warren, Biden, Booker, Harris, Gillibrand and several other rumored candidates.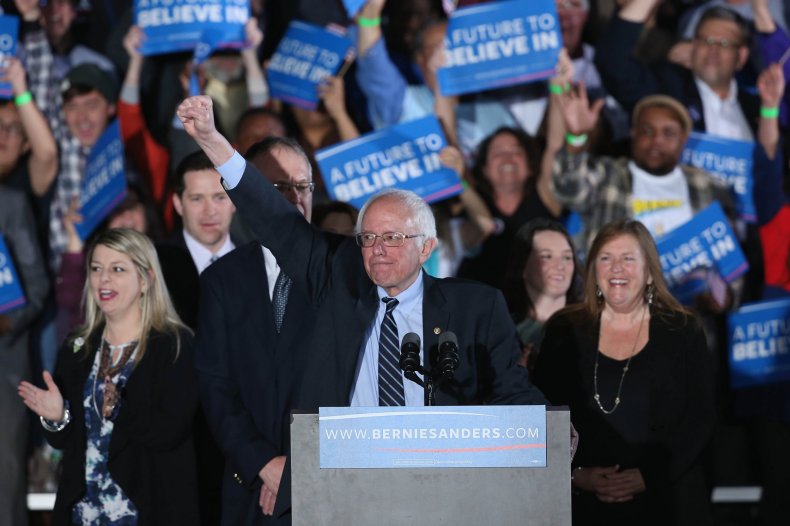 New Hampshire's primary contest, the first to take place in the nation, established Sanders as a viable 2016 presidential candidate when he beat Hillary Clinton with 60 percent of the vote to her 38 percent.
Since then, Sanders has made the state a regular stop for events and rallies, making at least four appearances in the state in recent years, either to campaign for Clinton or New Hampshire Senator Maggie Hassan, to promote his book, or to speak.
"He's definitely interested in what's going to happen in 2020," Kurt Ehrenberg, the Sanders's campaign's New Hampshire political director, told local New Hampshire outlet WMUR9 in August, ahead of Sanders's Labor Day appearance in the state. "I think it's far too early to read anything into his coming back to the state at this point."
Ehrenberg said Sanders supporters in New Hampshire will be keeping a close eye on the senator, however, whom they credit with building a progressive coalition within the Democratic Party.
"Senator Sanders has been involved in building the progressive wing of the party," Ehrenberg said. "He'll continue to do that. And those of us in New Hampshire who supported Senator Sanders are continuing to work hard to make sure the issues and important things we worked toward with him will continue and will come to fruition."