The leftists running the Big Apple and the Empire State have settled on a convenient COVID-19 "super spreader" scapegoat of choice. Their choice should be surprising to no one: the Jews.
In a Monday press conference, Governor Andrew Cuomo did not merely single out New Rochelle, in Westchester County, as the first outbreak hotspot—he emphasized, for good measure, the "Orthodox Jewish" identity of the culprit. "We know religious gatherings have been a problem...for weeks," he continued, belying any semblance of neutrality as to which particular community he had in mind when TV producers flashed images of black hat-clad Haredi Jews across the screen. In Kafkaesque fashion, as Jewish Insider's Jacob Kornbluh pointed out, one of the photos appeared to be from 2006.
Cuomo's press conference followed his flagging, on Twitter last week, "20 hotspot ZIP codes"—clustered around the New York City metropolitan area—of locations to "target[]." The New York City Commission of Health and Mental Hygiene dutifully followed Cuomo's imperial lead, issuing a new slew of draconian dictates for local private schools—meaning yeshivas—in eight specific Brooklyn- and Queens-based ZIP codes. Each of these eight ZIP codes are—surprise!—in predominantly Jewish areas of Brooklyn and Queens. And as law professor Josh Blackman has noted, the Commission did not impose similar crippling restrictions on at least six New York City ZIP codes with similar COVID-19 positivity rates that—surprise!—are not predominantly Jewish. He had the chutzpah to threaten to coercively shut down noncompliant religious institutions and schools—in other words, synagogues and yeshivas.
In the aftermath of Monday's presser, Cuomo has now chosen to focus, in lieu of ZIP code targeting, on "redlining" those irksome Jewish neighborhoods. As Blackman wrote: "The governor is drawing up the 21st-century equivalent of ghettos for Jews. And he is encircling these ghettos with red lines."
This looks an awful lot like invidious animus. Cuomo and hizzoner have positioned themselves as the modern-day heirs to a most lamentable and vile Western tradition, dating back at least to the Black Death of 14th-century Europe, of singling out the Jews for being uniquely culpable transmitters of a highly contagious pandemic. Perhaps, amidst today's increasingly anti-Semitic leftist grassroots, these "leaders" expect political accolades for directing their ire against the world's oldest, most frequently targeted scapegoats.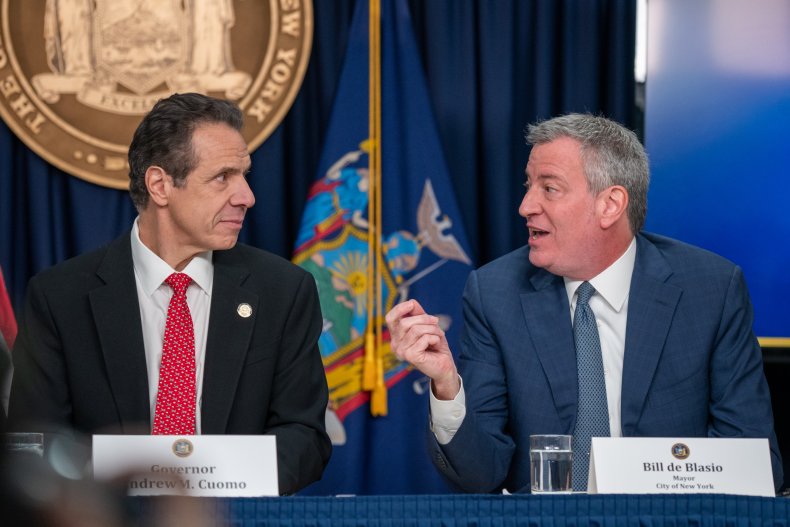 For de Blasio, such boorish behavior is hardly unexpected; around the time of the COVID-19 outbreak, hizzoner threatened—in galling defiance of either the plain letter or overarching spirit of the First Amendment—to "permanently" close houses of worship that did not properly comply with social distancing. For Cuomo, his finger-wagging represents a nadir in Jewish community relations for a man who, like his late father, long valued and seemed to prioritize Jewish outreach. Alas, no longer.
Albany and City Hall best prepare for litigation: The situation is fluid, but there will assuredly be a flurry of lawsuits filed on behalf of New York City's Jews. The Constitution's federalist structure does provide states and localities with so-called "police power" over emergency health-related regulatory measures, but anti-religious discrimination is verboten under the First Amendment and relevant federal statutes, such as the Religious Freedom Restoration Act and the Religious Land Use and Institutionalized Persons Act.
But litigation, whether real or threatened, is insufficient. Attorney General William Barr should immediately open a Department of Justice Civil Rights Division investigation as to whether Cuomo and de Blasio are violating federal law by discriminating against New York City's Jewish community in such transparent fashion. For far too long since the initial COVID-19 lockdowns in mid-March, hizzoner and his overlord Cuomo have targeted the nation's largest Jewish population with unequal and selective enforcement of the law.
And in the meantime, conscientious NYPD officers, lacking morale after a summer of anarchic mayhem and nursing long-held grievances against the anti-cop denizens of City Hall, ought to refuse to effectuate the latest Cuomo-de Blasio salvo against the Jews. An unjust law, as the oft-quoted Aquinas maxim goes, is no law at all.
Josh Hammer, Newsweek opinion editor, is also a syndicated columnist, of counsel at First Liberty Institute and a research fellow at the Edmund Burke Foundation.
The views expressed in this article are the writer's own.