Are Bomb Cyclones Real? The Difference Between a Nor'Easter, Blizzard and a Winter Hurricane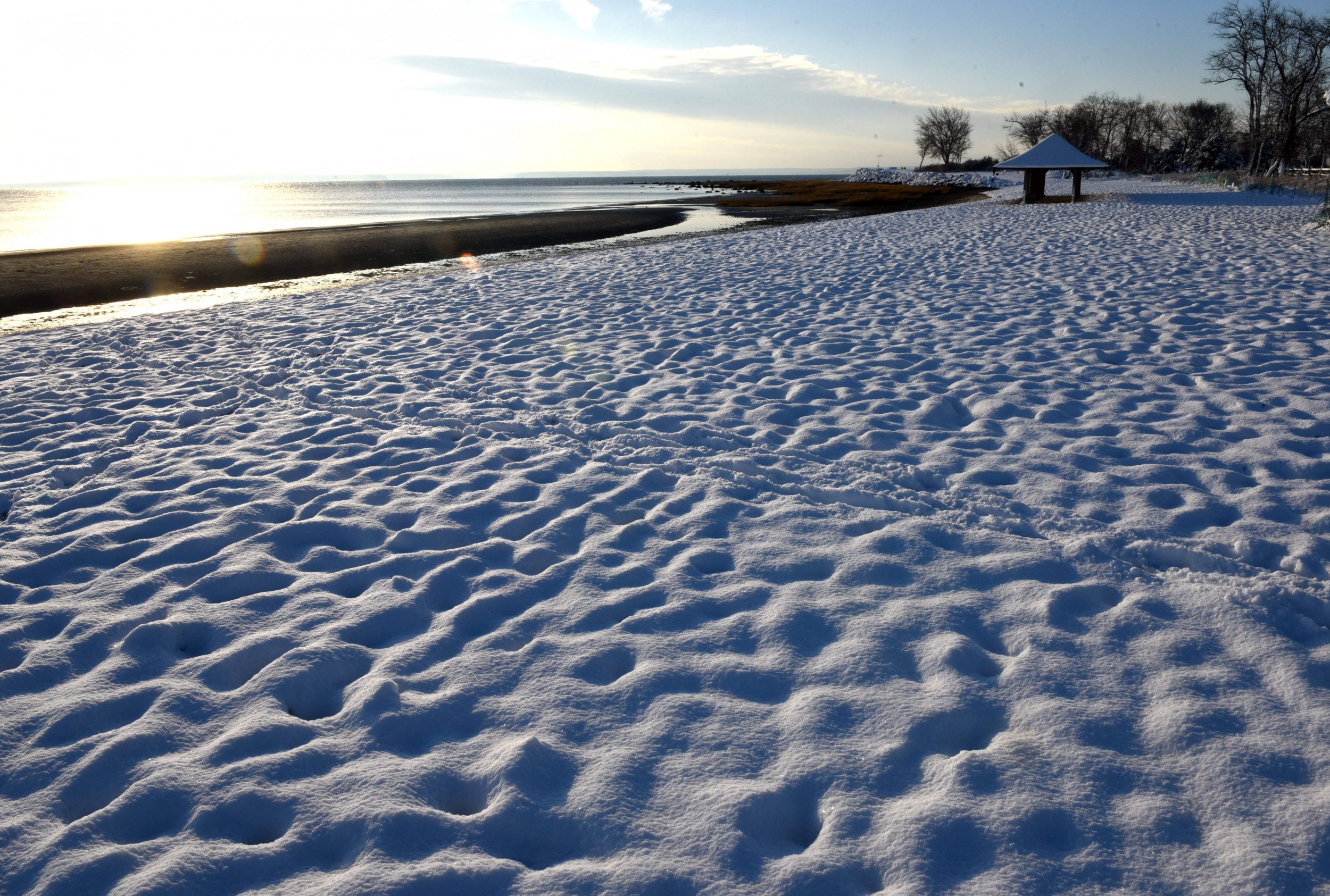 A winter storm dubbed Grayson has been described as a "bombogenesis," "bomb cyclone" and "winter hurricane." The storm is already barreling up the southeastern coast and conditions are expected to reach their peak in New England on Thursday. Tallahassee, Florida and South Georgia even got a thin blanket of snow Wednesday morning. But is this massive winter snow storm just another nor'easter? And is a "bomb cyclone" even a real phenomenon? Here is a breakdown of the weather terms being tossed around to describe the storm.
Bomb Cyclone
A bomb cyclone, or more specifically just a "bomb" in terms of weather, is a "rapid intensification of a cyclone with surface pressure expected to fall by at least 24 millibars in 24 [hours]," per the National Weather Service. When the pressure drops this quickly as measured in millibars, it is considered a bomb.
A millibar is a unit that measures atmospheric pressure. The atmospheric pressure, is "the weight of the air above us," David Nicosia, meteorologist at the weather service's Binghamton, New York, office, told Newsweek. "The lower the atmospheric pressure is, the more intense the storm is."
Fluctuations in atmospheric pressure aren't often noticed by humans, but people will notice when they go to the mountains and their ears pop, Nicosia said. There is less pressure at higher altitudes.
Bombogenesis
This term is nearly the same as a bomb, but refers more specifically to a bomb's development—hence the inclusion of "genesis." It occurs when pressure drops more than 24 millibars in 24 hours, like a bomb. According to the National Oceanic and Atmospheric Administration, it "describes a midlatitude cyclone that rapidly intensifies."
Nicosia noted the term cyclogenesis to explain. A cyclogenesis is the development of a cyclone, or a storm system. The term bombogenesis came about when "somebody put the two together," Nicosia said, referring to cyclogenesis and bomb.
When a storm is a bomb, it doesn't necessarily mean heavy snow will result inland. "However, what it does do," said Nicosia, is create "high winds near the center of the storm." The center of the storm is far offshore. The winds there are so high that hurricane-force winds are expected.
Winter Hurricane
Since hurricane-force winds are expected to occur at the storm's center offshore, the storm has been conflated into a winter hurricane. That is not technically a term meteorologists use.
"We don't call it a winter hurricane," Nicosia said.
Since it is a storm outside of the tropics, the storm is considered an "extra-tropical cyclone." Extra-tropical cyclones have an intense contrast between cold temperatures in the north and warmer temperatures in the south. The dividing line between the cold air and warm air is the jet stream, Nicosia said, which fuels the high wind speeds expected in the storm this week.
"That temperature contrast is what's driving the storm," Nicosia said. In particular, it is fueling the intense winds that have resulted in people using the term "winter hurricane." This is "just a winter storm that offshore may have hurricane-force winds at the time," he said.
Nor'Easter
The winter storm this week is a bomb cyclone and a nor'easter. A nor'easter refers to a storm that runs along the East Coast of North America, according to the weather service. The name stems from winds over coastal areas that are usually from the northeast. They typically develop between Georgia and New Jersey within 100 miles east or west of the coast. Maximum intensity occurs near New England and the maritime provinces in Canada. This type of storm especially impacts the highly populated region between Washington D.C. and Boston along the I-95 Corridor.
Blizzard
A blizzard occurs when conditions of sustained or frequent wind gusts at least 35 miles per hour and reduced visibility from blowing snow last three hours or longer. Blizzard conditions are possible across parts of eastern New England by late Thursday, according to the weather service's Wednesday morning update.
If you're confused on the various watches, warnings and advisories in your local area, the weather service broke it down. Blizzard warnings indicate "severe winter weather within the next 12 to 36 hours or is occurring—including whiteout conditions." A winter storm warning means dangerous winter weather is expected, with "considerable travel problems," while a winter weather advisory means "travel difficulties" are expected with "potentially dangerous winter weather."
There are differences between winter storm warnings, watches and advisories as well.
Winter Storm "Grayson"
Another caveat is this storm's name, which The Weather Channel has dubbed Grayson. Nicosia said the National Weather Service does not name storms. The federal agency is responsible for warning the public about storms, Nicosia said, and storms don't get names like those that hurricanes and tropical storms receive.
"That's the official policy," he said.
The Weather Channel began naming storms during the 2012-2013 winter season.
"It's simply easier to communicate about a complex storm if it has a name, which our naming program has demonstrated," according to Bryan Norcross, senior hurricane specialist at The Weather Channel. "Good communications benefits everyone."
All in all, Nicosia said, much of these terms are "meteorological jargon" that meteorologists have been using for decades. "We've had storms that have been happening like this for ages," he said. This storm, however, is the first major one of the winter and follows a lengthy cold snap across large swaths of the United States.