Are Canada Goose Jackets inhumane? The Controversy Explained
Animal rights advocates say coyotes and geese suffer greatly to make Canada Goose coats.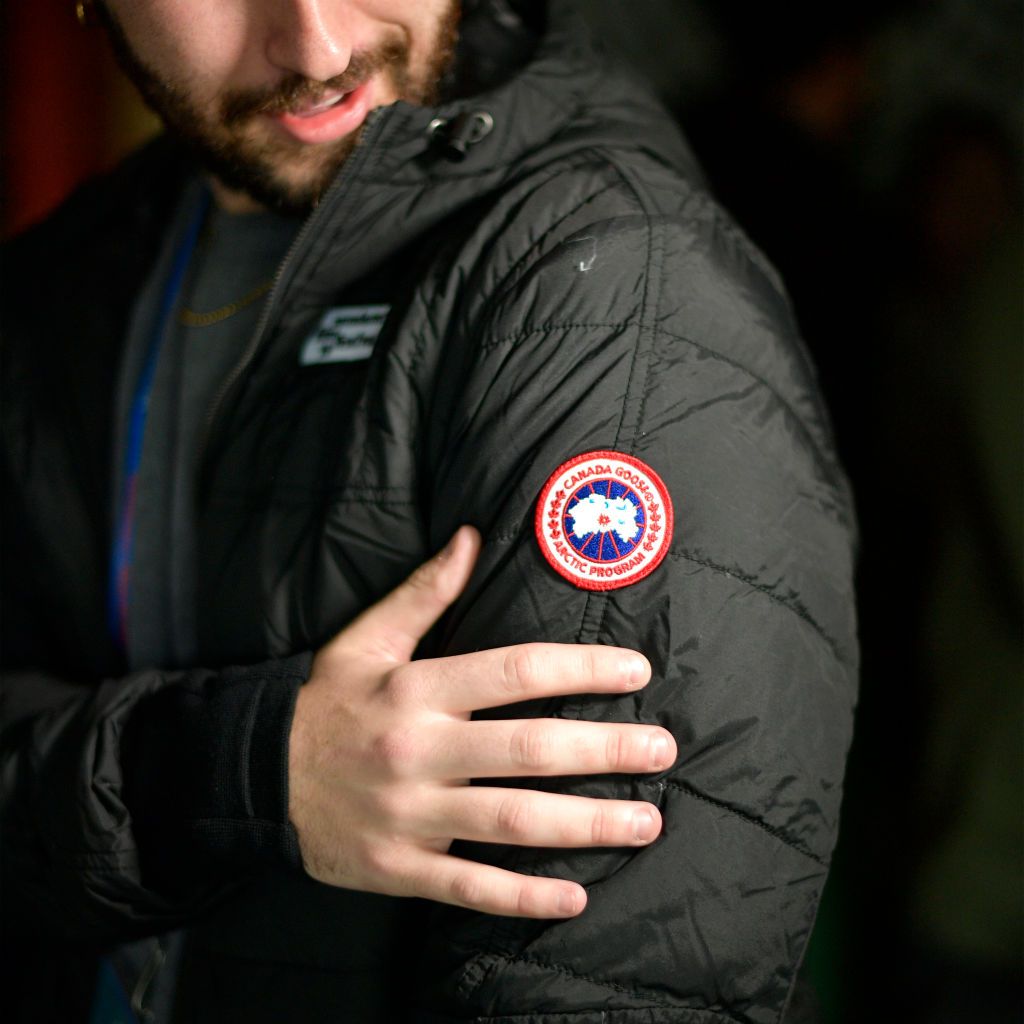 Canada Goose has become the go-to brand for winter jackets—its distinctive red-white-and-blue patch is ubiquitous in New York, Chicago and other cities facing frigid temperatures. Founded in 1957, the company has even become something of a status symbol, with everyone from Emma Stone to Bradley Cooper spotted in Canada Goose coats. In 2010, Drake's clothing brand, October's Very Own, began collaborating with the cult-fave company. Three years later, Kate Upton appeared on the cover of Sports Illustrated wearing nothing but a white CG jacket and bikini bottom.
A Canada Goose jacket isn't cheap: The least expensive men's version retails for $350; the top-of-the-line version is $1,550. Still, consumers can't get enough: In 2018, Canada Goose's stock price rocketed to $56 a share, and when it opened its first store Beijing late last year, the line snaked down the street. (Canada Goose plans to operate 20 stores globally by 2020.)
That popularity (and steep price tag) has led to problems: At least one school in England has banned Canada Goose jackets to stop less affluent students from being bullied for not having one. In Chicago, at least six people were held up and robbed of their Canada Goose jackets in a single week.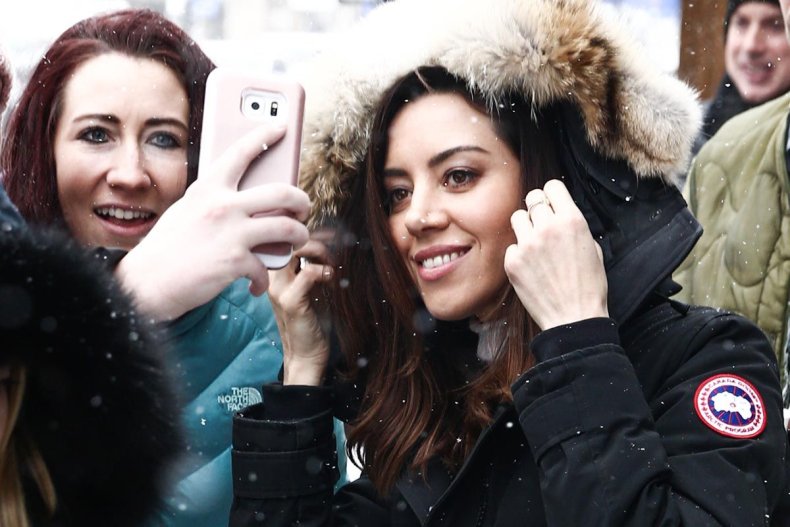 The Canada Douche tumblr lampoons how "basic" Canada Goose wearers are. "They wear the jacket, drink Starbucks exclusively, use only the latest Apple products and still complain that tuition is too high," one user wrote of CG-loving college students.
But Canada Goose has also been getting blowback for another reason: For the last seven years, PETA has been plastering anti-Canada Goose billboards around North America and Europe and turning up to protest at every new store opening. The animal rights group wants people to stop wearing Canada Goose—not because it makes you look like a douche, but because, it claims, the company is guilty of serious animal cruelty.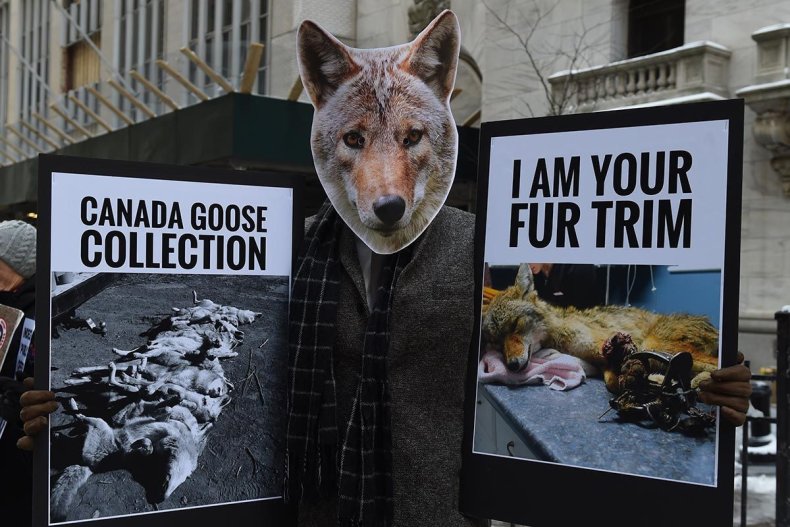 Is Canada Goose cruel to animals?
The hoods on Canada Goose's more upscale jackets are lined with fur. But what some consumers don't know is that it's real fur—from wild coyotes. Canada Goose say it sources coyote fur ethically, in accordance with Canada's Agreement of International Humane Trapping Standards (AIHTS), established in 1997 to set a standard for trapping wild animals. Canada Goose also abides by similar regulations in the U.S., where fur is governed by a policy called Best Management Practices (BMP).
The AIHTS specifies that a trap must be shown not to cause harm in at least 80 percent of coyotes. The policy's definition of harm encompases everything from "excessive immobility and unresponsiveness" to amputation and even death. Of course, the coyote is ultimately killed and skinned, but the intended goal is to minimize suffering while in the trap.
The current list of coyote traps approved by the AIHTS include the Belisle Foot Snare, which clamps down on the leg, rather than dig in with sharp "teeth." An additional cable ties the animal down and immobilizes it without injury. Other traps, like the Duke No. 3 Rubber Jaws, use rubber casings on the clamps, which some consider to be more humane.
While Canada has approved both of these traps, they are banned in dozens of countries, including the whole of the EU. A proposal to ban fur from countries using leg-hold traps claimed they "close tightly upon one or more of the animal's limbs and, in doing so, often breaks bones and lacerates the skin."
A major reason Canada instituted the AIHTS in the first place was to reach a compromise with the EU rather than face a full ban.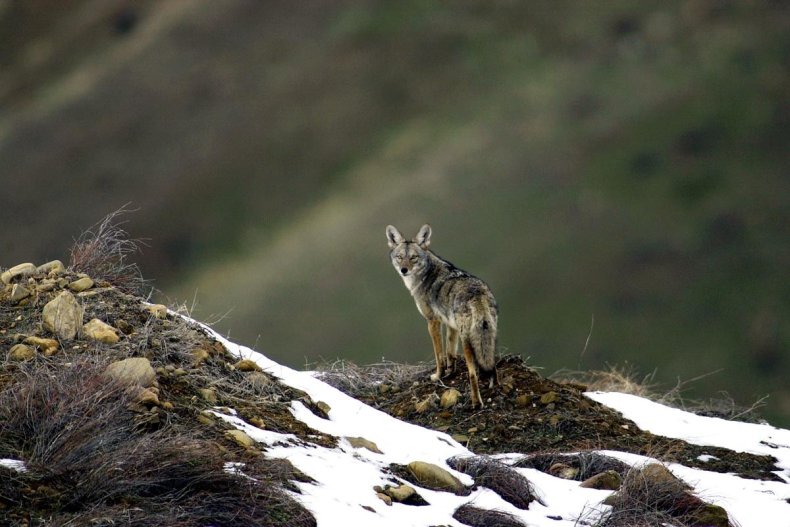 In the U.S. regulations regarding fur-trapping vary greatly from state to state, but in most cases they stipulate that the coyote must be killed less than 24 hours after being caught. "It's not 100 percent effective," wildlife expert Stanley Gehrt told Newsweek, "but it's definitely over that 80 percent threshold [required by AIHTS] in terms of harm."
The problem, Gehrt explains, is that not all states are so strict: Wyoming, for example, only requires traps to be checked every three days, by which time a coyote will likely have suffered extreme distress. "It's horrible, to put it mildly," he says. A coyote can try to chew the trap, but wind up gnawing off a numb leg or foot, instead. "You also get muscle tissue damage because they're yanking their paw against the trap," he says. "They become dehydrated. There's a possibility of dying of exposure when they're in a trap that long."
And there are rogue trappers who flout regulations or don't use the traps properly.
State guidelines also vary on how a coyote should be killed once it is discovered. "There are some trappers that will use a hammer or a baseball bat to hit them over the head," Gehrt says. "If states knew about that they would probably legislate against it, but there are places where that takes place." He's quick to add, though, that those bad actors are in the minority. "A vast majority of states and provinces do maintain pretty strict guidelines. And in all of those cases it's a relatively humane exercise."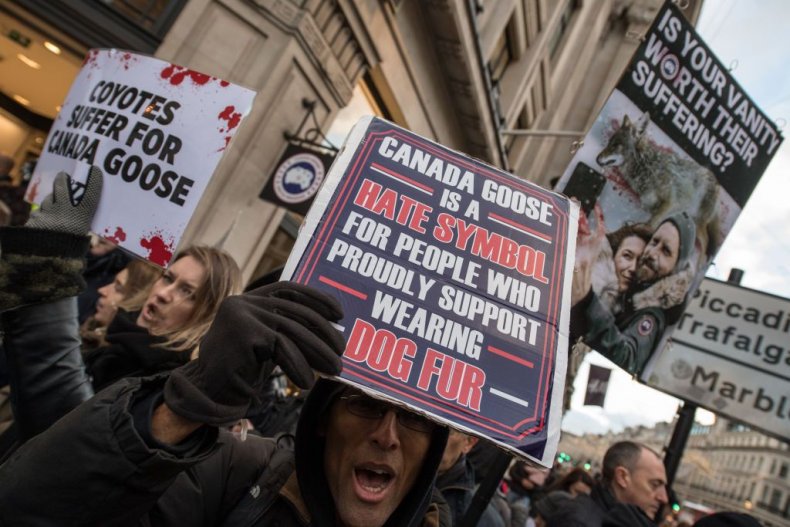 Does Canada Goose get its fur humanely?
Canada Goose has stated it doesn't believe trapping is intrinsically cruel. "We believe all animals are entitled to humane treatment in life and death, and we are deeply committed to the ethical sourcing and responsible use of all animal materials in our products," reads a statement on the company website.
But a humane trap does not mean the animal doesn't suffer, just that it is suffering less than it would in another trap. Coyotes are sentient, social animals. Being immobilized by a trap—even a "humane" one—would cause some degree of suffering.
And that's just in the best-case scenario: There's no way for Canada Goose customers to know if the fur from their jacket came from a state with strict or lax regulations. Asked by Newsweek about exactly where its coyote fur is sourced, Canada Goose only said that "we source all of our fur from areas widely distributed across the Western region of North America."
In 2015, the group Animal Justice Canada filed a complaint with the Competition Bureau of Canada, claiming Canada Goose's description of its coyote-trapping process as "humane" was misleading. Customers, the group insisted, would assume the process was cruelty-free.
"It is well-documented that the fur trade engages in practices that most consumers do not consider humane, including using traps that cause significant injury and suffering to animals," Animal Justice legal director Camille Labchuk wrote on the group's website. "By claiming the fur trim on its jackets come from humanely trapped coyotes, Canada Goose is preying on ethically conscious consumers."
But the Competition Bureau dismissed the complaint in 2016, telling Labchuk in a letter seen by Newsweek that "the inquiry has not satisfied the Commissioner that Canada Goose's representations are false or misleading in a material respect."
Labchuk was not satisfied with the agency's single-page response: "What was shocking to me about their letter is they provide virtually no reasons as to why they chose to discontinue their inquiry," she told Newsweek. She filed a public-records request for documentation relating to the decision, but says, "they have been fighting me for nearly three years to avoid having to disclose these documents."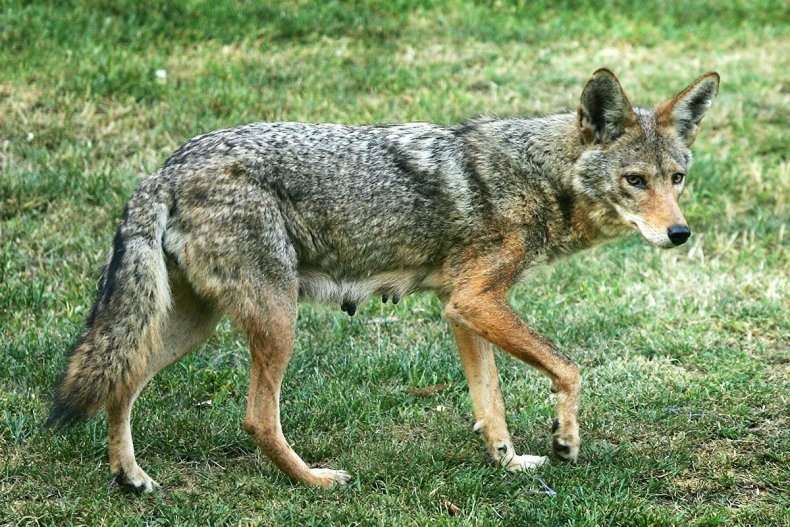 Labchuk still maintains Canada Goose is misleading consumers about the potential cruelty involved in procuring its fur trim. "I don't think a reasonable person who learns what degree of suffering the law allows for could ever possibly say that Canada Goose's trapping practices are 'humane.' [That] word is most often used in connection with humane societies, which of course are places of compassion, not ones of suffering and death. In my view, the word is very strongly tied in Canadians' minds to being kind to animals, not hurting them."
Gehrt, who learned how to capture coyotes for his research, recognizes that trapping can be useful. And he's not sure it will ever cease entirely. But, he says, "we're moving towards having more restrictions on our harvesting of coyotes and there's less of a market for them. Trappers getting licenses are declining."
Strip away all the nuance, though, you're still left with one unavoidable fact: Coyotes have to die to make Canada Goose jackets. And even if that's not an issue for you, there's no way to know exactly how much the animal suffered in the process.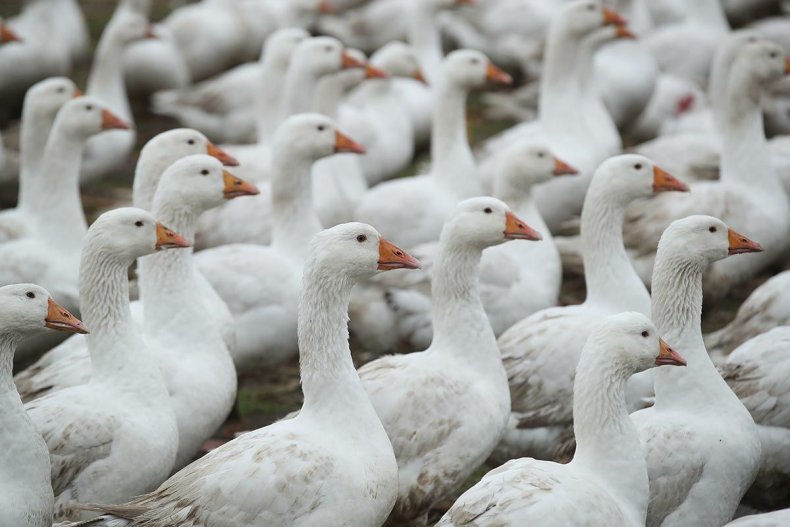 Are Geese Used in Canada Goose Coats?
It's not just coyotes that are unwilling contributors to these in-demand jackets—Canada Goose does indeed use goose down, the bird's fluffy undercoat, in the lining of its coats. "We use down because it's recognized as one of the world's best natural insulators," Canada Goose writes on its website. "Our down blends all contain Canadian Hutterite down, which is among the highest quality Canadian down available, enabling us to manufacture lighter jackets without sacrificing warmth."
All of Canada Goose's Hutterite down is sourced from Toronto company Feather Industries, which in turn sources its feathers from the meat industry. On its website, Feather Industries maintains that "all down and feathers bought, processed and sold is a by-product of the waterfowl meat industry. No waterfowl are ever raised solely for the harvest of their down." The company insists it only buys down from farms that "ensure all partners are practicing the ethical and humane treatment of their animals." This includes a ban on farms that practice force-feeding or live-plucking.
But in late 2017, PETA released a video documenting what it alleged was mistreatment of geese at Manitoba's James Valley Colony Farms (JVC), a Feather Industries supplier. In the clip, geese are seen piled on top of each other in a pen—after one bird is crushed to death, a farmer tosses its corpse over the fence. The remaining geese are then packed into cramped cages for transportation. Then, after the birds were killed and plucked, the undercover camera filmed what PETA claimed was bruising on a number of the geese's wings.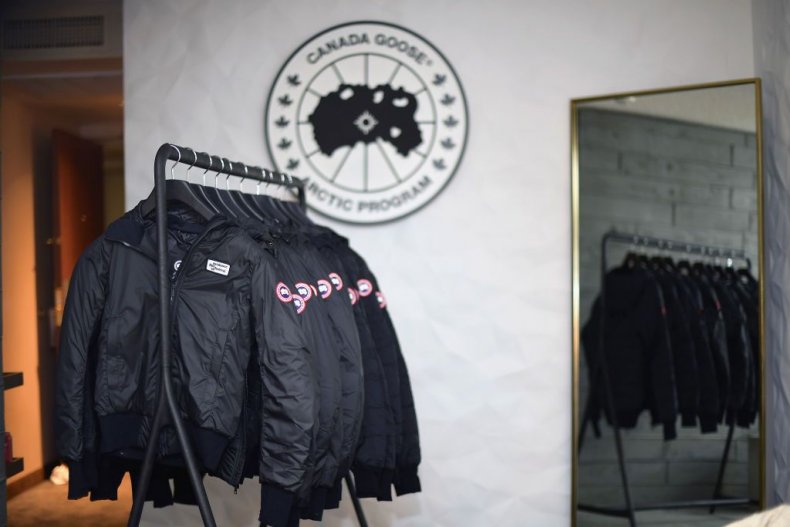 Canada Goose claims the birds in the video were actually going to a South Dakota slaughterhouse, rather than the Manitoba plant that processes down. "We enforce our commitment to ethical sourcing through a third-party audit program conducted by IDFL Institute and Laboratory," the company told Newsweek. "[They] conduct sample audits at all levels of our supply chain, from farm to factory, to ensure no animal has been subjected to any unfair practices, inhumane treatment or undue harm."
Feather Industries also insists the video was misleading: "In our role as supplier to Canada Goose, we can confirm that JVC Farms is not a supplier to the brand, nor had any of their down entered into the Canada Goose supply chain for more than ten years," a rep told Newsweek. "We can also can confirm that the footage portrayed in this video is not from our supply chain, [which] is held to strict standards and is heavily regulated both federally and provincially, requiring multiple inspectors throughout the process to ensure waterfowl have not been subjected to any unfair practices, inhumane treatment or undue harm."
PETA disputes that assertion, pointing to a 2016 video from Canada Goose which appears to identify a JVC employee as a supplier for Canada Goose's down. In any event, after the undercover video was released, JVC promised to train staff to ensure that geese were treated better while being loaded for transport.
But the reality is the practices used to create Canada Goose jackets aren't really much different than those used in the farming industry. It comes down to how high your tolerance is for animal suffering. By and large, the tide is turning against fur in fashion: In a 2016 survey conducted for Mic, 70 percent of millennials said they wouldn't buy new clothing made with fur. Gucci, Armani and Michael Kors are among the major fashion brands that have gone 100 percent fur-free in recent years. The world's first vegan Fashion Week took place in L.A. in February 2019, offering faux leather made of pineapple leaf and gowns derived from apple skins. And new technologies offer an increasing number of options to replace animal products in our wardrobes. Whether Canada Goose will join the bandwagon remains to be seen.
Update 2/14/19, 2:40 p.m. ET: This story has been updated to reflect statements from PETA refuting Feather Industries' claim that JVC Farms does not supply down to Canada Goose