Are Christina Applegate and Katey Sagal Friends In Real Life?
It was the cameo no one expected but it was one that everyone was absolutely thrilled to see: Katey Sagal making her big Netflix debut in the second season of the dark comedy series, Dead to Me.
Her appearance marked a special moment for a number of reasons. Firstly, her role as Judy's (Linda Cardellini's) jailbird mother gave viewers a better understanding of her eternally emphatic daughter. Secondly, Sagal's appearance marked the first time in years that the actor has worked with Christina Applegate, star and co-executive producer of the Netflix show who also played Sagal's on-screen daughter in Fox's long-running series Married With Children.
Newsweek subscription offers >
Although the pair didn't appear in a scene together during the second season Dead to Me, which premiered Netflix on Friday, it was apparently Applegate who made the call to get Sagal on board, series creator Liz Feldman told TV Line in an interview released Sunday.
"We were looking for somebody that you could really believe would be Judy's mom, so somebody who looks somewhat like her. But also somebody that could really balance out the comedy and her grit that we were looking for in this woman," Feldman explained, noting that she "just started laughing" one someone suggested Sagal for the role.
"I was like, 'Oh my God that's insane and... I love it.' It was just wonderfully ironic," Feldman continued.
Feldman said Applegate was "thrilled" with the idea when she first heard of the potential casting and noted that Applegate was the one to "immediately put in a call to Katey to encourage her to come on board."
Newsweek subscription offers >
Feldman added: "They're very close. She was absolutely thrilled. Christina adores Katey. She really is like a mother to her."
On Married With Children, which ran on Fox from 1987 to 1997, Sagal played Peg Bundy, the wife of the misogynistic shoe salesman and family patriarch, Ed O'Neill's Al Bundy. Applegate starred as the TV-couple's daughter, Kelly Bundy while David Faustino played her little brother Bud Bundy.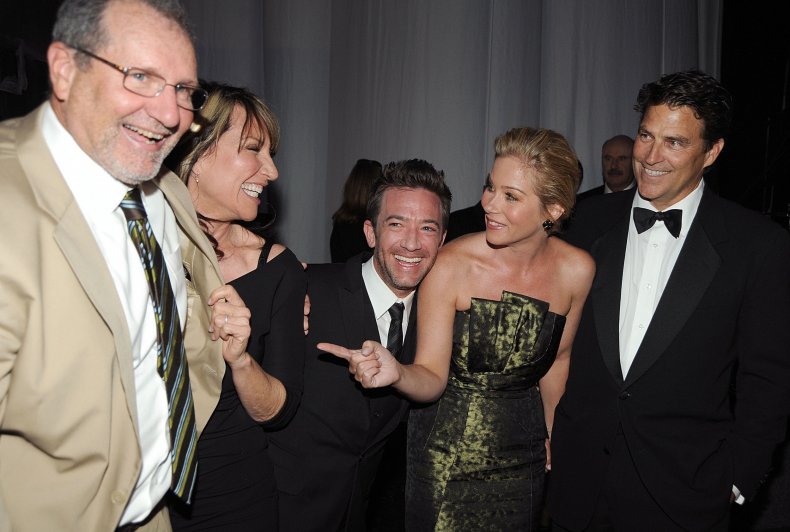 Applegate, 48, and 66-year-old Sagal have maintained a friendship over the 23 years since Married With Children went off the air.
Fans have long hoped for a revival of the show, and while Sagal has claimed in previous interviews that all of the Married With Children cast would be open to a reboot, the closest thing to a reunion Sagal has had with her former co-stars was when she received her star on the Hollywood Walk of Fame in 2014. Applegate delivered a candid speech honoring her one-time TV-mom during the ceremony.
"I met Katey when I was 15 years old, so, it's been about 10 years since we met," she joked. "I'll never forget the day I met her: We walked into the rehearsal hall for Married with Children, and I'd never seen someone look that good in a white T-shirt and jeans in my entire life. The fact that your body is better now than it was then makes me sick, because I'm wearing a Fitbit trying to get rid of all my baby weight."
Are Christina Applegate and Katey Sagal Friends In Real Life? | Culture