Are Egg Prices Dropping? Where to Find Eggs for $2
Egg prices have taken a substantial hit at grocery stores around the nation, but some stores' prices are dropping below $3 for the first time in months.
A bird flu killing millions of poultry across the world sparked an egg shortage, which was already fueled by supply chain issues dating back to the pandemic. The increase in egg prices came as inflation targeted other common grocery items. Eggs, once viewed as a cheap staple, have risen dramatically in cost, with many stores selling a dozen white eggs for more than $3. Organic or cage-free eggs climbed even higher, with some costing as much as $10 for a dozen.
However, various grocers have listed their egg prices as below $3 for the first time in months. A picture posted online showed a Walmart in Kentucky selling 18-egg cartons for $2. The eggs were on rollback, Walmart's temporary price reduction, and originally cost more than $6. Online, ACME shows a dozen large eggs on sale for $1.99, normally $4.69. Some Target locations are selling a dozen eggs for $2.79.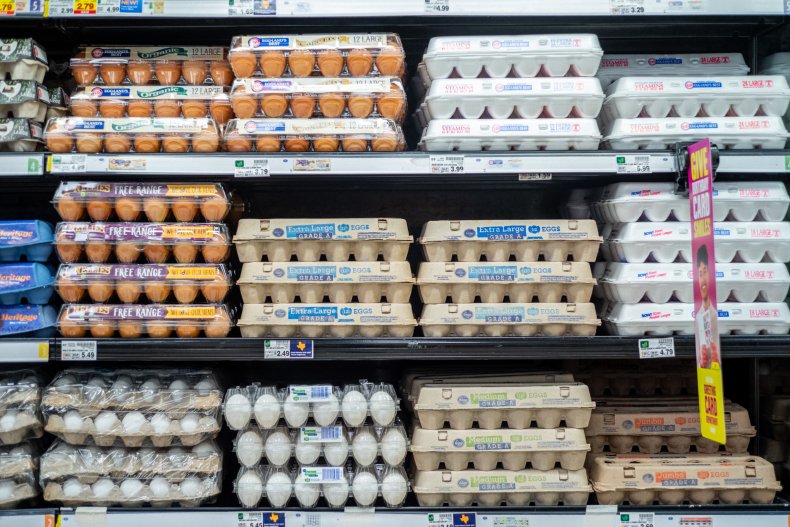 Experts speculated that some stores lowering their egg prices will spur others to do the same.
Because of the high price, some people have taken to the internet to find the cheapest eggs. Allrecipes reported that Farmish, an app, was one of the cheapest places to buy eggs. Farmish connects users to local farmers, similar to an online farmers market. Prices range based on where the user lives. In late January, Allrecipes said Farmish's price for a dozen eggs was $3.
Farmish Founder Terra Osman told Newsweek that on Farmish, chicken eggs average $4.50 a dozen but are trending lower in southern states. Farmish is free to join.
"Many of our sellers are producing food for their families and are starting to sell eggs as a side hustle, so prices can vary depending if they are pricing to cover the cost of their personal production or working to make a profit and scale a business," Osman told Newsweek. "Either way, we're finding that people are happy to support families and small farm businesses, even if the price isn't much less than the grocery store."
Farmish is free to join, shop, and create a listing. We currently have a waitlist for an upgraded seller account available as a membership. The membership will allow sellers to add more content to their profiles, create and share events, join groups with other sellers, and more. Over 60% of our sellers are selling their homegrown food for the first time and the membership gives them more tools to build a brand and connect with their communities.
The average price of eggs peaked in December, when the average cost reached $4.25 for a dozen eggs, up $1.78 over the year before. In the Midwest, some people were paying double what they paid the previous year for a dozen eggs.
Compared to other grocery staples hit by inflation, eggs have risen the most in price by roughly 60 percent nationwide over 2021 prices. The price for oils, bakery goods, dairy products, meat and other food items also have increased. Newsweek previously reported that some market research shows the wholesale price of eggs starting to drop, a signal that consumer prices might follow.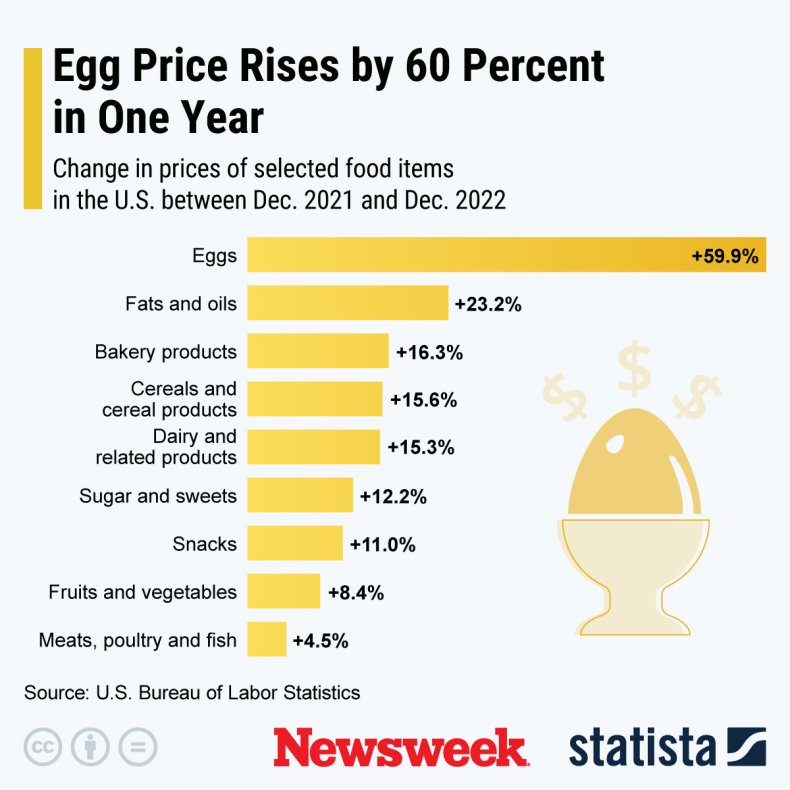 Although some stores are beginning to sell eggs at lower prices, the shortage is expected to continue. Newsweek previously reported that the bird flu killing poultry has continued for a year with no respite, and as birds migrate in the spring, the outbreak is expected to continue.
Update 02/16/23 12:49 p.m. ET: This article was updated with comment from Terra Osman.