Are Facebook, Instagram, WhatsApp Down? Users Reporting Errors With Social Platforms
Update: 4:56 p.m. ET—Facebook, Instagram and WhatsApp are still not working, but the company issued a statement saying it was aware of the issue and is working to resolve it.
"We're aware that some people are having trouble accessing our apps and products. We're working to get things back to normal as quickly as possible, and we apologize for any inconvenience," Facebook wrote on Twitter.
Original story:
Facebook, Instagram and WhatsApp were down for users around the world on Monday morning, prompting thousands of people to report issues with accessing the social media and messaging platforms.
Facebook acquired Instagram in 2012 and WhatsApp in 2014. As of noon on Monday, Down Detector, a website that tracks outages of sites like Facebook, had more than 125,000 reports of Facebook being down, close to 100,000 reports of Instagram not working and just over 35,000 reports that WhatsApp was not operating properly.
When accessing the Instagram browser, instead of the normal feed appearing, some users were getting a blank screen with a message about a "5xx server error." Facebook was issuing its standard message for technical glitches, which informed users that "something went wrong" and the platform would "get it fixed as soon as we can."
While users could launch the WhatsApp mobile application, the connection couldn't be established.
Newsweek reached out to Facebook for comment but did not receive a response in time for publication.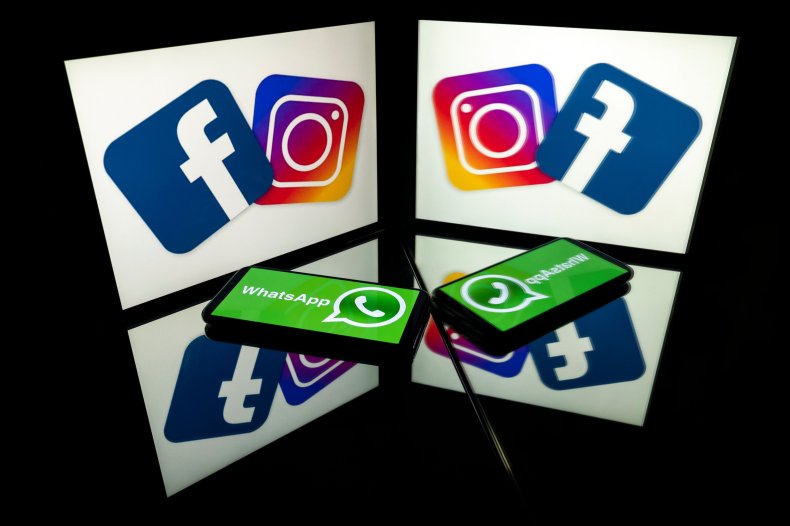 The outage came the day after Frances Haugen revealed herself to be the former Facebook employee who filed complaints with federal law enforcement. Documents from Haugen's time at the company were published in September and Haugen told 60 Minutes that she repeatedly saw conflicts between what was "good for the public" and good for the company.
Haugen secretly copied thousands of pages of internal research from the company, evidence she believes shows the company is lying about making progress against hate, violence and misinformation on the platform.
"The version of Facebook that exists today is tearing our societies apart and causing ethnic violence around the world," Haugen told 60 Minutes on Sunday.
Haugen took issue with Facebook optimizing content that gets engagement, which is often "hateful," "divisive," and "polarizing." While Facebook took action to combat that during the 2020 election, Haugen said they "turned them back off" or changed settings "as soon as the election was over."
Facebook has denied allegations that the platform actively encourages harmful content and told 60 Minutes the suggestion they "do nothing" is "just not true." Haugen is expected to testify before Congress this week.
Facebook and Instagram being down Monday morning prompted some users to turn to Twitter for their social media fix. It caused the topic to start trending on the social media platform and a flood of memes and gifs to describe people's return to Twitter.
Update 10/4/2021 - 12:25 PM ET - This story has been updated with additional information.