Are Giannina and Damian Together After 'Love Is Blind?' What Social Media Says
Love Is Blind's Season 1 finale aired on Thursday to an audience of excited fans. The couple who approached their wedding day first, Giannina and Damian, were one of the most dramatic of the season. This left many fans questioning if they'd make it down the aisle.
While a wedding was scheduled, and both showed up looking glamorous, the pair ultimately decided not to wed. This was a choice on Damian's behalf, which upset Giannina.
The pair had a heated discussion after the ended ceremony, which resulted in both claiming they felt heartbroken. Damian's argument against marriage was that he didn't think Giannina was truly ready to be his wife.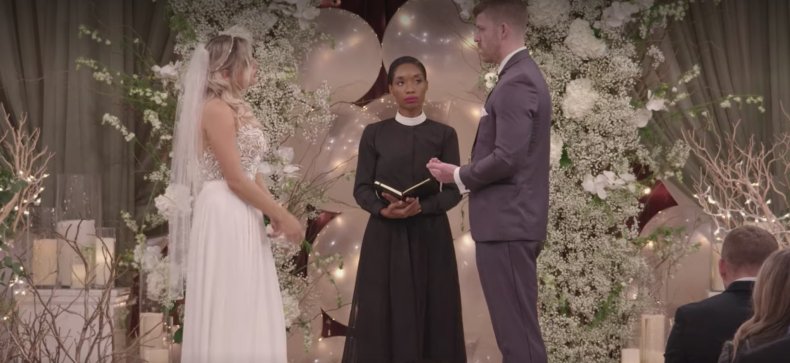 This came after weeks of the pair fighting, and Giannina admitting she may have fallen out of love with Damian. The couple first met just weeks earlier when they were introduced in the Love Is Blind "pods." They were unable to see each other's physical appearance until they committed to an engagement.
However, there's a chance Giannina and Damian are together after filming, even though they chose not to get married.
Social media hints prompted some fans to think the pair may have continued dating after the show. It all has to do with Instagram photos each posted. On January 9, Damian returned to Instagram after not posting for a few years. The photo he chose shows himself emerging from a patch of droopy sunflowers.
Last November, Giannina posted a similar photo. It shows her standing in a patch of sunflowers that looks nearly identical to that of Damian's photo. Comments on the photo of Giannina pointed to the similarity.
"Damien [sic] has a similar pic in sunflowers, I'm praying it means you're together!! My fav couple," wrote user @mysunshinealways77.
Even with the similar photos, there's no confirmation the couple are back or still together if they did have a reunion outside of the show. Fans will know all next week when the Love Is Blind reunion airs.
A special episode to update viewers on the couple's current love will air on Netflix' YouTube channel on Thursday, March 5. It appears the special will feature all couples who made it to the finale episode.
During the season finale, three of five couples decided to break their engagement. Although the show claimed they'd be leaving their partner "forever," it appeared production supported a potential reunion for the broken couples. Some of them were asked about their relationship's future after deciding not to get married.