Are Gun Deaths Higher in Democratic-Controlled Areas?
Gun control debates have raged on after the Uvalde school shooting at Robb Elementary School, Texas, where 21 people, including 19 children, were shot dead.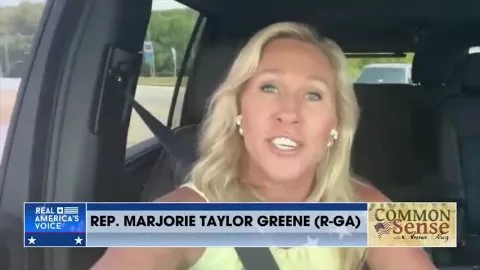 The tragedy has galvanized both the left and right, with President Joe Biden saying he would support a federal ban on assault-style weapons.
However, pro-firearm commentators have quickly attacked restriction proposals, including Georgia Republican Rep. Marjorie Taylor Greene, who questioned the effectiveness of gun control measures and suggested instead that the resolution could be found with God.
In a tweet sent on May 25, 2022, the day after the Uvalde shooting, Greene claimed that Democratic cities and states with the strictest gun laws also have some of the highest murder rates and shootings in the U.S, adding that "gun control doesn't work."
This and similar claims were repeated by other pro-firearm commentators and accounts.
Newsweek looked at the data to explore these claims.
Who Is in Charge of Gun Control?
Greene's claims here are broad, and the search for data is hindered by the challenge of clearly defining the political makeup of the U.S., its individual states, and local governments.
Nevertheless, based on information gathered at the state level, Newsweek analysis suggests there is insufficient evidence to support the claims made by Greene and others, and that they lack crucial context.
First of all, it is necessary to define the parameters of a "Democrat controlled" state. For the purposes of this analysis, Newsweek used state legislature results from 2012-22 to determine political leaning.
The graph below, provided by Statista based on data compiled by Newsweek, illustrates the U.S. states in which mass shootings have taken place since 2010.
While the federal government can set national firearm legislation, local legislatures largely determine the strength of gun policy at state level. If one party more often controls a state's legislature, it has a greater chance of passing its preferred firearm laws.
To determine which states were "Democrat-controlled," we looked at legislature results for every state from 2012-2022, as recorded by Ballotpedia. For every year, we assigned each party a score from one to three, based on how many of the three legislature bodies it controlled (governor's office, state senate, state house).
Our analysis also included the District of Columbia, which doesn't have the same legislature framework but is widely acknowledged as strongly Democratic.
Scores for each party from 2012-22 were then totaled, producing an overall score that determined how Blue or Red a state was (the higher the score, the more Republican).
This found, at the legislature level, most states have voted broadly to strongly Republican since 2012. Only four states have roughly balanced their votes between the two parties: Minnesota, Maine, Virginia, and Kentucky.
We then took this information and assessed it against population and FBI data to work out the average annual murder rate (where weapon type was recorded) and firearm murder rate, per 100,000 people, for every U.S. state (and D.C) from 2010-2020.
Working out the rate per 100,000 people, unlike simply comparing the total number of homicides, was used to more fairly compare statistics between populations.
The graph below, provided by Statista based on data compiled by Newsweek, illustrates the states and federal districts with highest rates of firearm murders.
It's worth noting that the FBI records were incomplete for Alabama, Florida, Maryland, and Pennsylvania (although only Alabama and Florida, both strongly Republican, were consistently incomplete).
We also used analysis from Giffords Law Center (a pro-firearm regulation research and activist group) which ranks states on an A-F scale based on the strictness of their existing gun laws. States with an "A" grade have typically instituted changes including assault weapon and magazine restrictions, waiting period, "strong" concealed carry laws and gun dealer regulations.
Combining this, Newsweek found that only four Democratic states (and the District of Columbia) ranked among the top 20 legislatures with the highest firearm murder rate, contrary to what Greene claimed.
The majority in the top 20 voted broadly or strongly Republican. The top five were the District of Columbia (D), Louisiana (R), Missouri (R), South Carolina (R), and Maryland (D); most Republican states in the top 20 (including all three in the top five) were given Giffords' lowest grade for firearm regulations.
For murder rate where all weapon categories were recorded, only five Democratic legislatures (and DC) featured in the top 20 list; the same five legislatures with the highest firearm murder rates were also ranked top five for murder by any weapon.
Newsweek also assessed the number of mass shootings between 2010-22. We used data from Mother Jones, which defines as any incident where three or more people (not including the shooter) were killed as a mass shooting.
However, to keep in line with a more commonly used (although not universally accepted) categorization, we recorded incidents in which four or more people died.
This showed that of the 26 states or federal districts, which recorded mass shootings between 2010-22, only 11 were Democrat-run, as defined by Newsweek.
While California (D) has experienced the largest number of mass shootings by far (12), the total number of mass shootings in Democratic legislatures (29) is roughly equal to that of Republican legislatures (28).
Again, these stats appear to sit at odds with Greene's claim on Twitter, which strongly points blame at states with Democratic majorities.
Mixed Picture for U.S. Population Hubs
While it is difficult to provide a similarly in-depth assessment across U.S. cities, previous analysis shows no definitive trends.
On the one hand, a CBS News investigation, using FBI data from 2019, found that the District of Columbia and cities in Louisiana, Missouri, South Carolina, and Maryland ranked highly in the top 65 murder rates for U.S.
The picture isn't entirely clear cut though. Of the top ten cities in CBS' list, all ten cities had Democratic mayors.
According to Gun Law Suits, a pro-gun website: "The USA allows local ordinances for gun laws. This means that cities, counties, and municipalities can be in charge of gun control. Many cities have strict gun laws, some even stricter than the state laws."
For example, Baton Rouge and New Orleans (which are both in the top 10 cities for murder rates) are both Democratic-run cities in Republican-leaning Louisiana. Until 2020, Baton Rouge had local ordinances imposing stricter gun laws than Louisiana, while New Orleans uses a state law allowing local governing authorities to create firearm-free zones.
But there are exceptions here too: Prior to the shooting in Boulder, Colorado, in March 2021, where ten people were killed, the shooter purchased a semi-automatic weapon with a capacity of up to 30 rounds at a local grocery store. Just days before the shooting, a judge struck down city ordinances banning assault-style rifles and high-capacity magazines in Boulder, citing a state law or court rulings prohibiting local gun bans—a source of frustration for many city-level leaders.
In other cases, shooters have purchased their weapons and ammo in states with looser regulations, only to commit their crimes in areas with stricter gun control.
The cities data on its own could help support Greene's argument, though research has shown that many other important factors influence rate of gun violence in cities, such as economic deprivation.
For example, a report by think tank Brookings states, gun violence within cities is more largely concentrated in "disinvested and structurally disadvantaged neighborhoods," while Giffords also notes, the concentration of gun violence "clusters in areas with high rates of disinvestment and poverty."
For context, almost a quarter of both Baton Rouge and New Orleans' populations live in poverty. Other cities in the top 10 of CBS' list have similar or worse levels of poverty as well.
Furthermore, as this data by Ballotpedia shows, the majority of mayors of the U.S. largest cities are either Democrats or aligned with the Democratic party, while, as studies show, crime is often concentrated in parts of a city, rather than manifesting uniformly across population hubs. So on a purely statistical level a Democrat is more likely to be in charge of a large population hub, which is likelier to have areas with high levels of gun crime.
Newsweek spoke to Dr. Emma Long, an Associate Professor in American History and Politics at the University of East Anglia, U.K., who added that Greene's claim "fails to take account of circumstances which might explain different levels of gun violence separate from political orientation."
"Chicago is a particular target for Republicans. It has a Democratic mayor, some tight gun control laws, and a high level of gun violence which allows them to claim that gun control doesn't work," Long said.
"However, like much in this debate, it is an argument painted in broad brush strokes, which fails to take account of the many factors that influence access to, and use of, firearms."
While Republican leaders have often resisted new gun laws and regulations, attitudes have softened slightly in the wake of the Uvalde shooting.
In May 2022, two Republican congressmen, Reps. Chris Jacobs (R-NY) and Adam Kinzinger (R-IL), called for a ban on assault rifles, as well as ending the sale of high capacity magazines and raising the legal requirement to purchase other firearms.
During a CNN interview in May 2022, former GOP congressman Joe Walsh urged gun owners to pressure Senate Republicans, stating legislative reform wouldn't happen unless calls come from "passionate Second Amendment people."
Newsweek has contacted Marjorie Taylor Greene for comment.
{{#isDisplay}} {{/isDisplay}}