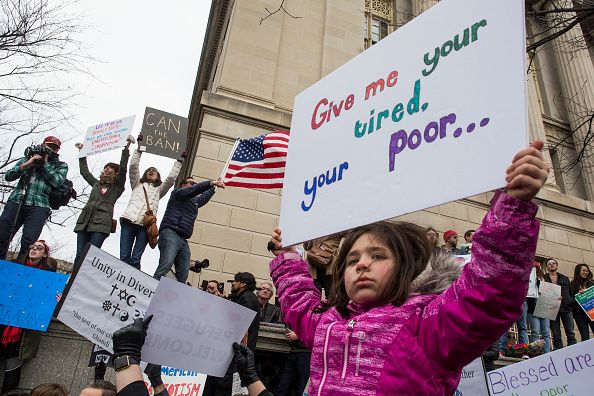 Americans who say immigrants mostly help the economy now outnumber those who say immigrants mostly hurt the economy. A Gallup Poll released Thursday shows that 49 percent of U.S. adults have a positive view of immigrants' influence on the economy, compared with 40 percent who have a negative view.
"Trump campaigned for president in 2015 and 2016 on a platform of blocking undocumented immigrants from entering the country and deporting those already living in the U.S.," wrote Gallup author Art Swift to contextualize the poll. "As a result, debate over immigrants, legal and illegal, came to the fore of the national discourse at the start of Trump's campaign and intensified as he has moved to deliver on his pledges as president," he added. "This debate has touched on the potential that immigrants are taking jobs from American citizens and whether illegal immigrants should receive government services such as healthcare and education."
Gallup has been asking Americans this question—whether they think immigrants mostly help the economy by providing low-cost labor or mostly hurt the economy by driving down wages—periodically since 1993, when 64 percent of respondents said "mostly hurt" versus 28 percent who said "mostly help."
Responses have fluctuated since then. The only other time the "mostly help" responses surpassed the "mostly hurt" ones was in 2000, when 44 percent of those polled expressed a positive view of immigrants' impact on the economy compared with 40 percent who expressed a negative view. Concern spiked again in 2004, with a record 65 percent saying immigrants "mostly hurt" the economy and 30 percent saying they "mostly help." Swift notes that the 1993 poll came after a recession, while the 2004 spike came after former President George W. Bush proposed a temporary worker program that would give about 8 million illegal immigrants legal status as temporary workers.
The 2017 results are an almost exact flip of those from 2005, the last occasion the question was asked. At that time, 49 percent of U.S. adults said immigrants "mostly hurt" the economy, while 42 percent said they "mostly help."
The most recent data were collected in a Gallup Poll conducted via telephone interviews on cell phones and landlines from June 7 to June 11, with some interviews done in Spanish. Gallup used a random sample of 1,009 adults (18 and older) from all 50 states and Washington, D.C., with a 95 percent confidence level and a four-point margin of error. However, not all questions were asked of the full sample.
The gap between responses from Democrats and Republicans has grown dramatically in just over a decade. In 2005, 40 percent of Democrats and 35 percent of Republicans said immigrants "mostly help" the economy, compared with 59 percent of Democrats and 28 percent of Republicans this year.
The 2017 poll also found that only 18 percent of respondents said immigrants mostly take jobs that American workers want, while 72 percent said immigrants mostly take low-paying jobs Americans don't want. Unlike the question on helping or hurting the economy, responses here have not fluctuated much since 1993.