Are Isaiah Thomas and Celtics' Danny Ainge Cool? Cavaliers Star Talks First Return to Boston in New Video
The Cleveland Cavaliers had an unhappy night at TD Garden against the Boston Celtics on Wednesday, falling to a blowout loss.
For Isaiah Thomas, individually, the evening went a little better. Thomas, who didn't suit up for the Cavaliers in the 102-88 defeat, got a standing ovation from the home crowd when his face appeared on the Jumbotron during the first quarter. He got hugs from the Celtics staff when he walked out of the tunnel, too.
Thomas, who had 17 points in 19 minutes against the Portland Trail Blazers on his Cavaliers debut on Tuesday night, pumped his chest in recognition of his reception in a building where he grew into one of the NBA's elite point guards. For all of the beef still surrounding the Kyrie Irving portion of the summer's megatrade—an in-depth piece from ESPN published before Wednesday's game on the relationship between Irving and LeBron James will likely keep the issues between them smouldering in the media at least for many months to come—Thomas and Boston have never had a problem with each other.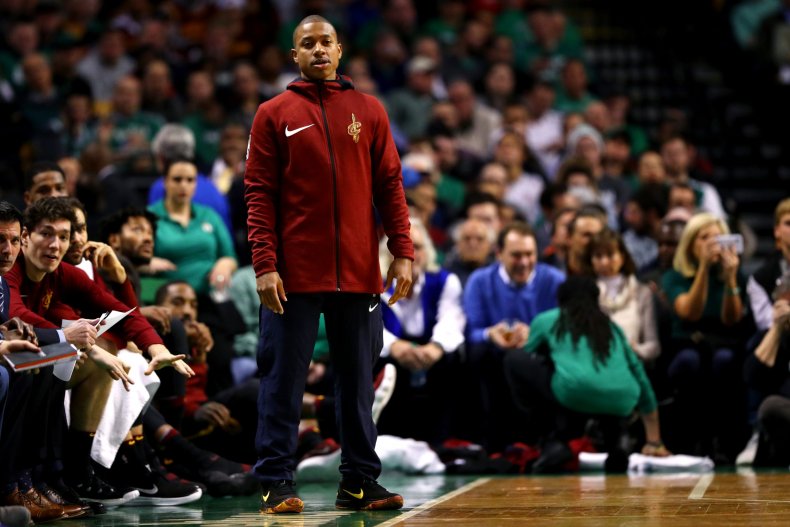 The relationship between Thomas and Celtics General Manager Danny Ainge, though, is another matter. In a Players Tribune video published in December Thomas revealed his anger at learning from Ainge that he would be going to the Cavaliers, with Irving headed the opposite way. Thomas described Ainge's praise for what he achieved with the Celtics as "bulls***." "After everything I went through, you're not supposed to do that," Thomas said.
Thomas appears to have mellowed towards Ainge since the summer. "Have I forgiven Danny? He text me last night so we're good," Thomas told Marc J. Spears of ESPN before Wednesday's game.
What Thomas saw on the court from the Cavaliers would have pleased him less. The Celtics shut James down, as much as is possible—James had 19 points, seven rebounds and six assists in 33 minutes. Without Thomas, who cannot play back-to-back games as he continues to build his fitness after his long injury layoff, Cleveland struggled to find scoring from the backcourt. Veteran Jose Calderon was held to six points and two rebounds in 19 minutes.
Thomas is clearly still loved by the city of Boston. He's quickly going to become indispensable to his new team.