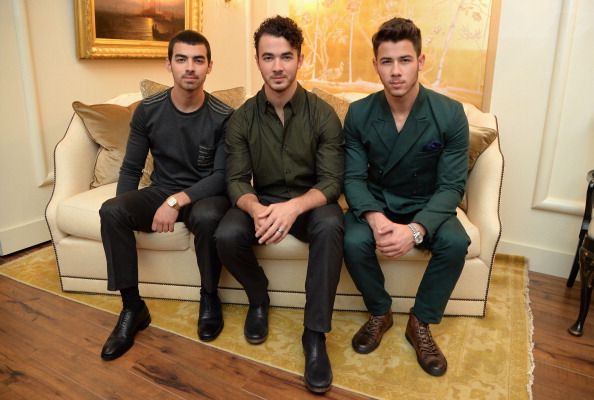 It's been more than four years since the Jonas Brothers split up, but fans have hardly forgotten about Nick, Joe and Kevin. It took only the slightest stirring of social media activity by the three brothers to send those fans into a frenzy of speculation about a potential reunion of the boy band.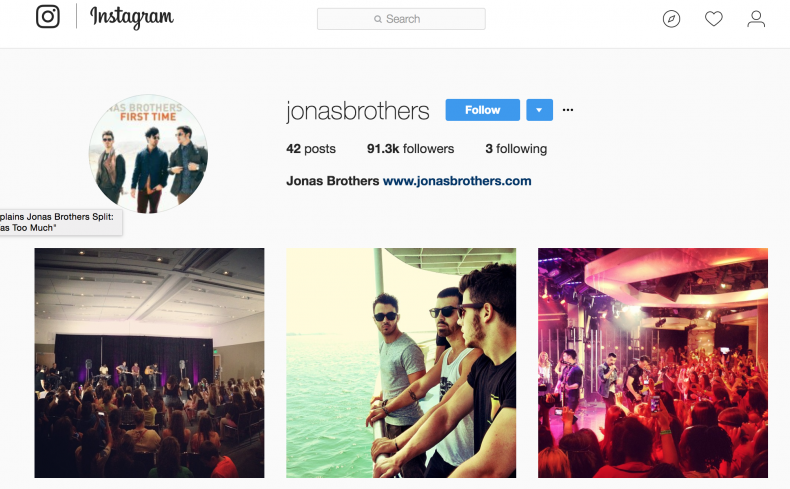 While each brother has kept up his own Instagram account in recent years, the joint Jonas Brothers account had long been deactivated. It went offline shortly after they announced the last-minute cancellation of a 19-date U.S. tour in October 2013, a move that ultimately signaled the band's breakup.
But Twitter was abuzz this week with the news that at some point recently (it's unclear exactly when) the band's Instagram page came back online. Though the most recent image on the account is still quite old (dated July 22, 2013), many fans clearly took the account's reactivation as a sign that something exciting could be in the works. And boy were they thrilled:
Even Tommy Wiseau (The Room) got caught up in the excitement. "I told the Jonas Brothers they should get back together!" he exclaimed on Twitter.
If the resurrected Instagram account weren't enough, all three brothers also appeared together in a photo posted by the musician Ryan Liestman on his Instagram page on Monday. "Family reunion," the caption read.
It's possible that's all it was: just three brothers and some friends hanging out,. But with the Internet already spinning with speculation, the words seemed like another hint.
Before the Jonas brothers were the Jonas Brothers, they were just a family growing up in Wyckoff, a New Jersey suburb not far from New York City. The trio formed in 2005 and quickly began opening for performers including Kelly Clarkson, Jesse McCartney and the Backstreet Boys.
The Jonas Brothers's debut album, It's About Time, dropped in August 2006, when the brothers were still teenagers. (Nick, the youngest, was just 13 years old at the time.) They followed that album with a new one every year for the next three years: Jonas Brothers in 2007, A Little Bit Longer in 2008 and Lines, Vines and Trying Times in 2009.
The 2013 breakup came as a surprise to fans—especially because the tour the brothers were about to start was itself a reunion following a brief hiatus.
"I initiated the conversation because it needed to be had," Nick told Bravo's Watch What Happens Live in the summer of 2016. "We just reached a point where we weren't creating the kind of music that we needed to create to really progress and it wasn't really healthy in that respect anymore."
Joe said in October 2016 that he was not on speaking terms with his brothers when they split, and Kevin said in 2015 that "the friction was too much and we just really needed to break away and kind of do our own things for some time." But he said on the show Oprah: Where Are They Now? in June 2016 that "now our relationship is much better, stronger."
Fans seem to hope that enough time has passed and the brothers' relationship is strong enough now for them to attempt a reunion.