Are Keesha and Kevin Still On The Block? 'Big Brother' Spoilers Show First Veto Results
Someone is going home this week on Big Brother, and it's definitely possible to guess who after the Power of Veto ceremony that took place on Monday. While it has yet to air on television, live feed content and spoilers from Big Brother superfans identified the final two houseguests on the block this week.
Viewers know Cody Calafiore is the Head of Household this week. As the first of the season, he's in a peculiar situation. There's not enough house-wide drama yet to keep "blood off of his hands" as the show often says. So, any nominations from Cody were meant to stir things up.
Predictably, he didn't nominate anyone he'd begun to start alliances with, includeing Nicole Franzel and Tyler Crispen. Cody and Nicole F. agreed to form a "ride or die" alliance. This seems to mean they plan on making a final two deal at some point in the game. They've even teased the idea of forming two, gender-centric alliances only to report back to each other.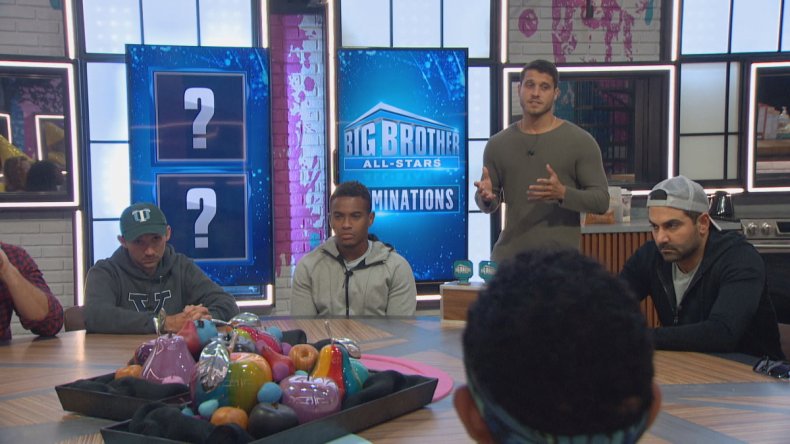 Cody, instead, chose to nominate Kevin Campbell and Keesha Smith for eviction this week. The decision came after two houseguests Cody deemed threats won immunity. Kayser Ridha and Janelle Pierzina won the Safety Suite and were granted immunity for the week.
So, Cody chose two other houseguests who have yet to build strong ties with himself or others.
The Veto competition did give either Kevin or Keesha a chance to win immunity for themselves, but neither did, according to spoilers from Big Brother Network. Enzo Palumbo won the Power of Veto instead. Enzo had the opportunity to use the Veto to save either Keesha or Kevin this week. In that event, Cody would be required to nominate someone else for eviction.
But Enzo decided not to use the Power of Veto, according to Big Brother Network. That means it's certain Keesha or Kevin will be sent home this week.
So what does that mean for the players now? They have until the live eviction ceremony on Thursday to campaign for safety. This means they can up their gameplay to make promises to other houseguests, or simply convince the house why they're worth keeping around.
There's no clear consensus on who the house wants to send home this week. Often times, there is a major target looming on one houseguest, and the eviction results are predictable. But this week, the houseguests and viewers will just have to wait and see who ends up staying another week, and who is the first to be sent home.