Are LeBron James and Kyrie Irving Competing for MVP? Celtics PG Could Miss Nuggets Game With Injury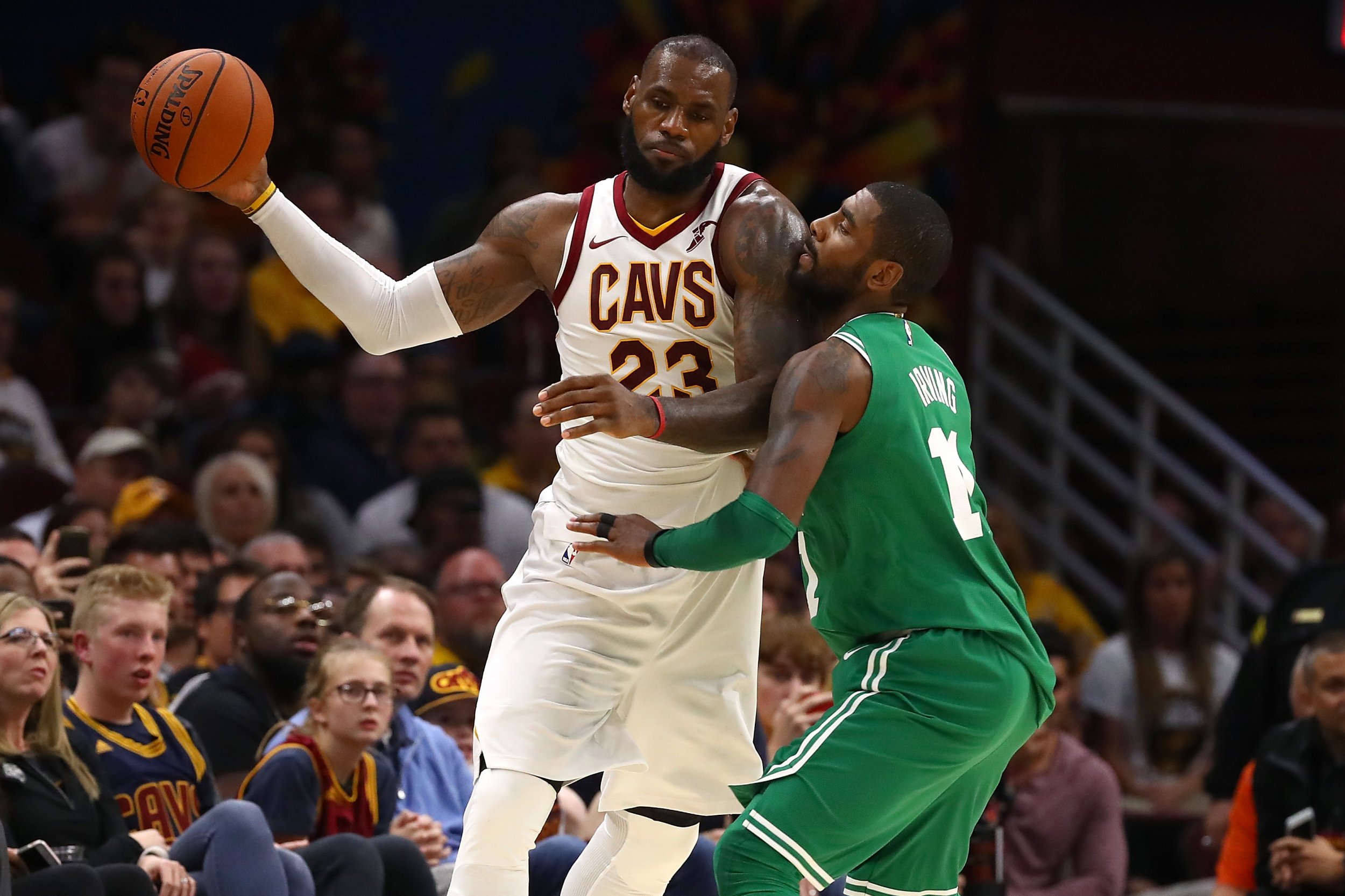 Inexorably, the Cleveland Cavaliers are dragging back the Boston Celtics at the top of the Eastern Conference. The Cavaliers eased away from the Atlanta Hawks at Quicken Loans Arena on Tuesday night, courtesy of a blizzard of three-pointers—20, a season high. The Hawks kept with the surging Cavaliers through an even first quarter, but after that it was never close.
Inexorably, too, the regular-season MVP race appears to be turning into a nightly competition between LeBron James and Kyrie Irving.
James found another gear against the Hawks, tying a career high with 17 assists. He led all scorers with 25 points and tacked on seven rebounds in the 123-114 win. "They put in the work first of all," James told ESPN, quick to praise his teammates. The Cavaliers, not including James, sank 18 of 35 three-point attempts. James went two for three. The Cavs are now 2.5 games behind the Celtics in the Eastern Conference standings. A race that appeared all but over when Boston's win streak ended at 16 against the Miami Heat on November 21 now looks like it will only end in the Eastern Conference Finals next June.
Irving has been every bit as crucial to the Celtics' efforts as James has for the Cavaliers. He leads the team in scoring by a mile—Irving has 23.7 points per game; Jaylen Brown is second on the Celtics with 4.6. But it's what happens to the young Celtics when the veteran point guard is taken out of the lineup that illustrates his influence most starkly. Against the Chicago Bulls on Monday the Celtics looked unusually listless, falling to a 108-85 loss that was as bad as it sounded.
Irving sat out that game at United Center with what the Celtics have described as a "left quad contusion." Keith Smith of the RealGM website reported on Tuesday night that Irving is only "probable" for the Celtics' game against the Denver Nuggets at TD Garden on Wednesday night. Brad Stevens will rest his center Al Horford, third on the team in scoring.
Suddenly, the Eastern Conference looks like a straight scrap between the Celtics and the Cavaliers. And the MVP race between James and Irving, the two old teammates, is starting to heat up too.