Are Lisa and Usman Still Together After 'Before The 90 Days'? A New Social Media Post Shines a Light
90 Day Fiancé: Before The 90 Days Season 4 has provided viewers with some of the best drama and comedy yet. The reality TV series focuses on a group of international couples meeting for the first time, and one stands out for all of the wrong reasons.
One controversial couple appears to be together despite viewer backlash, according to an Instagram post on Wednesday.
Lisa and Usman struck fans as an odd couple immediately. Lisa is 51 and American, while Usman is 30 and Nigerian. It isn't the age difference that's shocking, though. It's the way Lisa seems controlling of everything Usman does that irked fans.
Viewers continue to slam the relationship on Twitter because of Lisa's apparent controlling nature, but she had a message for haters, and lovers of Usman, on Instagram Wednesday. She posted a photo that referred to Usman as her "baby love."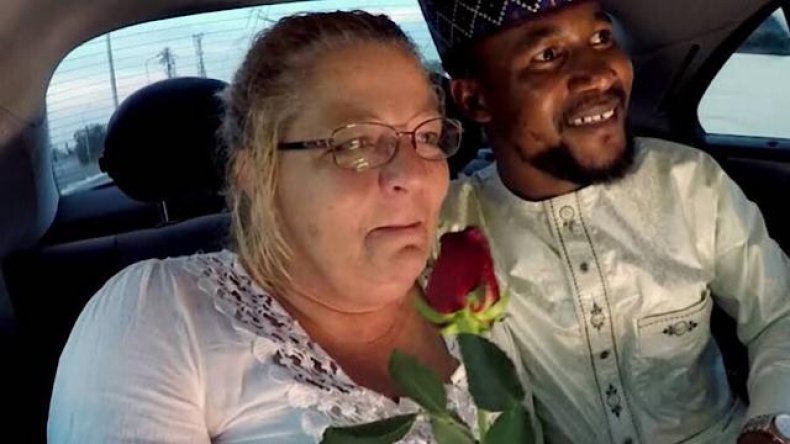 "If another woman steals your man, there's no better revenge than letting her keep him. Real men can't be stolen," the photo read.
Lisa's caption spoke admiringly about Usman. "Since all the negative Nelly's have put me in a snarky a** mood if you think you can take my baby love @officialsojaboy just remember it will turn around and the exact same thing will happen to you but I don't think he's gonna do that to me so hate on hate on and hell yes I'm turning off the comments," she wrote.
The statement that the pair are still together may come as a surprise to many, as some sources claim Usman and Lisa have already been married and divorced.
The plan all along was for Lisa and Usman to get married when she arrived in Nigeria. This did happen, according to Daily Soap Dish. There are a handful of wedding photos of Lisa and Usman circling the internet, which seem to prove they did have a legal union. But there are signs that could point to divorce.
On February 11, Lisa changed her online relationship status to "single," according to the spoiler site. While this certainly could imply Lisa and Usman have already divorced, it's important to note the timing of Lisa's status update. Season 4 of Before The 90 Days premiered on February 23. Changing her relationship status to single could have been an attempt to stop spoilers as conversations around the show accelerated.
The series shows Lisa traveling to Nigeria to meet Usman for the first time. Before she arrived, she clarified that she expected Usman to spend all of his time with her when she got to town. Lisa was immediately confused because Usman brought his two roommates to meet her at the airport. The next morning they even met the friends, again, for breakfast.
Early episodes also dove into Lisa's jealousy prompted by Usman's social media. Usman is a Nigerian rapper with celebrity status. Despite natural adoration from fans, Lisa often expressed her distaste a other women commenting with hearts and loving words on the musician's social media pages.
Despite criticism, their long-distance relationship was successful. Before meeting in person, Lisa and Usman were in a digital relationship for two years. So will the show, and actually seeing each other face to face, be the demise of the pair? Or will the drama make them stronger?
Fans won't know for sure until the season ends and conversations unfold across the couple's social media accounts.