Are 'You' Star Lukas Gage and Chris Appleton Dating? What We Know
Lukas Gage and Chris Appleton are reportedly dating, with rumors romantically linking the pair surfacing on Monday, February 20.
Gage, 27, is known for his roles in dramas such as Euphoria, in which he played Tyler Clarkson. He also appeared in the first season of The White Lotus, as Dillon, and the fourth season of You, where he stars as Adam Pratt.
Appleton, meanwhile, is a 39-year-old celebrity hairstylist who has worked on a number of reality shows, but chiefly for Kim Kardashian.
The pair were said to be dating after they shared photos on social media from a vacation together in Mexico. Here is what we know so far:
Are 'You' Star Lukas Gage and Chris Appleton Dating? What We Know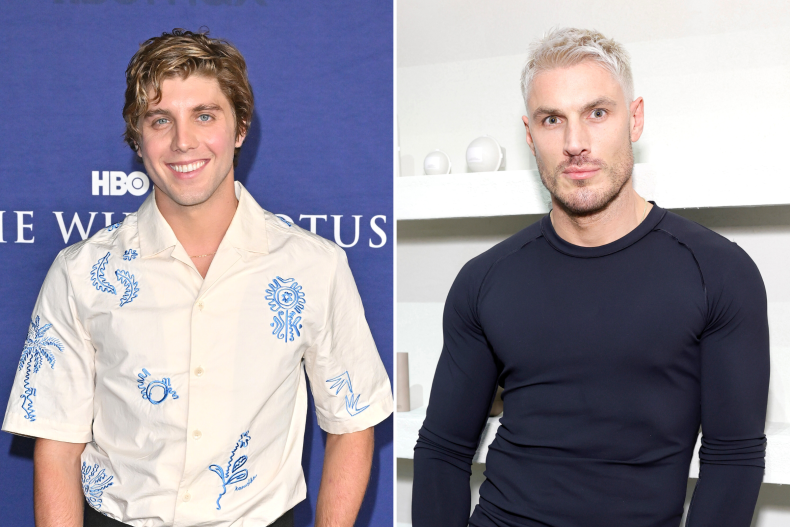 On Monday, February 20 JustJared wrote that Gage and Appleton were confirmed to be dating, and they were enjoying the trip to the St. Regis Punta Mita Resort, Nayarit, as a couple.
Newsweek has contacted Lukas Gage and Chris Appleton's representatives for further comment.
1. Lukas Gage and Chris Appleton Go 'Instagram Official'
Gage and Appleton shared photos from their trip to Mexico on their respective Instagram pages. JustJared reported this as the pair going "Instagram Official" with their relationship, though neither confirmed they were dating.
In Gage's post, he wrote "la mejor," which is Spanish for "the best," while Appleton simply put the word "joyride" in his caption.
The pair shared the same three photos from their trip in Mexico, where they drove a dune buggy near the St. Regis Punta Mita Resort.
2. Lukas Gage and Chris Appleton's Instagram Comments
The pair also commented on each other's posts. Gage wrote "buenos" ("good morning" in Spanish) on Appleton's post and the hairstylist called Gage a "stud" in the comment section of his.
Friends and fans also reacted, with make-up artist Mary Phillips writing "IG Official" on Appleton's post.
Gage and Appleton have also written on each other's posts in the past. The actor commented that Appleton was "stunting" in a post of the hairstylist with Kim Kardashian.
In return, Appleton wrote that Gage was "smoking" in a post that the actor had shared with Maude Apatow for Armani.
3. Lukas Gage Talks About Romance
Though neither Gage nor Appleton has spoken publicly about their alleged romance, the White Lotus star did comment on dating in an interview with The Hollywood Reporter.
When asked about "having faith" in things happening for him in life, Gage said: "I do think everything works out the way it's supposed to, but I wasn't always able to see that. I'm getting better at it every year. The older I get, the more I realize I have no control over anything.
"It's kind of like dating: when you're seeking a partner, you never find somebody. People can feel that you're trying too hard."
Gage added: "I think the best thing to do in this industry is to build a full life outside of your work and have your work be just a part of that life. Like, this is an accessory to my happiness, not the source of my happiness."