Are Maricopa County Voting Machines Broken? What We Know
Republican candidates running for election in Arizona and other conservatives are expressing their frustration after news of broken voting machines came out of Maricopa County on Tuesday morning.
The Maricopa County Elections Department first posted on Twitter explaining that many tabulation machines in the county, which is home to Arizona's capital of Phoenix, weren't working. The hurdle comes after Maricopa County spent years addressing election misinformation after former President Donald Trump accused the county of committing voter fraud in the 2020 election.
Arizona Republican gubernatorial candidate Kari Lake also accused the county elections department of counting thousands of mail-in ballots after Election Day in 2020, which the department refuted.
There are several tight races in Arizona, one of which is for governor between Lake and Democrat Katie Hobbs, who is Arizona's secretary of state.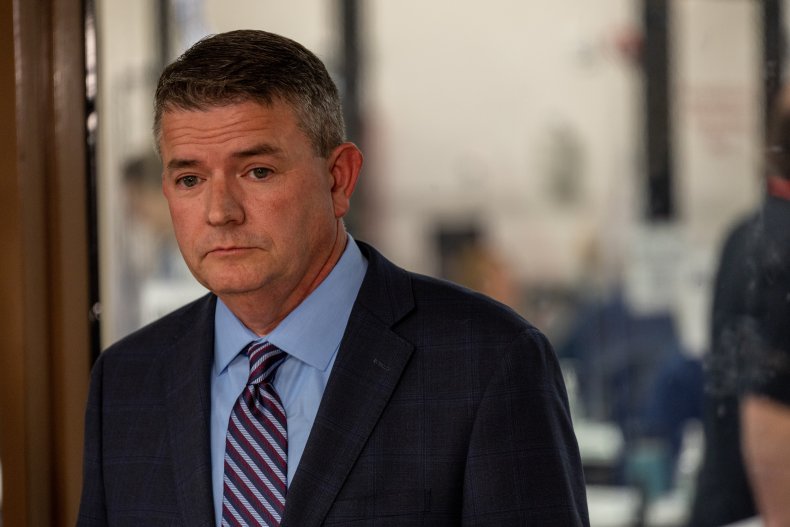 Maricopa County Elections Department Chairman Bill Gates tweeted that voters should follow one of three options if voting at a precinct where a tabulator isn't working—stay in line and wait for the machine to come online, drop the ballot in the secure slot on the tabulator instead of feeding it into the tabulator, or go to a nearby vote center to cast their vote.
Republicans were outraged with the suggestions, despite Gates assuring voters that their votes would count regardless of which option they chose. During a press conference on Monday addressing potential misinformation claims, Gates said people spreading misinformation often claimed that if votes weren't finalized by Election Day night or early the next morning, it was evidence of fraud. Gates said that wasn't the case and was because of mail-in voting, which wouldn't be fully processed until Wednesday.
Conservatives also expressed concern about a muddied chain of custody for the ballots.
Former Republican congressional candidate Josh Barnett tweeted: "blatant maladministration! Chain of custody issues once again. Unbelievable!"
Republican Senate candidate Blake Masters urged voters to stay in line until their vote was "counted."
"Hard to know if we're seeing incompetence or something worse," Masters tweeted. "All we know right now is that the Democrats are hoping you will get discouraged and go home."
Arizona GOP Chairwoman Kelli Ward said in advance of Election Day that the GOP repeatedly asked Maricopa County to stock adequate amounts of toner and paper for the ballots. She tweeted a picture of a ballot with splotchy ink.
"If your ballot looks like THIS when you get it, it is unlikely to scan through the tabulator on site or 'downtown.' That means they'll go to digital adjudication. This looks like a TONER PROBLEM," Ward tweeted.
"We asked REPEATEDLY for assurance that there would be adequate toner & paper. @MaricopaVote assured us there would be. Looks like they lied again," she added.
Candidates blamed the elections department and said on social media that the faulty machines were not accidental.
"Voting machines 'mysteriously' not working on election day is a lie. They have one job performed once every year or two," tweeted JD Rucker, editor of conservative online news site The Liberty Daily. "They should be immaculately maintained in between. There is absolutely zero excuse and anyone who believes it's accidental is utterly stupid."
During the Monday press conference, Gates said that 95 percent to 99 percent of votes would be counted by Friday, but that was before the machines went down.
Update 11/8/22, 2:38 p.m. ET: This story was updated with additional information.