Are 'Married at First Sight' stars Matthew and Amber Still Together?
It was lust at first sight for Married at First Sight stars Matthew Gwynne and Amber Bowles—at least on Amber's part. The middle school teacher was instantly smitten with the professional basketball player, who competes overseas. But the preview for Season 9 shows Matthew might have cheated on Amber.
For now, it appears as though Amber and Matthew are still together. Both of their social media profiles are private, as is custom for people participating on Married at First Sight.
In a sneak peek clip obtained by Newsweek, Amber gushes over her new husband. "He has really good lips," Amber tells her guests. "I kiss my husband quite a bit because he's so hot and I feel bad because I should not be this forward but he is so cute I just can't stop."
Matthew is optimistic about their future. "Today I married a stranger and she is beyond what I expected," the 31-year-old athlete says. "There's a connection there that I was not ready for. It's not awkward and it's not weird to be around her."
"My wife's very forward and it's not what I was expecting but wanting to kiss and make out with me just makes me more attracted to her," he adds.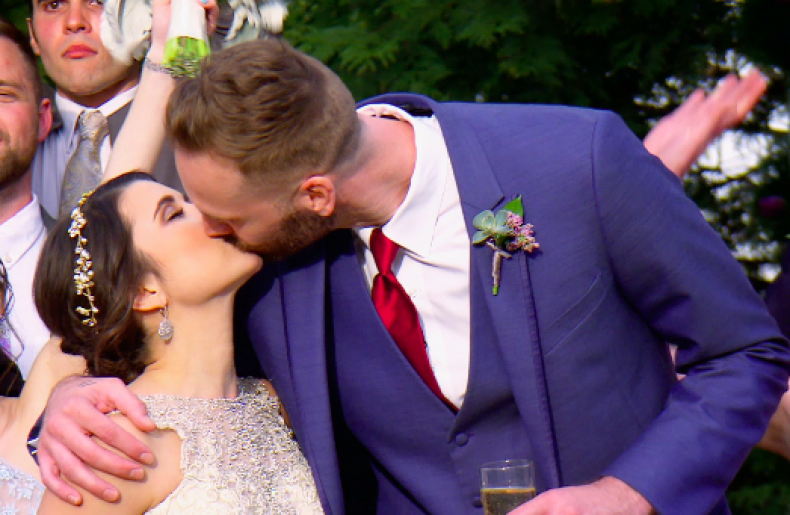 While Matthew is attracted to Amber, the 27-year-old can't keep her hands off her new husband. "I am not stopping touching him or kissing him because I'm married to him. He's going to have to get used to it," she says. "He's so cute and I'm not even affectionate so this is a big deal for me that I'm that attracted to him."
Matthew's Lifetime bio says he's been single for a year and wants to be with someone who can except his work schedule: "He has a strained relationship with his recently divorced parents, and wants a relationship where his partner is as devoted to athleticism as she is to him."
Amber, on the other hand, has a very close relationship with her family. "She's bubbly, energetic, and values her family immensely, which includes her identical twin sister and father. She hopes to find a husband who is just as family-oriented as she is."
Though things started well at the beginning of their marriage, they are destined to hit bumps along the way. A preview for next week's episode shows a friend telling Amber that he saw Matthew at the bar with another woman. Amber is pictured crying and they both are shown looking confused, potentially about what they want to do on decision day when the experiment is over.
Married At First Sight airs Wednesdays at 8:30 p.m. ET on Lifetime.