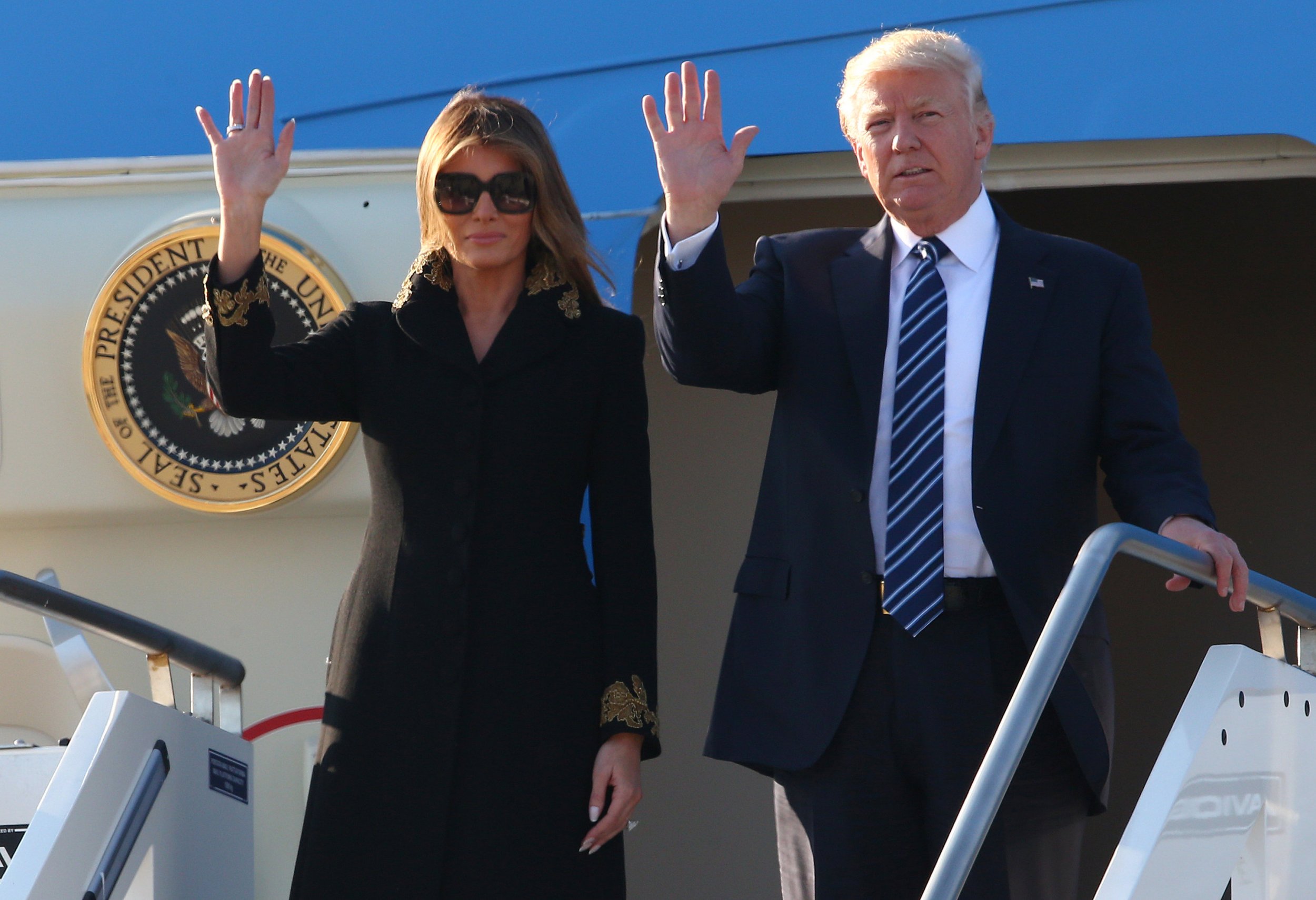 Donald and Melania Trump's relationship has hit the headlines over the past week for all the wrong reasons; a lack of hand holding, weird body language and the resurfacing of the 'Free Melania' hashtag.
But the couple has a long history of strange body language and awkward encounters that have left people speculating about how much the pair actually like one another.
One awkward moment between the pair prompted social media users to start the hashtag #FreeMelania, after video from the inauguration showed Melania's face falling after Donald turned round to speak to her.
The inauguration prompted several widely shared examples of Donald and Melania's seemingly unusual behavior, with Donald appearing to leave his wife outside the White House as he marched in—leaving Barack and Michelle Obama to escort the incoming first lady inside.
Later, during the pair appeared extremely awkward during their inaugural dance as president and first lady at the Liberty Inaugural Ball—in stark contrast to the Obamas' inaugural dance in 2009.
Perhaps this could be forgiven based on the gravity of the occasion—particularly given the rumors Melania was not keen to assume the role of first lady despite her husband's presidential ambitions—but their awkwardness has continued at other public events.
Meanwhile the Free Melania hashtag has been used on t-shirts, at women's marches and by a number of comedians, many of whom have suggested the first lady should flee her husband.
Most recently, the pair's body language during Trump's first foreign trip since his inauguration has been circulating in mainstream and social media.
Footage emerged of Trump appearing to have his hand swiped away by his wife as they arrived at Ben Gurion International Airport in Israel on 22 May.
The pair was filmed in a similar situation days later in Rome, when Melania moved her hand to tuck her hair behind her ear just as Trump reached for her it.
Just weeks prior to the hand-swiping incident, Melania appeared to give her husband a quick elbow jab at the White House Easter Egg Roll, when he failed to put his hand on his chest during the national anthem.
Unsurprisingly pictures of the pair behaving awkwardly in public have promoted comparisons between the couple and former president Barack Obama's relationship with his wife Michelle.
Indeed, Obama's former photographer has started trolling the Trumps by sharing images of the Obamas acting warmly towards one another in contrast to the Trumps' body language.