Are Mississippi River Water Levels Rising?
Things are looking up for the Mississippi River.
Drought has plagued many regions of the United States, specifically causing concerningly low water levels at Lake Mead, Lake Powell, and throughout the Colorado River Basin. Last fall, the Mississippi River began experiencing similar conditions, when water levels sank so low that it affected the supply chain. Barges carrying shipped goods couldn't pass through the low levels of water without getting stuck in the mud.
Some experts were concerned that supply chain issues on the Mississippi River could contribute to inflation, specifically in the food sector as the river is primarily used to ship grains, coffee, and edible oils. It is also used to transport items like petroleum products, iron and steel, rubber, paper, wood, and chemicals.
However, after several months of precipitation, water levels have risen anywhere from 5 to 25 feet along different parts of the Mississippi River, according to U.S. Army Corps of Engineers Public Affairs Officer Lisa Parker.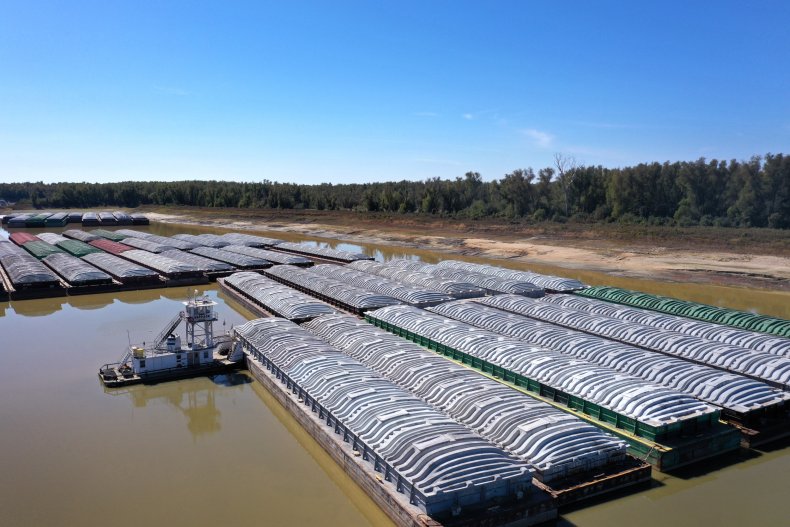 Parker told Newsweek in an email on Monday that river elevations have risen for many months after drought conditions ended in mid-December.
"Precipitation has been favorable for several months now," she said.
The Mississippi River is significant to trade within the U.S., as it serves as an avenue funneling 500 million tons of shipped goods into the economy. The river extends more than 2,300 miles from the center of the country to the Gulf of Mexico.
The U.S. Army Corps of Engineers maintains a 9 foot shipping channel from Louisiana to Minnesota to transport shipped goods up and down the Mississippi River.
The improved precipitation and river water levels have benefitted the supply chain, as barges are no longer at a standstill, although Parker said routine dredging continues.
Before 2022, the last time the river experienced such a severe drought was a decade prior. Despite the improved conditions, more precipitation is needed before the river reaches above average levels.
"The elevation is average and below average depending on which gauge along the river system," Parker said. "The Mississippi River is recovering from drought conditions and current and projected weather forecasts state more favorable conditions into the future."
Drought conditions can present myriad problems when it comes to U.S. waterways. In the Colorado River Basin, declining reservoir levels can threaten to become a dead pool. If Lake Mead or Lake Powell reaches dead pool, it means water levels are no longer high enough to flow downstream, which has devastating consequences to water supply and the use of hydroelectric power.
Meanwhile, levels in the West have started to rise as a barrage of rain hit California recently, however the reservoirs aren't rising as quickly as the Mississippi River.