Are Republicans for Our Kids or Their Killers? | Opinion
Recently, during a gun safety hearing I asked my colleagues on the House Judiciary Committee a simple question, "who are you here for — our kids or their killers?"
The onslaught of mass shootings our country has endured recently should not shock anyone. Senseless deaths continue while we fail to act meaningfully to curb gun violence.
To be clear, actions to protect our kids are stopped repeatedly and deliberately by Republicans that promote policies that only aid our children's killers and the gun lobby. And these same Republicans accept millions of dollars that the gun lobby pours into elections to amplify extremist views every year. They do so in the belief that they will not be accountable to the majority of voters in this country who demand changes to save children's lives.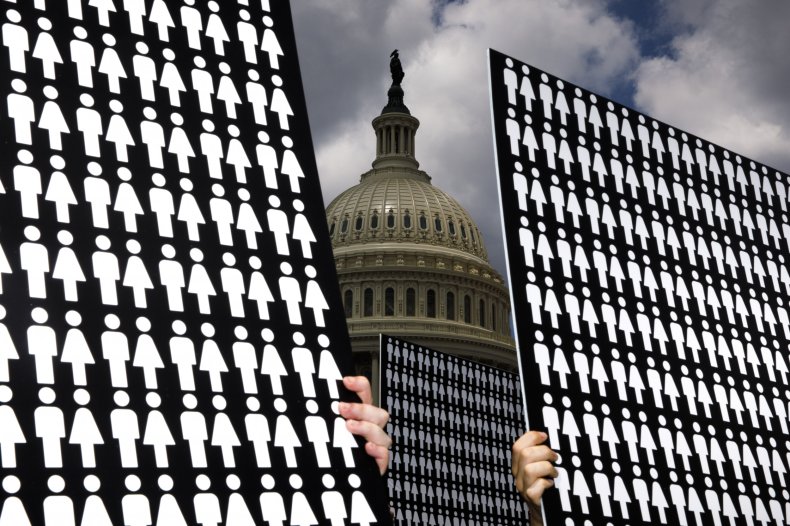 That must end. We cannot accept another election cycle where candidates do not stand up and clearly champion the policies that we know voters want — policies that will save lives.
Americans are sick and tired of living in fear of active shooters in schools, shopping malls, grocery stores, movie theaters, houses of worship, at concerts, and anywhere else we live our public lives. We are tired of worrying that every time we hug our kids and send them off to school it will be the last time we see them alive.
It is not enough to just look victims' families in the eye and tell them we will do everything in our power to keep their kids safe. We must match those words with action. We are done with offering thoughts and prayers alone.
That means voting to ban assault rifles and high-capacity magazines.
That means voting to require nationwide safe storage — but especially so for children.
That means voting to ban ghost guns.
That means voting to stop the flow of trafficked firearms across the nation.
And, most importantly, that means making sure no more kids are put into the ground in superman coffins.
Our children are begging us to protect them. It is time for us to do our jobs.
In the wake of the 2018 massacre at Marjory Stoneman Douglas High School in Parkland, Florida, the House of Representatives passed common-sense gun violence prevention laws that would expand and strengthen the Brady law background checks and fix the 'Charleston Loophole.' We were the first Congress in over 20 years to pass federal funding to study gun violence prevention as a public health issue. We passed incentives for the safe storage of firearms, fixes to the national instant background check systems (NICS), and secured funding for community programs that prevent gun violence. And yet, Republicans in the Senate stopped or blocked these bills from advancing.
This sabotage has left many voters across the country deflated and disillusioned with the legislative process. They say our system is broken and question why they should participate.
Thankfully, this message has finally permeated into the Senate. My Senate colleagues will soon vote on legislation that will establish state funding for extreme risk protection laws that remove firearms from dangerous individuals, substantially close the "boyfriend" loophole that allows intimate partners to retain firearms following a domestic abuse conviction, and it will enhance background checks for 18-to-21-year-olds who purchase long guns.
To be clear, this bill is a start, but it is not enough. My top priority in more than 10 years as a representative of California has been to implement the strong gun violence prevention policies that this country demands. We must not retreat, only engage and push forward. I know at this point, many of us feel like something, anything, is better than nothing. But ultimately, how much gets done comes down to you, the American people. We need you to show up and vote to support those in office who helped make this progress happen and send home anyone who opposed it.
Join me in choosing our kids over their killers, voting over violence, and community over chaos. My only hope is that you will vote accordingly for individuals that share these priorities to ensure safety in our schools, churches, and communities.
Rep. Eric Swalwell represents the 15th District of California. Follow him on Twitter at @RepSwalwell.
The views expressed in this article are the writer's own.