Are Sports Coming Back? NBA Led The Shutdown, Now The League Signals a Return
The NBA paved the way for sports to shut down not just in America, but the world. Now, the basketball league could be a pioneer in reviving sports around the globe.
The NBA announced that it could allow team facilities to reopen, as long as they follow local governmental orders—whether stay-at-home or social distancing guidelines—per an ESPN report Saturday night.
A handful of states have begun relaxing restrictions for residents after the COVID-19 crisis, also known as the coronavirus pandemic, since the rate of positive cases and deaths have dwindled. The international death toll eclipsed the 200,000 mark on Saturday, and nearly 3 million people worldwide have tested positive for the virus since it was first detected in Wuhan, China, during late 2019.
The NBA's announcement only allows teams that have loosened restrictions in their respective cities and states to reopen facilities, which means states like Georgia, Oklahoma and Texas might have training advantages while the league tries to do a soft opening for reviving a season abruptly shut down by an unforeseen virus.
The NBA was the first major sports league in America to shut down—whether indefinitely or altogether—because of coronavirus. On March 11, the NBA announced it would shut down indefinitely after a player from the Utah Jazz tested positive for the virus.
The next day, sports leagues simultaneously postponed their leagues and events, from the NHL to Major League Baseball, until further notice. That same day, the NCAA announced the cancelation of its winter and spring championships, which included the men's and women's basketball tournaments and the College World Series for both baseball and softball.
The announcement by the NBA only said that teams who have loosened restrictions in their cities and states can cooperate. It probably opens the doors for NBA teams not in those cities to temporarily relocate their training facilities to other cities that have loosened their restrictions.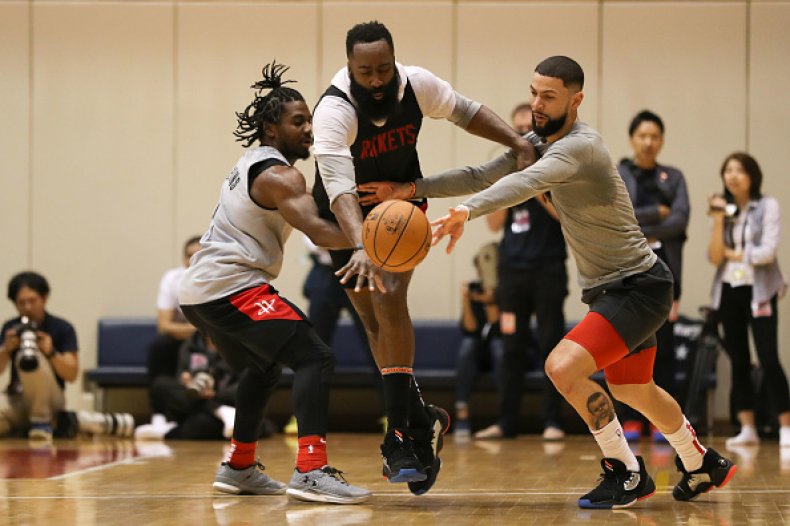 The NBA playoffs would have begun last weekend had the season played out on schedule, but the pandemic put everything on hold, including the NHL season and its playoffs. Major League Baseball canceled its final two weeks of spring training, and its Opening Day scheduled for March 26 has been put on hold indefinitely.
Should basketball resume, there is no timetable on when it would start, or if any regular-season games would be played. Reports also did not indicate on an adjusted training schedule or playoff schedule.
The NFL just completed three days of a virtual draft for its 2020 season. Coaches, general managers and team personnel worked from their homes, via computer, to finish the draft.