Are Stephanie and Erika Still Together After '90 Day Fiancé: Before the 90 Days'?
Stephanie and Erika's first day as an in-person couple was near perfect. Of all the relationships on 90 Day Fiancé: Before the 90 Days Season 4, the pair's seemed like a match made in heaven, fueled with giggles and genuine mutual care. That changed quickly, though, so quickly that fans aren't sure the pair will last.
The 20-something women met through YouTube, where Stephanie has a successful career. Erika became a fan of Stephanie's content, and eventually, the pair started chatting. Apparently, it wasn't long before Stephanie admitted her romantic feelings for Erika, and was met with the same feelings from Erika.
The premise of their story on Before the 90 Days shows Stephanie traveling to Australia to meet Erika for the first time. This isn't an easy trip for Stephanie, who has aplastic anemia, a life-threatening bone marrow disorder.
While the pair seemed to have a great first day—they explored a wildlife park together, and genuinely seemed to enjoy each other's company—the second day of Stephanie's trip began to throw them off course. Erika brought Stephanie to a "boob casting" event, where they were forced to get topless and rub plaster on each other's chests. Stephanie, who wasn't ready to get intimate with Erika, was shocked.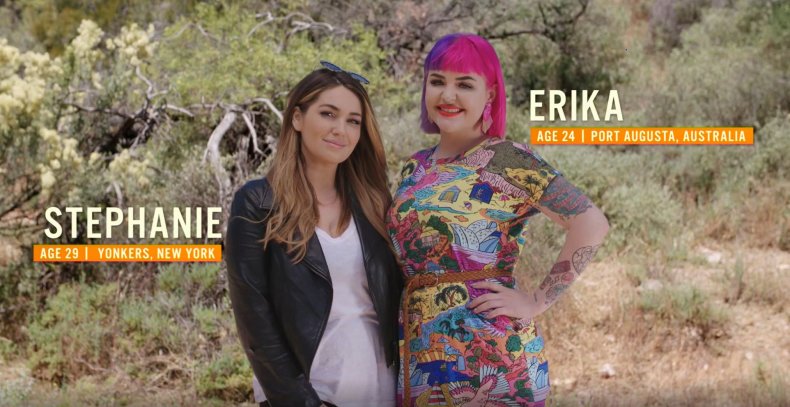 Erika felt that there was a disconnect between Stephanie's online persona and her real-life personality. Stephanie explained to Erika that she didn't want to be intimate immediately, as she'd been celibate for some time. Erika found this hard to process, as much of Stephanie's YouTube channel promotes her sexuality with "lingerie hauls" and other scandalous videos with titles like "What I Really Think About Your Penis (The Truth)."
From then on, their relationship seemed to stale. The pair continued to work through issues on the show, but every day they seemingly ended up in fights based on intimacy and how they were generally getting along.
So are Erika and Stephanie still together?
Usually, it's easy to see a pattern on social media from 90 Day stars but not this time. Erika posted a few stills of herself and Stephanie on her Instagram coinciding with when they aired. Her captions don't reveal anything about Stephanie or their relationship now.
And Stephanie has deleted her entire Instagram account, which had a few photos of her and Erika, according to Heavy who saw Stephanie delete the account on Sunday, just before Episode 9 of the series aired. No reason why Stephanie deleted the account was apparent. On Sunday morning, she uploaded a YouTube vlog, in which it's revealed that she just bought a house. The video makes no mention of Erika.
She responded to a commenter who claimed she may have only signed up for the reality show to "boost YouTube ratings." "People will believe what they want!! I've been doing youtube for years and have done just fine without the show," she said.
That hasn't stopped fans of the series from starting a list of conspiracies about Stephanie and Erika.
Reddit users don't seem to care either way, as most appear to think the relationship is fake. Commenters on multiple Reddit threads pointed out that Stephanie was in Australia before filming Before the 90 Days, but they make no mention of Erika. They also point out a video in which Stephanie comes out as bisexual, which was uploaded to YouTube three years ago. On the show, she claims her sexuality is still a secret, at least to her family. You can read Reddit for the conspiracies and complaints.
Some on Twitter even theorize that Stephanie isn't gay. A handful of tweets surfaced claiming that she's faking her sexuality for the show, or for her online career.
The only thing we know for sure is we won't know if Stephanie and Erika are still together until the season ends. There may be a message in the lack of social media love, but it's also possible the pair are just adhering to their nondisclosure agreement with TLC.
Update: This article was updated to reflect that Stephanie came out in a YouTube video three years ago.