Are the Taliban Poisoning Afghan Schoolgirls? The Evidence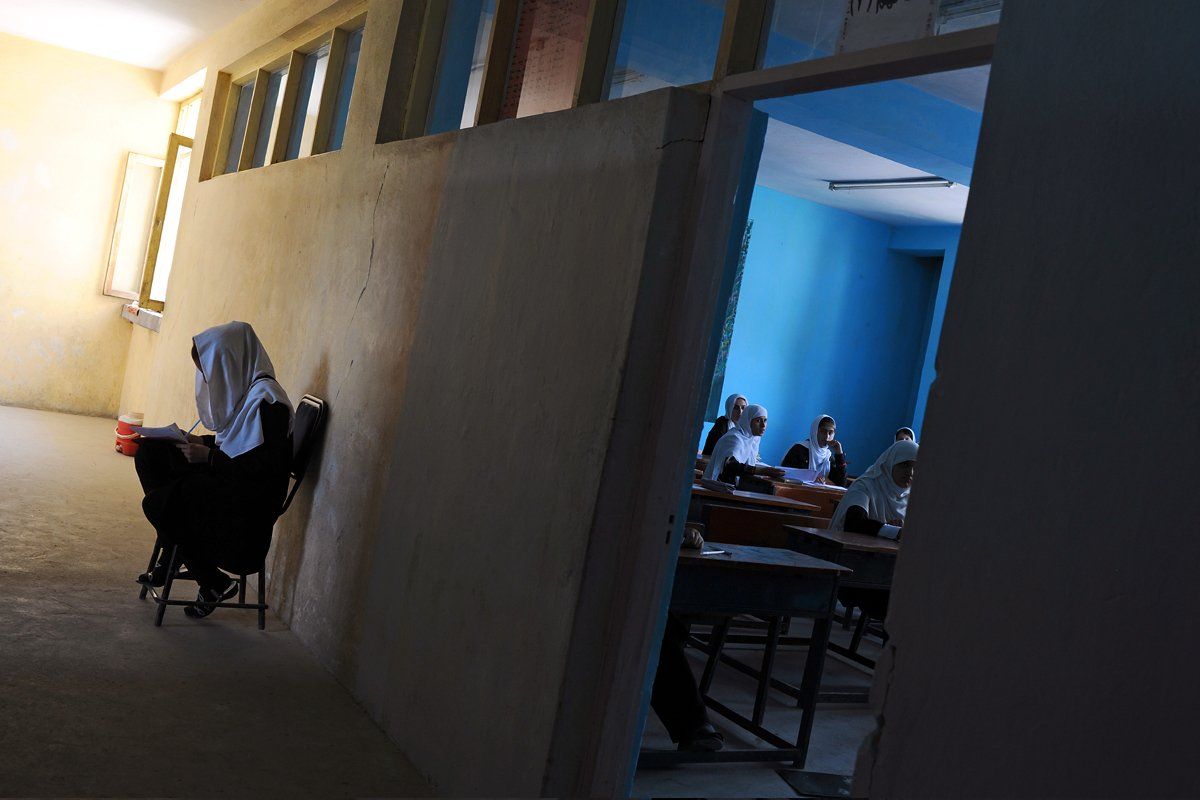 May 23 started out much like any other day at the government-run Bibi Hajira girls' school. In contrast with other parts of Afghanistan, life tends to be relatively tranquil here in Taloqan, the capital of the northern border province of Takhar. But around 7:30 a.m., as the girls of class 12A were taking an early-morning break, their classmate Seddiqa, the principal's daughter, walked into the room and fainted. Her friends managed to catch her before she hit the floor.
Then another girl collapsed. Students in other classrooms began saying they felt dizzy. Someone said something about poison gas, and teachers and students began to panic. "Cover your noses, girls!" the teachers shouted as everyone fled outside.
By midmorning, dozens of ailing girls were stretched out in the courtyard while medical teams, police, and reporters swarmed through the school. "I felt my nose burning and a strong headache," a 12th grader named Qarema tells Newsweek. "I sat down, and the next thing I knew, I woke up in the hospital." Before the day was over, 127 of the school's roughly 1,200 students had been taken to the hospital, complaining of fainting, dizziness, and anxiety. Most recovered and were released within hours, but authorities were convinced the girls had been poisoned. It wasn't the first time, they said: in April 161 girls had fallen ill at another high school in the same province. Local officials accused the Taliban of poisoning the school's well. The Taliban denied it, but what can you expect from the kind of men who have burned down scores of girls' schools in recent years?
Six days after the Bibi Hajira incident, 39 girls fell ill at another school in the city. Three days after that, 95 students at yet another school were hospitalized. Fear swept the province. Parents kept their daughters home, armed guards were posted at the schools every night, and nervous students took turns searching each other every morning. But the incidents continued. Between April and June, seven schools and more than 1,000 girls reported the same frightening symptoms. Parents and politicians demanded government action, and health and security officials were sent up from Kabul.
Things finally came to a head on June 6. Afghanistan's equivalent of the FBI, the National Directorate of Security, announced the arrests of 15 suspects in the incidents, including two 17-year-old Taloqan schoolgirls: an 11th grader named Shukria and a 12th grader named Seema Gul. At a high-profile press conference attended by Takhar officials and members of the national media, the NDS distributed videotapes of some suspects' purported confessions. According to the NDS, Shukria and Seema Gul were paid the equivalent of $1,000 each to release poison in their schools. One of the videos shows Seema Gul, a Bibi Hajira student, sitting in a dimly lit room as she tells how an alleged Taliban agent coerced her into poisoning her classmates. "I was followed by Mullah Najib to my school, and he gave me a pot and threatened he would kill or kidnap me," she says, her voice hoarse and frantic. "I had to do it."
But did she actually commit such a crime? Medical investigators tell Newsweek they have no evidence that anyone was poisoned at any of the schools in question. In fact, the United Nations and the World Health Organization have been investigating such alleged mass poisonings in Afghanistan since 2009. According to official sources and confidential documents obtained by Newsweek, their researchers have never found any actual toxins despite extensive lab tests.
The U.N. and WHO reports, which have never been made public, say the victims in these cases have exhibited none of the symptoms typically associated with poisoning, such as vomiting, internal organ damage, or bloody diarrhea. What's more, no deaths have been recorded among the thousands of Afghan schoolgirls who have complained of mysterious ailments. Instead, the victims usually recover quickly enough to leave the hospital the same day. "More than 200 samples (blood, urine, and water from the source) have so far been collected," a WHO spokesperson told Newsweek in an email. "No conclusive evidence of deliberate poisoning was found."
On the contrary, investigators think the incidents have a very different cause. They point to the symptoms (anxiety, fainting, dizziness), the large numbers of sufferers in each incident, and the fact that almost all the victims are young women, while male staff members seem untouched. The conclusion is that the supposed poisonings are actually manifestations of what doctors call "mass psychogenic illness." It's a little-understood problem that has been documented across a range of cultures and historical periods—and not only in developing countries. For example, medical experts believed it to be responsible for a mysterious "twitching illness" that afflicted a group of cheerleaders in the town of Le Roy, N.Y., this past January.
A single individual's condition can set off a cascade of ailments. Take the original Takhar incident, back in April, in which 161 girls were supposedly sickened by something in the school's well. Samples of the water were sent to a NATO laboratory in Kabul, where investigators found no traces of poison. Instead, according to medical officials in Takhar and Kabul, "Patient Zero" turned out to be a girl suffering from epilepsy. She apparently experienced a seizure while fetching water from the school's well, and her sudden illness triggered mass panic.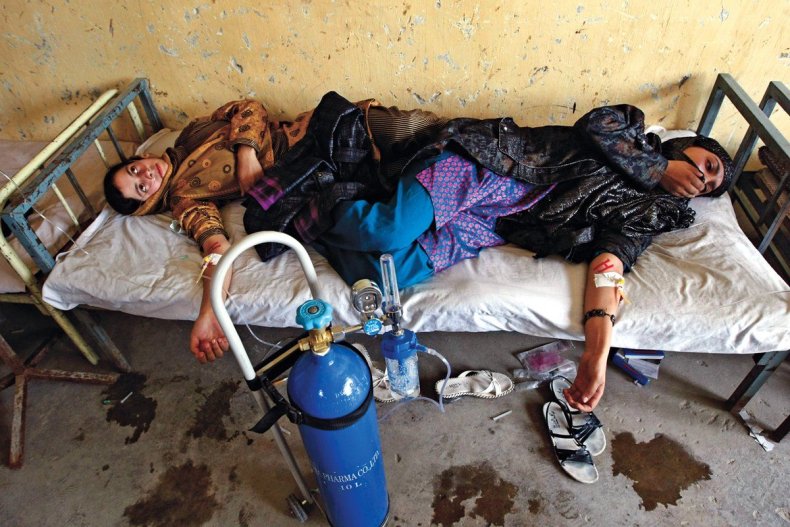 Doctors in Taloqan seem relatively unworried by the recent incidents. Dr. Sayed Abed, an internal-medicine specialist at Takhar's provincial hospital, says he has treated hundreds of cases in the past few months. "We just give them an IV and send them home when they feel better," he says. "In the more severe cases, we give them diazepam"—a generic version of the anti-anxiety drug Valium. His colleague Dr. Noor Moshaiq speaks up: "It's a psychological disorder." A psychiatrist, Moshaiq is one of only two mental-health professionals in the entire province. At his bustling office in central Taloqan, Dr. Hafizullah Safi, the provincial head of public health, is more circumspect. "It's true that we don't have any evidence of poison," he says. "But now the NDS has released videotapes of these people confessing." He raises his hands helplessly. "What can I say?"
The members of Seema Gul's family have plenty to say about her purported confession. They live not far from Bibi Hajira School in a modest compound with glass-paned windows and concrete walls, signs of the middle-class prosperity brought by her father's flour business. The oldest of 10 children, the girl is 19, according to her government-issued ID, but the family says she's actually two years younger. They say they wanted to get her into school early. They say it's absurd to accuse Seema Gul of accepting $1,000 from the Taliban to poison her classmates. "What did she do with the money?" her uncle Islamuddin demands. "This girl did not even have the courage to speak in front of her teacher." Her mother, Farzana, says the girl could never have done such a thing. "Her sisters are in that school," Farzana says. "She herself fell ill." They bring out the "medicine" the doctor prescribed for the supposed poisoning victims: a packet of Glaxose-D sweetener and vitamin powder.
Both girls' families are furious about the way the NDS handled the arrests, picking the girls up directly at their homes rather than summoning their male family members, as is considered proper in Afghanistan's conservative culture. "They came like thieves," said Islamuddin. Seema Gul's father was away at his shop when heavily armed NDS agents arrived and took away his wife and daughter. Shukria's father was out working in an onion field when the NDS hauled her off for questioning. Neither of her parents can read or write, but she was well on her way to becoming the first in her family to finish high school. Both girls were taken to NDS headquarters in Taloqan and interrogated separately by female police officers. Their parents were not allowed to see them that night, but the next morning the girls were sent to a police lockup where their relatives were able to visit them.
Seema Gul's mother managed to smuggle in a cellphone, hidden in her infant daughter's diaper, and she surreptitiously used it to record the schoolgirl's account of her interrogation. The girl wept as she told how her interrogator bullied her into making a false confession. "She took my hair and slapped my face," the girl says in the recording. She tells of the interrogator slamming her head against a table and stomping on her foot with high heels. The abuse left marks that were visible the next day, the family says. The interrogator promised far worse, Seema Gul told them. "She said: 'I'll bring the Americans. You're a small girl. I'll put them on you, and they'll rape you.'"
Seema Gul finally broke down and confessed in the face of her interrogator's threats and promises. "She told me: 'Even if you haven't done this, say a lie, and I'll release you and take you home. I've released many other girls and helped them,'" the girl says on the recording. "My head was spinning. I don't know what I said." Human-rights officials who have interviewed Seema Gul and Shukria in jail say both girls have made similar allegations of abuse, and they say the stories sound credible.
The shadow of torture and forced confessions hangs over the entire NDS investigation. According to an NDS source in Takhar, the agency was under intense pressure from the public and from Kabul to produce results. Some of the captured suspects were known insurgents, but the cases of other detainees were more questionable—such as the Mullah Najib mentioned by Seema Gul in her supposed confession. A respected teacher at a government school in Taloqan, he had a passing acquaintance with both girls and evidently implicated them during his interrogation. His family members insist he had no connection with the Taliban, and they say he was tortured until he gave up the names of the two girls. They showed Newsweek a vest they said was his. It was torn and spattered with what appeared to be dried blood. They say they took it home from prison when they brought him fresh clothing.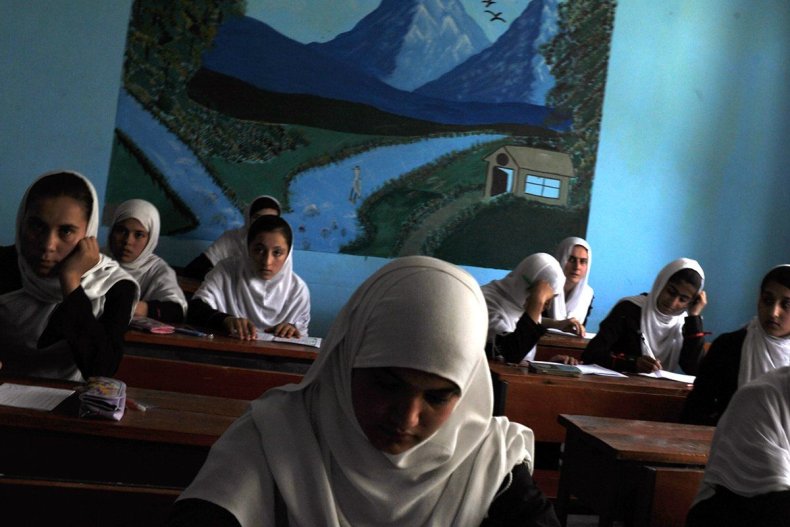 The torture allegations could not be independently confirmed, and the NDS did not respond to Newsweek's request for comment. Human-rights monitors have not been allowed to visit Mullah Najib or the other male suspects in their custody. "It is also very concerning that NDS publicized the confessions of the suspects in the Takhar case, including [those] of the two schoolgirls," says James Rodehaver, head of the human-rights unit of the United Nations Assistance Mission in Afghanistan. "This violates the fair-trial rights, including the presumption of innocence, of the accused."
A medical official tells Newsweek that Afghan higher-ups have been briefed at the ministerial level on the results of the U.N. and WHO investigations of supposed poisonings. Nevertheless, the authorities are continuing to pursue the poisoning cases, regardless of the objections of medical experts and international officials. "They [Afghan politicians and bureaucrats] went beyond the pale, using schoolgirls," said one international official familiar with the case. "My fear is that if they get away with this, they'll keep using the poisonings issue all over the country. It's brilliant politics, really."
There's no denying that it's effective politics. Despite Taliban leaders' vehement denials of any school poisonings, some Taliban fighters in the province are said to believe the videotaped confessions and consider themselves disgraced. "They're saying, 'We've lost our name because of this,'" a village elder says.
Meanwhile, girls' schools all across the north are reporting more mass-poisoning alarms. Some 300 students have been affected in three separate incidents in Sar-e Pol province, and last week a supposed outbreak at a school in Jowzjan province temporarily felled more than 100 girls. Authorities in both provinces blamed the Taliban.
At Bibi Hajira, the trauma continues to resound, no less real despite knowing that it's psychological. "If the weather gets hot or we smell cooking gas, we get sick," says Qarema, the girl who spoke of waking up in the hospital. "I'm very forgetful now," she says as she speaks to Newsweek in the principal's office. "I can't remember my lessons." There have been repeat incidents almost every day since May 23, with girls relapsing into the same symptoms of dizziness, headaches, and fainting.
As Qarema talks, 15-year-old Manizha is brought up from class, her face pale and drawn. When a teacher asked her what was wrong, she answered, "I can't stop weeping." And who can blame her?
Matthieu Aikins is a journalist based in South Asia.