Are We All Just a Bunch of Internet Cynics? Ello CEO Explains How His Ad-Free Social Media Network Will Make Money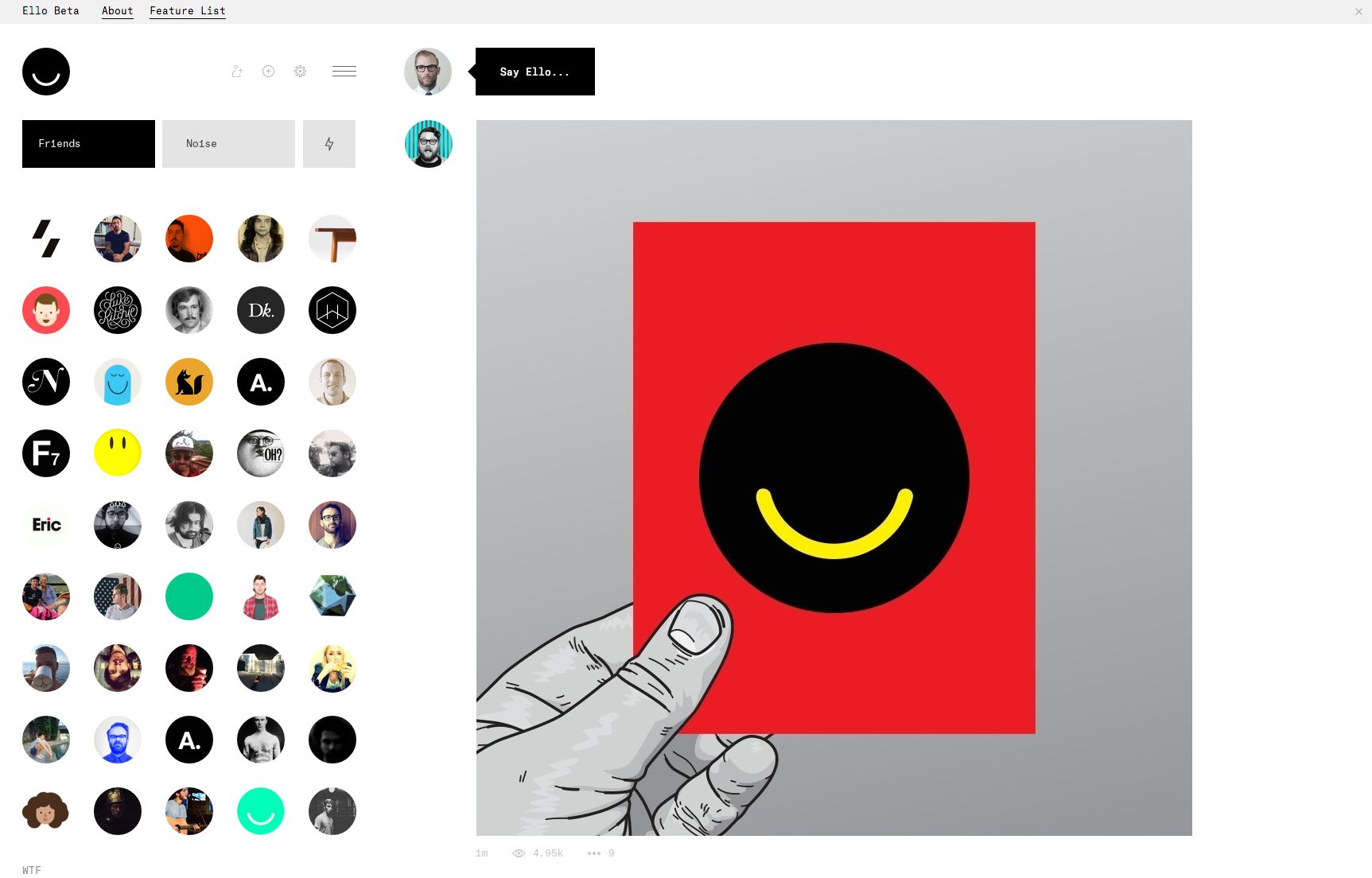 Ello.co, the social network that exploded in popularity last month, just received $5.5 million in funding and filed as a Public Benefit Corporation, legally binding the company to not sell user data, not display advertisements and to not sell the company to anyone that would do so. The announcement has provoked a new wave of what Ello CEO Paul Budnitz calls "tech press cynicism"—reporters insisting that Ello will ultimately have to support advertisements in order to be lucrative. But he says the company has a business plan that promises to be both principled and lucrative.
Ello's manifesto has always included an ad-free social network experience for its users. "We don't really even consider Facebook to be a social network," Budnitz said in an interview with Newsweek, "we consider it to be an advertising platform because on Facebook, the advertiser is really the customer. They're the ones that pay the bills and the user is the one that's being bought and sold."
The site's design is extremely simple. Users can organize people they follow into two lists: friends and noise, to better organize the information in their feed. The site also supports a plethora of media posts—pics, music, gifs galore—allowing for diversity and creativity in posts. And, of course, there is not an advertisement in sight.
On August 7, the social network launched with all of 90 users. In a matter of weeks, thanks to the help of Facebook's controversial crackdown on fake names (which Ello allows), that number had skyrocketed to hundreds of thousands.
"We didn't expect this many people on so quickly. We are so grateful that everyone is there and people are really enjoying it so much," Budnitz said. He would not share the platform's user numbers with Newsweek, claiming that the creators are not counting.
But at its peak, the invite-only platform was receiving between 40,000 to 50,000 new requests per hour. The explosion in traffic forced the company to freeze signups. And this is the first place the creators want to focus investment money, developing its back-end infrastructure to better support the growing number of users.
Ello initially raised about $500,000 back in March to start building. In the most recent round of investments, the network raised $5.5 million from VC's including Foundry, Bullet Time and FreshTracks Capital, a VC that only invests in Vermont-based companies.
"I woke up one morning about three weeks ago with probably every VC in the world in my inbox ... I'm still getting them saying, 'We'd love to invest in Ello,' 'We'll fly you out on a private jet,'" Budnitz said.
"We asked ourselves, 'What do we want to do?' We figured out how much money we needed and we called the best investors ... and said this is the deal we want, this is what we think is fair, and we want to work with you, and everyone agreed, there was really no negotiation," he said.
"I think it is probably quite different than what I imagine the average Silicon Valley investment round is when they have the bidding war and you wind up with a bunch of people on your board you've never met before. I just can't imagine working that way honestly."
The company's founders set the investments up in a way that they wouldn't feel pressure—they maintain around 83 percent control of the company. They also signed a legal charter to prove their commitment to their principles in "the strongest legal terms possible." It reads, "Ello exists for your benefit, and will never show ads or sell user data."
But the company has encountered more than a few naysayers. "I have read that Ello can't make it because we wont make enough money," Budnitz told Newsweek.
"What those people are essentially saying is that the only way to make money at all on the Internet is to advertise or collect user data, and a lot of websites do that I understand quite profitably. But that assumption to me is heartbreaking but also really short sighted because our business plan... it's being used in video games, it's being used in app stores," he said. "The hardcore finance and tech press, they just don't get that we are actually a principles-based business and we are highly principled people."
Budnitz compares the business plan to buying an iPhone. You can use the basic version of Ello for free, just like you can use your smartphone to place calls, send texts and check email. But if you want to spruce up your experience with additional functionalities (in the iPhone case, apps), you can purchase additional features for a dollar or two each. One enhancement a user can buy is being able to control multiple accounts from a single login, Budnitz said.
"The experience of other companies that do this kind of thing is that ... somewhere between two and five percent tend to buy a lot of stuff. Then there are larger swaths of people that buy less, and some swaths of people that don't spend any money at all," Budnitz said. "We've looked at our costs and our overhead, which are actually remarkably low ... and we figured out that this could be really profitable."
Budnitz added that the company made its profitability calculations based on data costs from March. "Since then ... data costs have gone down way more than half. And by the end of the year they will be a quarter of what they were when we did our original calculations."
And Ello's investors agree. "I believe you can build something of value here if you can create a big enough network and have a framing model that has some payment features in it for people who want fancier bells and whistles for what they're doing," FreshTracks Capital partner Cairn Cross told Gigaom. "If you think about the gaming industry, the freemium model is not necessarily a problem, it just hasn't been applied as much to social applications. We think it will work."
The company believes the $5.5 million will be more than enough to fund its aspirations and plans to become profitable in the not-so-distant future. It intends to put out a new feature every day or every couple of days for users to purchase.
Becoming rich has certainly crossed Budnitz's mind. "If I ever made a lot of money, I would sign up almost immediately for the Bill Gates plan ... where people agree to give up most of their money," he said. "I'm a fairly happy person, it would be quite a wonderful thing to give your money away for the rest of your life to good causes."
Though the company posits itself as not Facebook, it also claims it is not in competition with Facebook. "Ello is not for everybody. If Ello is not for you, that's totally cool. You can use the alternative and if you're happy with that it's great, Budnitz said in an interview with re/code. "I think Zuckerberg said once that he wanted to sign up everybody in the world on Facebook. That's not our goal. We just want to make a nice community."