Are We Dropping Enough Bombs On ISIS?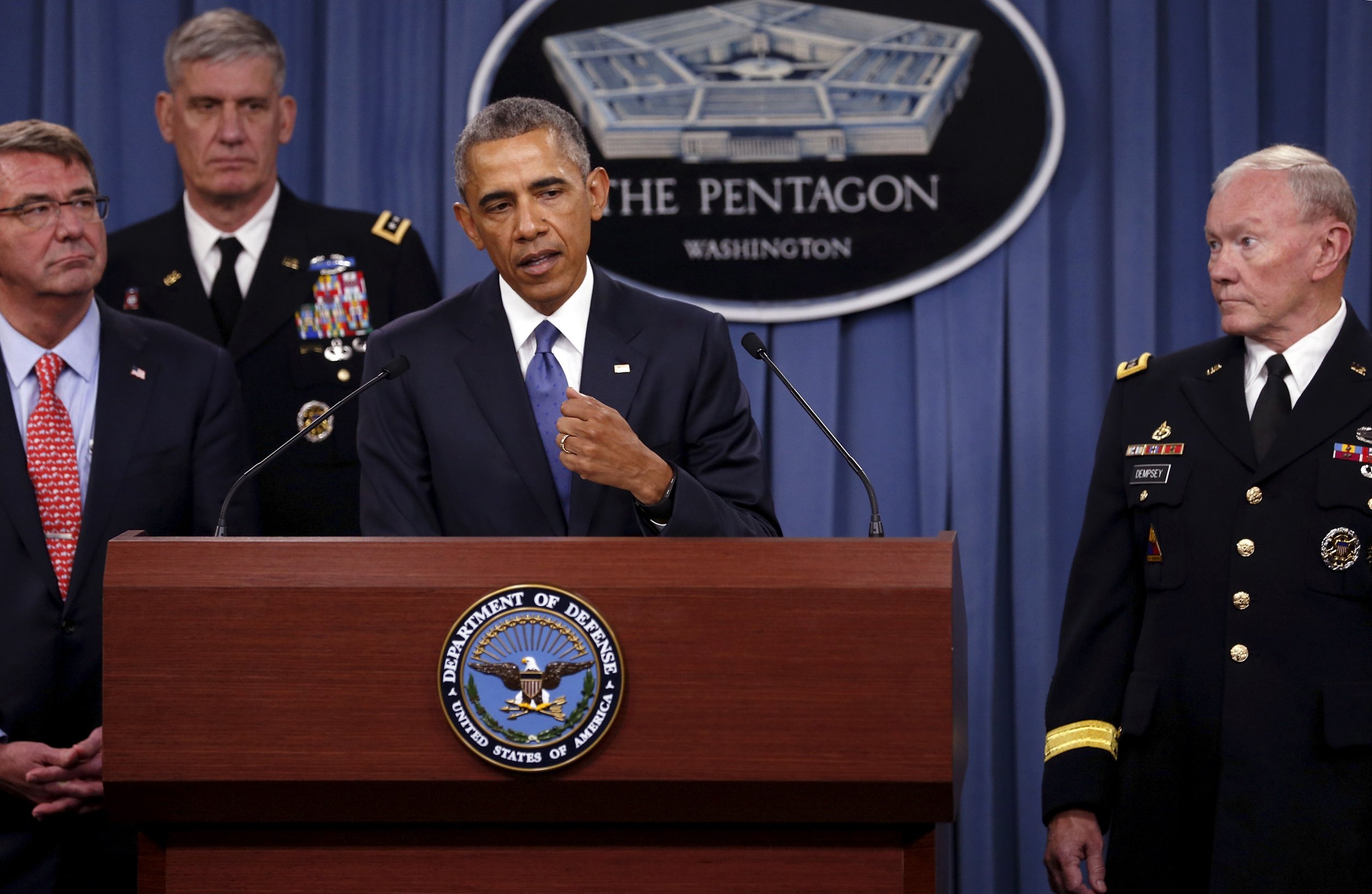 President Barack Obama this week visited the Pentagon to assess progress in the U.S.-led air campaign against the self-declared Islamic State, which enters its twelfth month this week, so it is a good time to evaluate a main criticism of the air war: not enough bombs are being dropped.
Policymakers, retired military officials, and pundits offer a variety of reasons for this lack of airstrikes. Some claim that Washington-created rules of engagement are restricting whole categories of targets (particularly oil convoys heading to Turkey), others that military lawyers conducting collateral damage estimates are prohibiting strikes that might cause unwanted harm, or that there are no U.S. joint tactical air controllers on the ground to call in precision strikes.
The arguments these critics make is that an undue concern for civilian casualties is allowing the Islamic State to survive and thrive in parts of Iraq and Syria. This is despite the fact that, according to a U.S. military estimate from May, some 12,500 Islamic State fighters have been killed and 7,655 pieces of their equipment and infrastructure have been damaged or destroyed.
Notably, the most recent U.S. intelligence estimate about the size range of the Islamic State remains between 20,000 and 31,500. Meaning, despite killing 12,500 supporters of the group, a comparable number of indigenous or foreign fighters have already replaced them. This is yet another non-state group that the United States will not be able to eliminate with bombs alone.
The inherent difficulty with identifying why there have been relatively so few strikes (more on that below) is that the rules of engagement and collateral damage estimate methods are classified. Moreover, the public does not know the process by which targets are being selected, vetted and approved by the combined joint task force that is running the air campaign.
On July 6, Secretary of Defense Ashton Carter noted that the same airstrikes in Syria are conducted "with local forces nominating targets, we then validate those targets." According to every air campaign planner who I have spoken with, if those were U.S. forces nominating the targets, there would be an increase in the overall number, but it still would not be markedly higher.
The primary reason for the limit in strikes, as Chairman of the Joint Chiefs of Staff Gen. Martin Dempsey described during a June 17 hearing before the House Armed Services Committee: "The air power's limitation is not about forward air controller or U.S. service men and women forward. It's about the intermingling of a significant number of groups."
The U.S. military still remarkably claims that it does not conclusively believe it has killed even one civilian. On June 5, Lt. Gen. John W. Hesterman III, combined forces air component commander, stated: "We haven't seen any evidence of civilian casualties so far, but we'll conscientiously look into it as we do every allegation." Earlier, U.S. Central Command acknowledged that it had "likely" killed two children in a November airstrike in Syria.
There are also five ongoing investigations into claims of civilian casualties, according to Gen. Thomas Weidley, chief of staff for Combined Joint Task Force-Operation Inherent Resolve. Meanwhile, the Syrian Observatory for Human Rights, a source that some of these same policymakers and pundits cite when it is convenient for their argumentation, recently estimated that coalition airstrikes had killed 162 civilians, including 51 children and 35 women.
Finally, while there are basic access limitations, such as those imposed by the government of Turkey regarding the Incirlik Air Base, there is not a limit in the number of available aircraft. As Gen. Dempsey noted a few weeks ago: "397 strike aircraft and 1,600 pilots… are flying these missions over Iraq and Syria."
That is a robust number comparatively speaking, making it more than the seventeen-day Bosnian strikes in 1995, the opening of the Kosovo air war in 1999, or the 2011 regime change campaign in Libya. In addition, coalition pilots have thus far faced a relatively passive air defense system in Syria, although a Predator drone was shot down over Syria on March 17, and another crashed in Iraq on June 22, though the reason why remains unclear.
To put Operation Inherent Resolve in some perspective with recent U.S.-led air campaigns, see the chart below. Understand that these are all distinct military operations with their own objectives, combination of coalition partners, and rules of engagement, and that this data is challenging to compile.
However, for a military campaign that allegedly intends to inflict a "lasting defeat" on the dispersed and large militant army that is the Islamic State, there is a relatively limited—though understandable given the concern of civilian casualties—number of bombs being dropped each day.
Strike Sorties/Weapons Releases by Air Campaign
| | | | | | | | |
| --- | --- | --- | --- | --- | --- | --- | --- |
| | Total Days | Total Sortie Missions | Total Strike Sorties | Percent Strike Sorties | Total Weapons Releases | Average Strike Sorties Per Day | Average Bombs Dropped Per Day |
| Iraq 1991 | 43 | 120,000 | 42,000 | 35% | 265,000 | 976 | 6,163 |
| Bosnia 1995 | 17 | 3,515 | 2,470 | 70% | 1,026 | 145 | 60 |
| Kosovo | 77 | 38,004 | 14,112 | 37% | 28,018 | 183 | 364 |
| Afghanistan | 76 | 20,600 | 6,500 | 32% | 17,500 | 86 | 230 |
| Iraq 2003 | 26 | 41,000 | 15,500 | 38% | 27,000 | 596 | 1,039 |
| Libya 2011 | 210 | 25,944 | 9,700 | 37% | 7,642 | 46 | 36 |
| Iraq/Syria | 361 | 16,164 | 3,837 | 24% | 15,245 | 11 | 43 |
Micah Zenko is Douglas Dillon fellow at the Council on Foreign Relations. This article first appeared on the Council on Foreign Relations site.