Are We Getting a Second Stimulus Check or Not? Frustration Festers During Senate Recess
American frustration over continued delays to a second round of stimulus checks is festering as the Senate remains in recess with no plans to return until next month, despite the House cutting its break short to vote on emergency Postal Service funding.
The Associated Press reported on Tuesday that Senate Republican leaders were readying the outline of a new $500 billion coronavirus relief package ahead of the upper chamber's scheduled return.
One GOP senator told the news outlet that the bill would extend unemployment benefit payments and relief for small businesses, as well as offering $10 billion to the U.S. Postal Service amid fears over its capacity to deal with mail-in ballots.
But it was also reported that a second round of $1,200 stimulus checks would not be on offer in the coming bill, despite the measure previously being proposed in the Senate GOP's HEALS Act and the Democratic-backed HEROES Act.
Senate Majority Leader Mitch McConnell's office has been contacted for comment. This article will be updated with any response.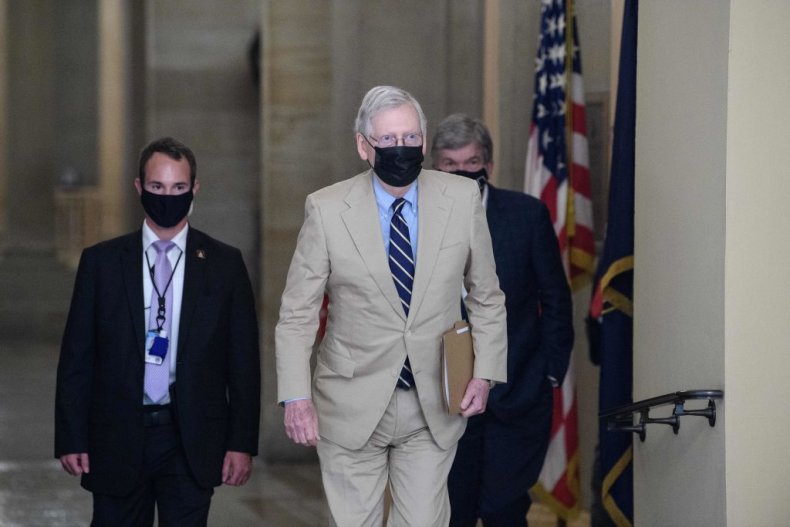 Reaction to the stalling negotiations on a second stimulus package has been strong on social media, with many Americans highlighting the real world suffering caused by the continued setbacks to further COVID-19 relief funding.
"No stimulus check. No $600 unemployment benefits. No housing relief. No student loan relief. No healthcare expansion. No USPS funding. No economic security," A viral post from Twitter user TylerZehring read. "When will enough be enough. The US has done nothing to protects its people and I'm MAD. People are dying."
At the time of writing, the post has been liked almost 40,000 times and retweeted roughly 18,000 times.
Another post from the actor Bruno Amato castigated lawmakers for failing to provide Americans with another round of stimulus checks.
"No 1200$ stimulus check. No 600$ for last 3 weeks. That's 3000$ desperate Americans trying to make ends meet are missing today," he said. "People with no jobs to go to and long food lines for the starving. But don't worry, the stock market is doing really good."
"Alright I'm tired of waiting," Twitter user Justin Cross posted. "Who do I need to bully to get a second stimulus check?"
Polling has shown similar public eagerness to receive further economic relief amid the ongoing pandemic, as well as discontent with the scale of help being offered by lawmakers.
One survey conducted by Emerson College and Nexstar Media at the end of July found that more than four in ten Americans believed a second round of $1,200 stimulus checks would not go far enough, compared to 39 percent who said the measure would be "sufficient."
A second poll published by Fortune and SurveyMonkey at the start of August found that 80 percent of U.S. adults backed the issuing of another round of stimulus checks, up 26 points on May.